AARON is a rising artist who combines elements of Pop-Rap and R&B to create a unique mix of melodic, meaningful & catchy songs.
Especially through his empowering messages in his songs, he wants to motivate others to live a life full of fulfillment, independence & freedom.
"I won't leave this planet, unless I've lived my dream!" is AARON's life motto.
Because of his broad taste in music he is able to be flexible in his self-written songs and unfold his creativity. Major influences are Blackbear, Iann Dior, Russ, Khalid, Bazzi etc.
His Debut EP 'Journey to Dreams' will be released on the 16th of July and will surely elevate AARON's career to unseen heights. Stay tuned!
"I won't leave this planet unless I've lived my dream!"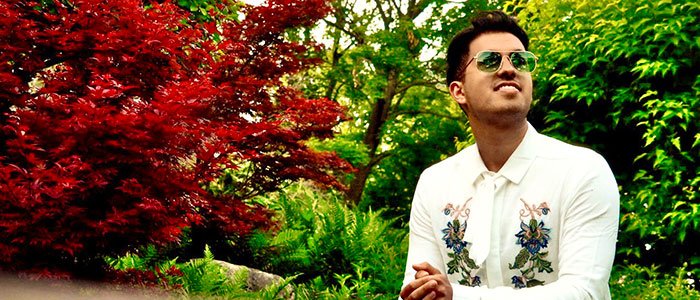 When did you start to get interested in music?
My father used to be a musician and we had all this gear for music at home. So one day I just picked up the micro and started singing. It was shitty but it was so much fun. That was the moment that showed me what joy and delight music brings. (The first song I ever sang was 'Dj Got Us Fallin in Love' by Usher)
If you were an advertisement, which would your slogan be?
I won't leave this planet unless I've lived my dream!
Which is the part you enjoy the most about music?
The part that I enjoy the most is definitely writing songs and coming up with melodies. It just flows naturally and all these beautiful songs just come out of my mouth effortlessly. It's surreal. Especially the creative freedom allows me to tap into my inner emotions and lets me speak my truth in a way I could never do with bare words. I guess that's why I'm a musician and not a politician or whatever. It's magical and I love it.
Most artists say that through their art they learn more about themselves, heal injuries… In which aspects has music helped you?
I've always felt like I was different than other people. Back then, especially in high school, I didn't understand what it was. Since I've started making my own songs I got to know myself better. I understood that me being different wasn't a weakness, no it was my superpower. I understood that my musical skills are something special and whoever gave me those abilities has something huge planned for me. It has elevated my confidence to new highs.
What does music mean to you?
Music is the lens through which I see the world. I express my truth through my music. It helped me transcend myself to places I've never knew existed. The world of music is endless. You can make music for 50 years and there'll still so much more to explore. Pouring out all my heart into my songs is the most freeing & fulfilling feeling I know of.
Music is untouchable. It's a feeling, a higher power.
Who are your idols?
My musical role models must be Russ, BTS & Khalid.
Personality-wise: Cristiano Ronaldo & Nelson Mandela
If you didn't like music, what would you like to do?
In a parallel universe I would either be a football player or a peacemaker. I could still become a peacemaker in this life so we'll see.
Do you consider that nowadays there are more or less opportunities for new artists? Why?
We live in a golden era where everything is so accessible and there are no excuses anymore why you can't do this or that. My music career wouldn't have been possible 20 years ago. I think that answers it all.
What would your idyllic life as an artist be like?
Have a supportive community where we look after each other, tour the world, being able to give back to the more unfortunate people on this planet, taking good care of my body, buy a house in the mountains of Austria, and being the best artist in the world!
Do you want to know more about ZZZ? You can find some projects below.