CONTENT CREATOR, RECORDING ARTIST & BODY POSITIVITY ADVOCATE
Brooklynne Webb is a 18-year-old content creator from Victoria, BC, Canada! My biggest passion growing up was performing in any way I could! Anything artistic and expressive was instantly what I gravitated towards.
"LIVE LIFE UNAPOLOGETICALLY YOU"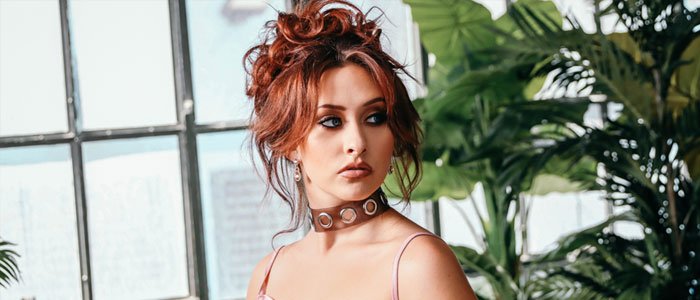 When did you start to get interested in creating content?
I have always had an interest in content creation. It really turned into a constant for me when I was 14. I remember rushing home from work so excited to do my makeup and film content. When I wasn't creating content, I was watching a lot of other content creators because I found that world so fascinating.
If you were an advertisement, which would your slogan be?
"Live life unapologetically you"
Which is the part you enjoy the most about creating content?
By far my favorite part of content creation is the creative freedom. I am the producer and artist of everything I create. It can be super draining but it's so much more rewarding and fun to have full freedom to do whatever you want.
Most artists say that through their art they learn more about themselves, heal injuries… In which aspects has your journey helped you?
Content creation has improved my life in so many different aspects. I had always felt that I am nothing special. It has shown me I have more value as a human being than I believed. Your value and worth goes so much deeper than your appearance or social value. It's about who you are, what you stand for and how you are going to make a difference. Having more confidence in who I am has helped me heal from so much and I am forever grateful for it.
What does creating content mean to you?
To me, it means inspiring others to create and be fearlessly themselves. So much of society these days is centered around fitting into the crowd but that is beyond exhausting. If I help one person feel more confident in their authentic self that means the world.
Who are your idols?
My biggest idols are the strong and powerful women who surround me every day. People like my best friend, Nicole Stephens, have persevered through so many challenges in their lives and still have the kindest soul.
While treating everyone with respect, she isn't afraid to stand up for herself as well as others. The combination of that strength and goodness is the most beautiful thing in the world.
If you didn't like creating content, what would you like to do?
I would be a makeup artist in Vancouver, BC hopefully working on set but also doing freelance. Makeup has always been such a huge passion for me and I will forever love it.
Do you consider that nowadays there are more or less opportunities for new artists? Why?
I think there are more opportunities than ever for influencers, but with that, it is also extremely competitive. People see the value more now than ever in social media but that also means so many people are doing the exact same thing. Being unique is super important to continue to have a career as a content creator.
What would your idyllic life as a content creator be like?
My idyllic life would look like having an apartment in Los Angeles but traveling the world! I feel so blessed to have seen so many places & met so many people so young, but I don't want to stop here. I hope that I can create art all around the world.
Which are your upcoming projects?
I have been working with Nicole on developing our podcast together for the past year. We are so incredibly excited to be launching it in early 2023 and cannot wait to see where it takes us!