iKonic Tae is an American Rapper/Musician born in Capital Heights, Maryland. Born Delante Antonio Davis from Prince George's County Maryland, iKonic Tae began his rap career at the age of 17, writing his first song "Hater Train" with cousin Misty Blu. (Lesia Hamilton)
iKonic Tae has recorded several songs and completed 2 albums to date including EP Album "This is Me" and "Birth of An iKon".
iKonic Tae considers himself a new breed of rapper/musician as he often combines unique world genres of music with rap. Some of his most influential artist are singers and rappers including Marques Houston, Missy Elliot, Ludacris, Beyonce, Fat Joe and Jada Kiss just to name a few.
iKonic Tae combines a unique style of "Punk" with "Afrocentric" to birth a new style of "Afropunk Swagg".
"It's time for something new"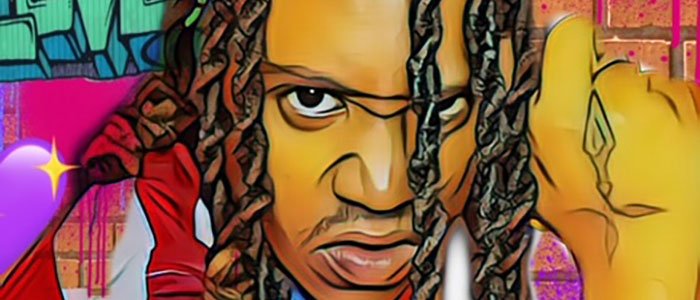 When did you start to get interested in music?
When I was about 16 years old. My little cousin Missti Blu wanted to make music so I joined in to support her.
If you were an advertisement, which would your slogan be?
iKonic Tae- "It's time for something new"
Which is the part you enjoy the most about music?
The part of recording and hearing the playback and making videos and seeing myself and thinking wow I made this…I created this.
Most artists say that through their art they learn more about themselves, heal injuries… In which aspects has music helped you?
I made song called Piano Keys. It is about my grandmother who died from Cancer in 2008. I never had the time to mourn her and missed her funeral and I felt so bad for that. When I made this song…I talked about a lot of things I kept inside. This song helped me heal.
What does music mean to you?
It means creating something that makes you feel good…and makes our audience feel good. Art Imitates life…so everything we create reflects the human experience. In my opinion we are simply documenting our time here in music and media.
Who are your idols?
Marques Houston, Fat Joe, Jada Kiss, Missy Elliott, Ludacris, Mariah Carey, Mya, Busta Rhymes, Patti Labell, just to name a few
If you didn't like music, what would you like to do?
Work with youth. I love to inspire young people to reach their dreams.
Do you consider that nowadays there are more or less opportunities for new artists? Why?
I think more because of how basically fast the internet is. Anyone can basically be independent and make music. It just takes the technology skills and funds to make the moves you want to make.
What would your idyllic life as an artist be like?
It would be me just continuing to make good music for people and getting positive feedback from my audience. It would be me with my family and everyone is happy and healthy and without problems or less problems.
Do you want to know more about iKonic Tae? You can find some projects below.