The queen of the electric harp, born in Pisa in 1995, Swiss by adoption, Master of Arts in Music Performance at the Swiss Italian Conservatory in her pocket, Kety Fusco is today one of the rare to have the privilege to be invited to play in the prestigious hall of the federal parliament in Bern and the Swiss anthem at the 71st edition of the Locarno Film Festival. After first solo releases, an European tour, 2019 she signs with Andrea Bocelli's management company and releases her first LP "Dazed" featuring Clap! Clap! May 2020.
"For me, life is too complicated. This is why I took a harp at the age of 6 and never left it. I have always experienced a sort of autism towards harp and classical music. I felt alive if I could play the music of Bach, Debussy, Ravel for 8 hours a day, but as soon as I put my head out of my bubble I suffered an emotional and physical shock. Here, when I have to face reality I feel DAZED. And this record something that until two years ago was unthinkable for me. It is a kind of attempt to fight this feeling. It is my first step in real life. In these songs there is all my disturbance and my desire to leave behind me a path that was dangerous."
" The Queen of Electric Harp" Swiss Live Talents CH
"Dazed, the debut album by Kety Fusco is surprising and shows that unexplored sounds still exist on the planet. It is a delicate, soft and suggestive trip; an experiment perfectly successful" Confederation Music CH
"..It is a surprising immersion in unknown and suggestive territories, where electronics meet classic tradition and trace a new and original path." Rockit IT
"Musically DAZED is simply absurd: the strings of the harp merge with the digital notes of electronics, modern, minimalist, giving life to a combination out of any scheme, a combination that leaves the listener's mark. The nine tracks of the disc are a caledoscope of emotions in which the most desperate sensations are reflected: disturbance, energy, adrenaline, fear. DAZED is a mental escape from reality" Receindie IT
"… we were able to try our biggest surprise: Kety Fusco on her harp, electronically enhanced, with loops, effects and bass pedals. An apparition that is not ashamed of the effort between classical, techno and rave – and that presents the musician as a physically reciting and fascinating master, a great talent, a name you must remember!" Artnoir CH
"… brilliantly immerses the traditional sounds of her instrument in an electro universe." Mowno FR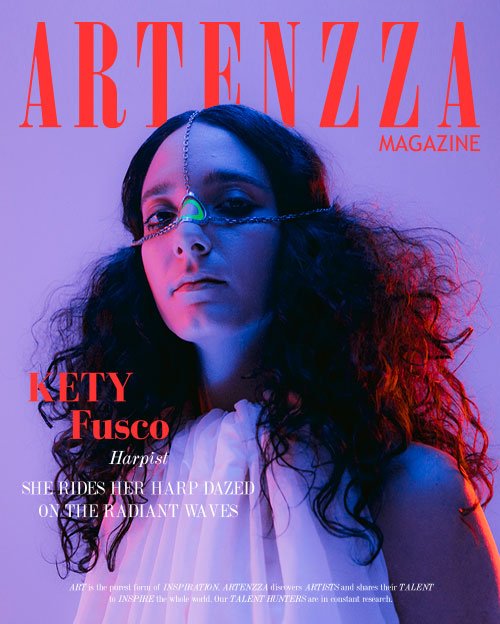 "She rides her harp Dazed on the Radiant Waves"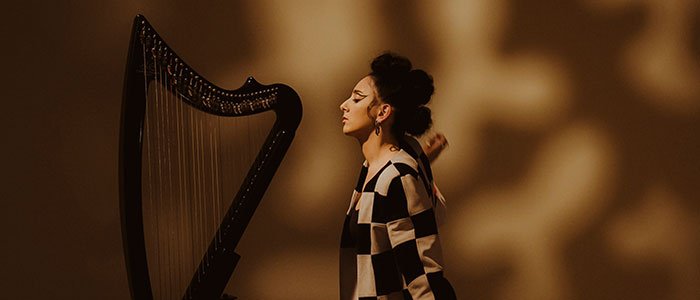 When did you start to get interested in music?
I was very young when I first saw the harp. I was a child with an hyperactivity problem and my family was looking for something artistic to make me do, to make me calm down. So one day I heard the sound of the harp and I saw it, giant, at a concert and I fell in love with it.
If you were an advertisement, which would your slogan be?
Kety Fusco rides her harp Dazed on the Radiant Waves.
Which is the part you enjoy the most about music?
The one where nobody can touch me. Where I am alone with myself, where in my head I hear a voice that suggests my next composition.
Most artists say that through their art they learn more about themselves, heal injuries… In which aspects has music helped you?
Music helped me express my emotions. I am not able to express myself as I want because I feel stupid. With music I can tell you everything and I can make you feel that I am not apathetic. Music also helps me with relationships with people. Sometimes I feel that I can't cope with people, even if I like them very much. With music I can have collaborations if I want and I can help my difficulties in relationships by talking about music itself.
What does music mean to you?
For me, music means having a purpose in life. Music is the thing that makes me open my eyes and think that something can still happen.
Who are your idols?
My idols are all those people who like me are struggling to feel good on earth, who write music because they love music.
If you didn't like music, what would you like to do?
It is a difficult question, because I can't imagine my life far from my harp. Anyway, I think I would have a project where I can still express myself. For example a visual project in which I create shapes, images and colors. Or create something that has to be expressed through images.
Do you consider that nowadays there are more or less opportunities for new artists? Why?
In my opinion, in this period it is difficult to give a precise answer, especially with the Covid-19 situation. All artists have the right to live by their art, and the opportunities come if you really believe in it. The important thing is to remain pure, to have an idea and believe it, not to follow trends or even do something to please others.
What would your idyllic life as an artist be like?
I would like to spend my life on tour and when I come home I stay away from everyone and enjoy the silence of nature.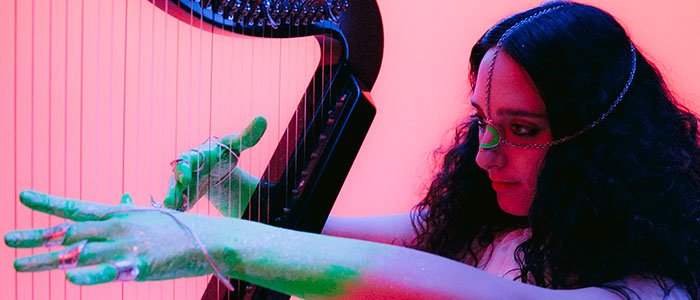 Do you want to know more about Kety Fusco? You can find some projects below.
Do you want to discover more artists? Follow us!