Heralding from Odessa, Texas, Smoke & Lilac are the world's most in-love country duo. They rocketed to viral fame after the huge success of their single, "12 Year Whiskey" and have been releasing songs ever since.
"The world's most in-love country music duo"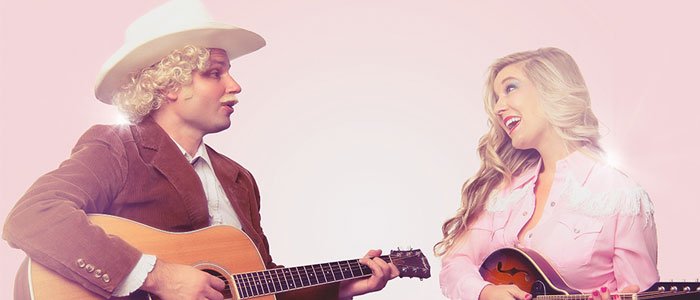 When did you start to get interested in music?
I (Lilac) came from a background in West Texas pageantry. I'm a four-time, first place winner In the Lil' Miss Texas Tea pageant.
My husband, Smoke, owned a car dealership in Odessa. We honestly just kinda fell into viral music success after the release of our song, "12 Year Whiskey." In fact, our video link we gave you is a clip of our first live performance of the song! Who knew it was going to change our lives that night?! Not us!
If you were an advertisement, which would your slogan be?
Well, funny you should ask! My husband's car dealership, Smoke's Automotive, had a catchy slogan: "We SMOKE the competition!" But as for us, everybody knows we're "The world's most in-love country music duo."
Which is the part you enjoy the most about music?
Our love-life pulsates to the rhythm of great music. Always has. But our favorite part about making music is when our fans (Plumers and Bloomers) tell us that our music has saved their lives, and perhaps more importantly, their relationships. Our latest single "Break A Stallion" really tells the story of our complex and hard-fought relationship. We're so happy our music resonates with lovers everywhere.
Most artists say that through their art they learn more about themselves, heal injuries… In which aspects has music helped you?
Well speaking of "Break A Stallion," that song for me was therapy. Smoke and I just had an extremely embarrassing and public scandal (for more info on all that, please see our IG and listen to our song, "Grocery Store Roses"). We were always going to make it, but to our fans and the general public, it looked like we might not.
We both had to get out of the limelight for a bit. I went back home to my daddy's ranch to spend some time with my beloved horses (Champ is my best friend and he is so SWEET!!).
One day a ranch hand brought in a spirited, wild horse. It was my job to break it (as I'd done as a kid). As I engaged in a battle of wills with this magnificent creature, it ALL CLICKED for me what was going on between me and Smoke. I knew exactly how I felt about him and I found the words I wanted to say. I wrote the song that night.
What does music mean to you?
To me, it's the embodiment of two passionate souls cosmically intertwined. Our music is just a byproduct of our love. I'm gonna share a little detail about our love life (Smoke HATES when I tell people this). WE NEVER BREAK EYE CONTACT DURING LOVE-MAKING. That's a little love tip from your gal, Lilac. Try it! IT REALLY WORKS!
Who are your idols?
Well first and foremost – Dolly Parton, obviously. For Smoke it's probably Hank Williams Sr. But you know who I have a bit of a problem with? I mean… not to be catty, but WHAT IS UP with Faith Hill and Tim McGraw? I just… don't feel their love. Are they even in love? I just don't know. Just an observation. Maybe don't print that part lol…
If you didn't like music, what would you like to do?
Well, before I was a singer/songwriter, I was a dancer and model for western wear. I have AN OBSESSION (jk/nr) with seasonal decorating – especially wreaths. Other than that, I'd probably get involved with pageantry on the admin/hosting side.
I still have a lot of love for it and I believe it is an art form unto itself. And I'll always be involved with horses somehow. As for Smoke… he's got a keen eye for business. Though I don't know how i'd feel about it, he might go back into business with my daddy.
Do you consider that nowadays there are more or less opportunities for new artists? Why?
Well if a pageant winner and a car dealership owner can have a viral hit, then ANYONE can do it! The internet is great for exposure but be wary of writing love songs if you're not truly in love. Today's audiences can see right through anything inauthentic.
What would your idyllic life as an artist be like?
Gosh, just continuing to make beautiful music with my hubby, touring the country together, really connecting with those who are in love or wish they were in love… and making crossover hits with some mainstream artists we admire (Wink, wink! The Weeknd, we're looking at you.)! Our manager Chuck is reaching out to your team!
Which are your upcoming projects?
This is a very exciting time for us! Now that we've fully recovered from our public scandal, and we don't have a single enemy in the whole wide world, we are looking forward to taking our rightful place on the throne of country music. We have a new single coming soon. Just stay tuned and keep watching our IG to follow along with us!!
Do you want to know more about Smoke & Lilac? You can find some projects below.