Tyler Hustle is a rapper who was raised in Minneapolis, MN. Tyler goes to school at Brandeis University. He loves physical fitness and he's a monster at Super Smash Bros.
"You only grow in discomfort. Just go for it."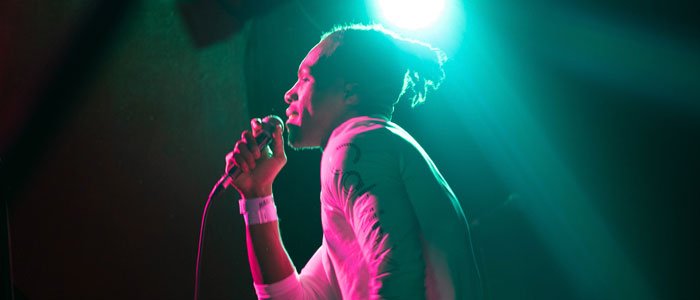 When did you start to get interested in music?
I've always had some interest in rap. I've been around hip-hop for as long as I could remember. I was raised by a mom who went to the block parties that hip-hop was created in, so she was always a die-hard rap fan. Biggie was her favorite. She even took me and my siblings to the movies to see the film about his life and career when I was nine.
In the sixth grade, I came around to falling in love with the music. I started to quietly dream about being a rapper. It wasn't until I started high school that I started turning that dream into my reality.
If you were an advertisement, which would your slogan be?
You only grow in discomfort. Just go for it.
Which is the part you enjoy the most about music?
Being able to document my own growth through music is awesome to say the least. As an artist and as a person. There's a clear trajectory of me becoming more confident, professional, and musically skilled over the years. It's apparent in some of my earliest songs that I had no sense of rhythm or pitch. Now I amaze people every time I rap in front of 'em.
Most artists say that through their art they learn more about themselves, heal injuries… In which aspects has music helped you?
I can't exactly say I had the greatest childhood. There's a lot of things that you see and experience growing up in poverty that will change the way you view the world.
These experiences can make you better or worse. It all depends on if you process them. Luckily I found people connect to my music best when they hear me using my music to reflect on my own life. More than that, it's cathartic to rap about these hard experiences, about the role they played in my life, and that I'm persevering in spite of it.
What does music mean to you?
Music means freedom to me.
When I'm not in classes, I'm working two part-time jobs. They're not difficult jobs by any means, but they're not anything that I'm especially passionate about. It's tiring. And for what? Minimum wage?
Two weeks ago, I got to do a show in Cambridge at The Middle East.
Preparing for that show, I was all nerves. Figured I'd bring two close friends to come on-stage with me on-stage to quell those nerves. The three of us would rehearse ourselves into confidence. We were doing what we wanted, but it came with stakes. I felt like if I messed up that performance, people would doubt that I should be making music. I had to prove that I should be a rapper.
When I hit that stage, it was a war between my confidence and my self-doubt. It was exhilarating. It was difficult, but that's what made it awesome. I stood on that stage for thirty minutes and had the time of my life. It felt like it could have been five.
I would've done it all for free. But for that thirty minute performance, even after splitting the profit with my team, I made more money than I regularly make in a week at my two part-time jobs. That check said it all. Music is freedom.
Who are your idols?
J.Cole, Biggie Smalls, Isaiah Rashad, Jay-Z, Brent Faiyaz, and Kanye West.
If you didn't like music, what would you like to do?
I'd like to work in the education system. I don't exactly know what role, but I wanna let those kids know that they're limitless.
There were a lot of times growing up that I just hated my life to be honest with you. It wasn't my parents or friends who picked me up at my lowest. It was my coaches and teachers. I wouldn't be anywhere near the man that I am today without them. I'm very grateful.
I'd love to give back to the world the same way the world gave back to me.
Do you consider that nowadays there are more or less opportunities for new artists? Why?
There are more opportunities now. The only issue is that people are skeevier these days. Everybody is trying to scam someone or take advantage of someone.
The Internet connected everyone to everyone and put everyone and everything's business out there. You can make a lot more connections now. It's not limited to the people around you. You can connect with people you have and will never meet in your life. The only issue is you can't trust those people the same.
What would your idyllic life as an artist be like?
Being able to make music all the time is pretty idyllic in itself. I don't get enough time in college.
I'd love to make a team out of all of the people closest to me too—give all my close friends jobs. If they love to play guitar, then awesome. I could use a guitarist. If they're organized and they're good at setting up events, then that's my tour manager right there. I get to give all of my friends opportunities, keep the business in the family, and work with people that I trust. That sounds idyllic to me.
Which are your upcoming projects?
Currently, I'm working with a frequent collaborator, Bmaffs, on a collab EP. I'm excited about that. Last year, we locked in studio time together and made some music that I'm pretty proud to show everyone.
I'm working with Lit Honey Productions on finishing my debut album. I'm even more excited about that. I've been working on this album for more than two years now. It feels like the most important thing in my musical life right now.
Other than that, musically speaking I'm just putting out singles, doing shows, and peer pressuring all my friends into freestyling to type beats on YouTube with me.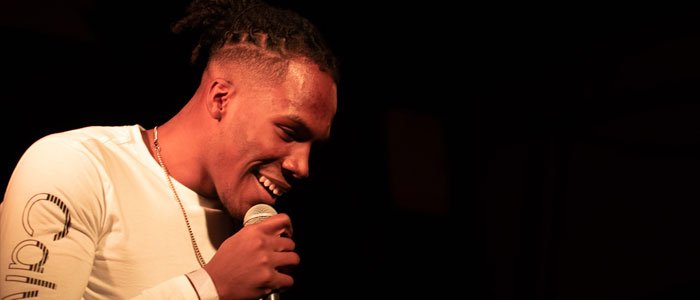 Do you want to know more about Tyler Hustle? You can find some projects below.