Alesya Kudina is an international lounge pianist, recording artist, composer, DJ and producer.
She began her musical education at 6 in the local music school of her hometown, and after she continued studying in Music Collage and Academy of Music at piano department! During this years she became a winner and participant of many local and international piano competitions, master classes and festivals.
At 11 she wrote her first composition, which was influenced by the pop and classical music, and at 19 she published her first solo piano album of her early compositions.
After her training in classical piano, Alesya continued studies as a DJ and Music producer at Professional Electronic Music Studio, where she absorbed many musical genres. This years she released her first album of cinematic music In Viam Se Dare and second solo piano album "AlesyaPiano" for meditation which you can find in iTunes, Spotify, GooglePlay, Deezer and many more music stores. One year later Alesya started to release her DJ mixes in Tenerife's Radio Station in Spain.
Alesya has been a resident pianist of Waldorf Astoria Maldives and Rixos Premium Dubai JBR.
Alesya has excellent improvisational piano skills, she plays pop, jazz, blues, lounge, classical music in her own arrangements and this makes her piano playing unique for your luxury events.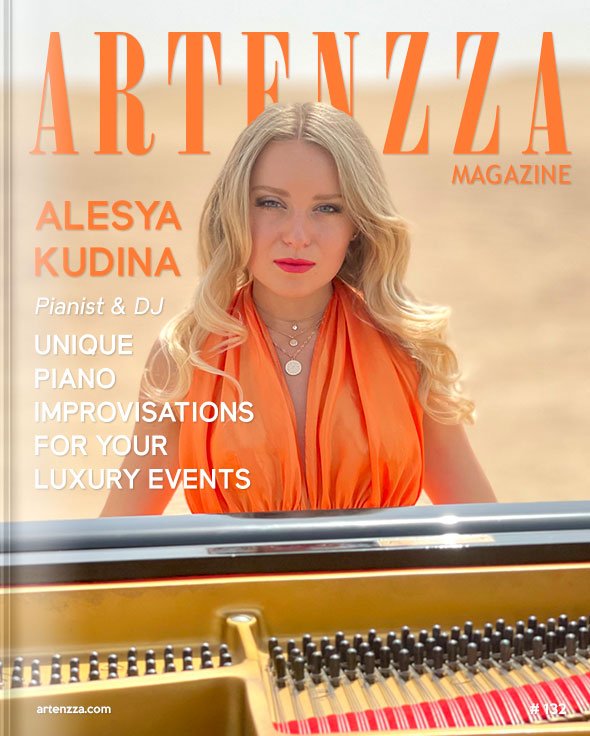 "Unique Piano Improvisations for your Luxury Events"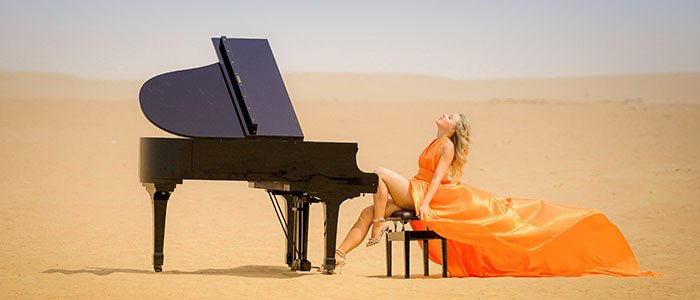 Alesya Kudina - Interview
When did you start to get interested in music?
My Mother is a musician and she became my first piano teacher. So she opened the world of music to me when I was a child.
If you were an advertisement, which would your slogan be?
Unique Piano Improvisations for your Luxury Events
Which is the part you enjoy the most about music?
I do love performing on stage. Music is communication between artist and audience. When I perform in a Hotel I really love when people listen to their favorite compositions over a cup of coffee, they can talk or think about something but the music is always dictate their mood.
Most artists say that through their art they learn more about themselves, heal injuries… In which aspects has music helped you?
I know one thing very well! Music made me honest with other people. Otherwise, I would not have been able to express my true feelings while playing the piano.
What does music mean to you?
This is my Life.
Who are your idols?
I adore many classical and pop musicians. My taste is 90s pop classic by David Foster, film tracks by Hans Zimmer, songs of Bruno Mars and some classical music pieces by Chopin, Beethoven, Ravel.
If you didn't like music, what would you like to do?
I never had this question in my mind because from childhood I knew I would be a musician.
Do you consider that nowadays there are more or less opportunities for new artists? Why?
It all depends on which country you're in. We all know American market with a huge number of young successful artists but nowadays there are many opportunities in Asia too. The main thing is to choose the right place for yourself.
What would your idyllic life as an artist be like?
Is to be in circle of like-minded people, do interesting projects, to improve yourself and create something new in music.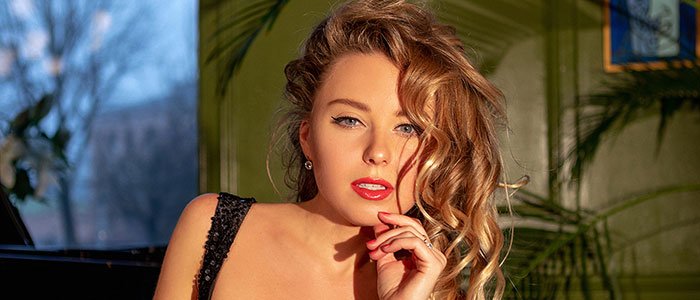 Do you want to know more about Alesya Kudina? You can find some projects below.