Polish alto and soprano saxophone player, graduated from the Academy of Music in Cracow, plays music from various genres – from classic to pop, rock or jazz standards. Performs solo and in miscellaneous musical projects, co-creates a saxophone quartet Saksofonarium and a duet with an accordion in FantAsMa Duo, as well as with violins, organs or DJs. She played both in Poland and abroad, including China, Spain, Germany and Croatia.
"Just let the music take you away"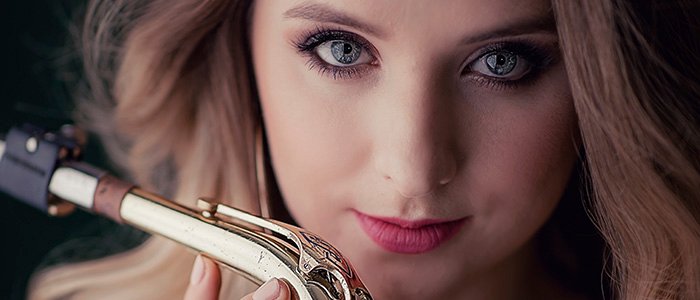 For how many years have you been playing the saxophone?
I've been playing the saxophone for 20 years and I like to joke that it's longer than I'm alive. But unfortunately it's not true  😉
If you were an advertisement what would your slogan be?
Just let the Music take you away.
Which part do you enjoy the most about playing music?
Performing for people, especially when the audience listens attentively and reacts to it lively. This inspires me and it shows that the everyday practice has not been in vain.
What does music means to you?
Music is my whole life. I never had any plan B. I knew that I would play music so I just put all my eggs in one basket.
If you didn't like playing the saxophone what would you like to do?
I would most probably become a make-up artist, I consider it an extremely creative profession that brings a lot of joy to other people.
Most artists say that through their art they learn more about themselves, heal injuries… What aspects of art has helped you?
Playing lets me relax, relieve stress, overcome the obstacles that I subconciously build for myself, overcome my shyness and lets me for a moment on stage become someone that's usually hidden deep within me.
What is you favorite place or moment to play the saxophone?
Every moment and performance is special, it doesn't matter if I perform in a concert hall, a theater or a club. If I feel good about myself and I see that people enjoy themselves it becomes my favorite time and place.
What would your idyllic life as an artist be like?
It's a type of life where I have plenty of time for practice and for preparing for concerts, as well as lots of opportunities to share my passion with listeners. A multitude of ideas and inspirations, without pressure, rush or rat race.
Nowadays we live in the "LIKE" era. Do you think that people give more importance to the number of followers than to the Art per se?
Sometimes it's regrettably true, but fortunately there's still lots of people interested in and supporting Art, going to concerts, not merely feeding on easily accessible entertainment but looking for more profound experiences.
Do you want to know more about Asia Sax? You can find some projects below.