Taylor Love is a fast-rising actor and voiceover artist from Toronto, Canada. She can be seen in major film and television productions including Private Eyes, Workin' Moms, Tallboyz, Most Dangerous Game, and The Kids in the Hall.

Coming up next, Taylor is set to recur in the new and highly anticipated CTV Original comedy SHELVED following the eclectic staff and eccentric patrons in the underfunded Jameson branch of the Metropolitan Public Library. Taylor can be seen playing the role of Sheila Boyd, a caring community leader and law student working part time at the Settlement Desk.

Taylor can also be currently heard voicing the character of Joanna in the new popular animated series SUMMER MEMORIES (The Family Channel), following the adventures of best friends Jason and Ronnie as Jason looks back on the most pivotal summer of his life.
When did you start to get interested in acting? 
If you were to ask my family, they'd probably say that I first started getting interested in performing and acting when I was three yrs old when I'd subject them to endless performances of whatever was going on in my head. 'Jurassic Park' (1993) had also just taken over my life and I was obsessed with playing the VHS over and over. 2
I had a huge bunk bed as a kid and one day grandmother heard a bunch of tussling and ruckus. She flew into my room and walked in on me hanging upside down from the top bunk reenacting the moment where the heroes are dangling on the dinosaur bones at the climax of the movie. That warm and fuzzy feeling in my body and brain was something I couldn't escape when I watched the magic of cinema and television. I've been chasing that feeling as an actor ever since. 
If you were an advertisement, what would your slogan be? 
That's a good question. Simply put – "somewhere between Scary Spice and Sporty Spice". I think that may be the most fitting thing I've come up with to describe the different layers and parts of myself. 
Which is the part you enjoy the most about acting?  
It's really like being a kid again. There's a part of me that I don't think ever really "grew up", so having the freedom to embrace that inner child is really cathartic. That feeling of reading a script for the first time, connecting with a character and feeling my imagination start to weave and create the vision in my head is magical. It's a superpower. And to express my version of the character and have it work and feel right is so rewarding. And getting to play with other actors is just the best. 
Most artists say that through their art they learn more about themselves, heal. In which aspects has your art helped you?  
I really have to credit being an actor as well as being heavily immersed in Film & TV growing up as the reason why I understand so many parts of myself – of life. Digesting subject matter that I personally hadn't experienced widened my world view in ways I'm still calling back to today. Approaching a character that is nothing like myself, yet still being able to understand and have empathy for this fictional person is a magical feeling.
Sometimes Taylor can't make sense of something, but the character can. They have different life experiences than I do, and I get to borrow that knowledge and understanding and take away what I've learned and apply it to my own life. I'm endlessly grateful to be rewarded from my art in that way. 
What does your art mean to you? 
It's a lifelong relationship with myself to commit to persevering and pursuing whatever dreams I have. My art and my craft are not just things I do, but they really are a huge part of who I am.
My art is everything to me, and I'm reminded daily that I truly have never felt more fulfilled and more powerful than when I'm creating my art. It's a feeling that I want to bottle up and drink when I'm feeling low or forgetting my own strength. I'm not sure where I'd be emotionally or mentally if I didn't have my art not only as an outlet, but as a tool to help me understand the world around me.
To me, acting is a deeply vulnerable, intimate and personal experience that in turn can be shared and amplified when I get the opportunity to share and create with other amazing artists. 
Who are your idols? 
At the top of the list, no matter what, is Sir Ian McKellen. He's god tier to me. I also love me some Vera Farmiga. I always get goosebumps when I watch any one of her performances and I can only hope to have a fraction of that power when I'm performing. Right now I really look up to Lashana Lynch and Florence Pugh. I love seeing people within my demographic and age range do things I only dreamt about for myself.
It makes it feel possible for me, and I'm eternally grateful to them for setting the table for new actors that are going to come after them. Outside of acting, my grandmother will forever be my idol. I wouldn't have a toe in the door in this industry if she didn't see my potential at such a young age. I can't thank her enough. 
If you weren't acting or performing, what would you be doing? 
Absolutely something to do with horses, maybe even be involved in equine stunts in film. I've been riding since I was 12 and once you have the itch, it doesn't go away. I worked at a ranch in Brampton, Ontario for the better part of 10 years taking people on trail rides, but I also taught riding lessons from the age of 19.
So teaching actors how to behave around horses would be right up my alley. As an actor I know there aren't a ton of opportunities for black actors to play characters who ride, but even more so there isn't a wide range of stunt representation for black actors either. I also am heavily interested in animals, biodiversity and climate change, so something that gets me around animals to help preserve their future on this planet would make my heart happy. 
Do you consider that nowadays there are more or less opportunities for new actors? Why? 
Mmm that's difficult; it really is a chicken and egg cycle. To get quality work you need representation. To get representation you need a reel and some kind of exposure. To acquire those things to fill your reel… we're back at needing some kind of representation. Stepping stones like student films and indie projects of a smaller budget are great for newcomers to create a demo reel, but ultimately those options are not sustainable if your goal is to be a full-time working actor.
While we love what we do as actors and creators, we also want to make a living! Lucky for us here in Ontario there are a ton of hardworking people creating subcommittees within our union that are meant to shine a light on newcomers and underrepresented demographics. I was happy to be a part of the ACTRA Toronto's Diversity and Inclusion Demo Reel Initiative in 2020, which was a great way to get my hands on a script and create a character in a role that I wasn't reading for in the room yet, and I got a great piece to add to my demo. 
What would your idyllic life as an artist be like? 
I dream about this daily, and I think I've rounded out what that looks like. It's the consistent ability to work as an actor on a show, a movie, on Broadway, wherever full time. An actor's job is to do just that – act. In as many projects as possible throughout their career.
My life as an artist would fund my lifestyle and then some and I can use my time off to freely travel, feed my soul and share my love with those in my circle. I don't believe artists should "starve" or struggle to live out our dreams – we provide so much magic with our work and we deserve to live in abundance. I'm so proud that my idyllic life as an artist is on the horizon. 
Tell us about your upcoming projects 
Our beloved sitcom 'Shelved' is premiering on the 6th of March on CTV @ 9:30pm. I play Sheila Boyd, a caring community leader and law student working part time at the Settlement Desk at the Jameson Branch of the Metro Public Library. She really represents an archetype of people we see here in Toronto. She's the daughter of immigrants, she's hardworking, and is doing her best to provide an outlet of support for those who are new to the country with limited resources. I was already a huge fan of Anthony Q. Farrell thanks to 'The Office' (2005), so to be a part of his vision for this show has been such an honor.
Truly a bucket list type feeling. I can't wait for everyone to see what happens at the Jameson Branch, and to also see a show set right in our backyard.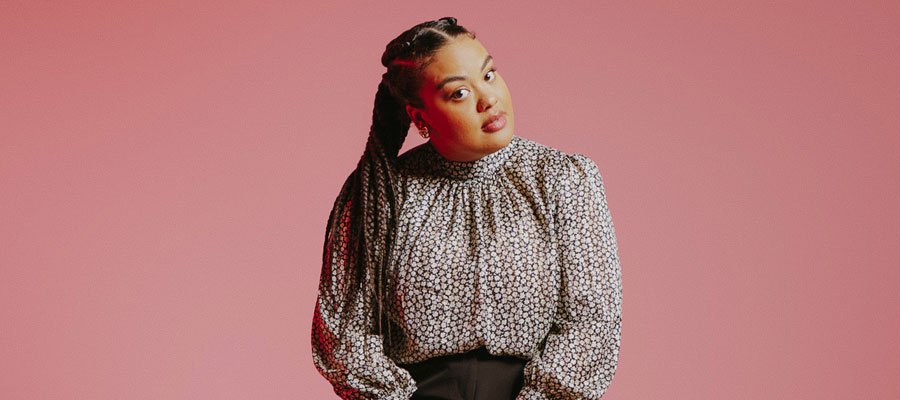 Do you want to know more? You can find some projects below.