Jenna Nolen is a passionate actress and model. Born and raised in Philadelphia, Pennsylvania she moved to Los Angeles, California at the age of eighteen to pursue her dream. She comes from a theatrical background working in plays such as Les Miserables, Footloose, A Raisin In The Sun, and was dedicated to the craft since she was eight years old. Now she continues to work in film, television and commercials in Los Angeles, California.
When did you start to get interested in music?
Honestly I started getting into acting when I was about eight years old. My mother worked in theatre production at her school and I didn't have a babysitter at the time so I would sit, watch and recite lines and I just fell in love with it, and from that moment on my mom knew I was going to be an actress.
If you were an advertisement, which would your slogan be?
I would probably adopt Nike's Slogan "Just Do It".
Which is the part you enjoy the most about music?
I think the part that I enjoy the most about acting is that you can hop into other humans world. You get to explore their emotions, what makes them happy, what makes them sad, what their whole world is really. I think hopping and diving into a character is a beautiful thing because it's a whole new lens you get to view the world from.
Most artists say that through their art they learn more about themselves, heal injuries… In which aspects has music helped you?
My art has helped me a lot in healing through some of my past traumas. Acting has helped me learn more about myself and get in touch of who I am as a person, because I feel like you need to know yourself before trying to embody someone else's because if you have a tough script to get through, for me it's easier to detach myself from the character.
When it comes to a tough script with heavy material it's very easy to believe that you are that person, but you need to have the tools to distinguish who you are and who the character you're portraying is.
What does music mean to you?
My art means the world to me. In school when I was a theater kid everyone kind of looked at me weird or that I wasn't doing what the "cool" kids were doing.
When I would get home from school I would just read scripts, or write scripts, really anything involving acting. Acting is my outlet, it lets me tap into emotions that I don't use on an everyday basis or be another person that I wouldn't get to be on a normal basis. It's very interesting stepping into another life and embodying their life through a different lens.

Who are your idols?
A lot of my idols aren't even people on the screen. The women in my family are some of my biggest inspirations because they've overcome so much in their lives and just everyday strive to be great examples.
My mother in particular, she inspires me everyday with her constant perseverance, drive and ambition that she goes on with everyday, its really inspiring.
If you didn't like music, what would you like to do?
I always said that I wanted to do something involving animals. When I was a kid I always wanted to be a veterinarian or work at an animal shelter because I love animals so much, but I also didn't want to because I couldn't take animals being sick because it would break my heart.
Do you consider that nowadays there are more or less opportunities for new artists? Why?
I think that the industry is continuously growing and changing. I think we've been seeing more and more new artists emerging into the industry and also while creating their own content. I think the industry is more open to new talent and new faces because the world itself is ever-changing so they need to adapt the same thing.
Someone who I think changed the game is IssaRae because her story started on YouTube, and seeing someone graduate from that and making into the amazing show that is now is inspiring and I think she created a new path for artists to expand their own creativity and make their own content.
What would your idyllic life as an artist be like?
Honestly my life would be very simple. I often think about that a lot but ideally it would be somewhere calm, with water, with nature and just living a peaceful, relaxing life. A life of happiness and calmness I think that would be my idyllic life as an artist.
Which are your upcoming projects?
I have a show that's out right now called "A La Carte" on the Allblk network. I play the role of Shyra Clemons and its been really rewarding playing her because in this season she goes through lots of ups and downs and she really has a lot of depth to her which I got to explore so I think the audience will really like her. I'm also in development for a couple projects of my own which I'm really excited for.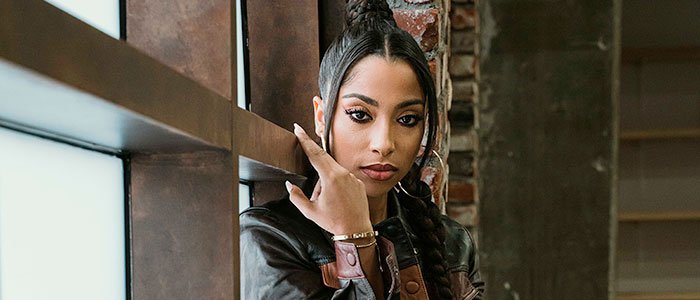 Do you want to know more about Jenna Nolen? You can find some projects below.