GUITARIST, SONGWRITER, SINGER, COMPOSER & PRODUCER
Joey Stuckey is an award-winning blind guitarist, songwriter, singer, composer, producer, radio and television personality, music columnist, educator and sound engineer. He is also the official music ambassador for his home town of Macon Georgia.
Joey's guitar style is reminiscent of rocker Jeff Beck and jazzer Wes Montgomery, while his vocal influences range from Mel Torme to Gregg Allman.
As an infant, Joey lost his sight and sense of smell as the result of a brain tumor and was introduced to music from an early age. His mother enjoyed opera, while his dad enjoyed country music. When he was 13, Stuckey developed pneumonia and eventually had to be home schooled for an entire year.
What began as a simple statement turned into a life-long passion. After that evolutionary period in his life, Joey bought all kinds of sound equipment and was soon recording sessions in his house with various garage bands. He was amazed at the writing ability from the many musicians he came across. "I realized, at that point, that there were things I wanted to share with the world," says Stuckey. "And I knew that the medium for that was music."
Without missing a beat, Joey graduated from high school at the age of 14 and at 17, began his musical career by taking classical guitar lessons from noted music professor Terry Cantwell. Joey went on to attend Mercer University. He furthered his musical education by studying with renowned jazz guitarist Stanley Jordan and later, with Professor Steven Crowell.
Despite his physical limitations, Joey has flourished in every aspect of his life. He released several albums, including 'Take A Walk In The Shadows' (1995), 'Ironies, Pain And The Light That Guides' (1999), 'Live And Stuff,' (2000), 'Live And More Stuff,' (2001), 'So Far,' (2003), 'Oceanside,' (2009), 'The Shadow Sound,' (2011), 'Mixture' (2012) and 'The Acoustic Sessions, Volume I' (2014). Joey experienced national success with the launch of 'Mixture,' which reached #9 on the CMJ Top 40 Jazz Charts for North America.
Joey enjoys promoting music in various ways. He is a featured music columnist for the webzine 'Portal Magazine' and contributes regularly to a music blog on 'Gateway Macon,' where he writes about the history of music in Macon and other music-related topics.
"Macon's Music ambassador is making a difference!"
When did you start to get interested in music?
Music was always a big part of my childhood, and I am so glad it was because I was a very sick child. I am a blind brain tumor survivor, so in those early years, music was a great source of comfort!
I credit my parents for always keeping music, positivity, and love in our home!
However, it wasn't until I was about 13 years old that I became interested in the recording sciences in a serious way.
I had been sick with pneumonia and had to stay in the hospital for a few weeks and then recover at home for many more months. I discovered old radio shows from the 40's 50's and beyond and for a blind kid, it was a watershed moment as that kind of program told stories using only dialog, music, and sound effects. So I thought, man, I could do this kind of thing for film and TV, I mean, who better than a blind kid to tell you if things sounded realistic or not. So my folks got me some inexpensive recording gear and off I went exploring the universe of sound!
I then got my first job around 15 years old at the local planetarium as a sound tech and from that, folks started knowing I had some recording gear in my folks' attic and asked me if they could start recording their demos and my business of being a recording engineer was born! Then around 17 years old, after recording bands for a while, I had a band record some original music and then I had another moment of clarity, and I knew that music could be the vehicle through which I would tell my story.
By 19 I had a pro studio in downtown of my hometown of Macon, GA and I am still doing it!
If you were an advertisement, what would your slogan be?
Macon's Music ambassador is making a difference!
Which is the part you enjoy the most about music?
Meeting new people and visiting new places. Hearing people's stories and working with students and recording artist that are new to the craft of music to provide them with recordings and advice that can make a difference in their lives.
Most artists say that through their art they learn more about themselves, heal injuries… In which aspects has music helped you?
Anything that can provide you with an honest reflection of who you are and your place in the universe is a good thing. For me that tool is music! It is a powerful thing when someone sings your life—it puts the lie to the idea that we are all alone!
What does music mean to you?
Everything!!! Besides family and friends it is my world!
Who are your idols?
Too many to mention, but always at the top of the list is Paul McCartney, Neal Finn, Miles Davis, and John Coltrane!
If you didn't like your art what would you like to do?
I want to make a difference and for me producing, speaking, teaching and singing are the best ways I know to do that. But, I believe toy makers change lives, so I wouldn't mind doing that, or perhaps being a US senator.
While I really hate politics as a constant way of life and think it was never supposed to be a full time career, I find that lately I want to be more outspoken about our country and the direction it is heading, so if I wasn't too invested in my music life both emotionally and financially I might throw my hat in the ring for public office, but don't worry, this is just a passing fancy, I won't do it.
Do you consider that nowadays there are more or less opportunities for new artists? Why?
This is a very complicated question that requires a nuanced response that I can't go into here, but basically, I do not believe in a "golden age". There are always Pros and Cons to every age. What I will say is that more people have opportunities than before to sell directly to fans, but there are fewer super stars.
You have to educate yourself to keep up with the times and they change faster and faster, but at the end of the day, you have to be smart and work hard and have realistic goals and you'll be fine.
What would your idyllic life as an artist be like?
I am close to it now. I just need to have more exposure so that I can go to the places I want and work with who I want and have the best tools so I can make the records I want. Again, I am almost there. For the most part, I do what I want, but sometimes I must do things I would rather not, but that is part of being an adult LOL.
I would add that I would like a home in the UK, one in LA and one In NYC. Those places I like to work now, but would love to have homes there as well, would be better than hotels LOL.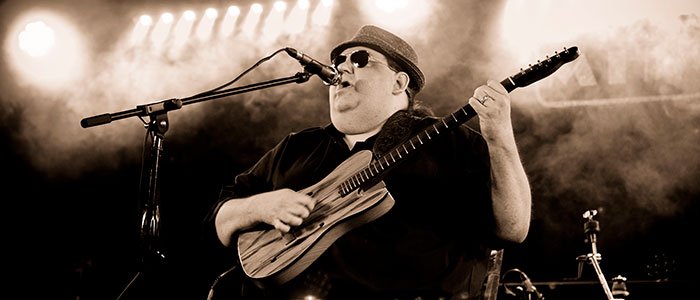 Do you want to know more about Joey Stuckey ? You can find some projects below.