Margarita Rovenskaya - Bio
Pianist Margarita Rovenskaya has performed extensively in the US and abroad, with recitals in Weill Recital Hall in Carnegie Hall, Steinway Hall, Zimmerli Museum, Ukrainian Museum, Teatro Machiavelli in Sicily, and Salmagundi Art Gallery, among others. Prizewinner of the WPTA Finland International Competition, Constantine the Great International Competition, Mary Smart International Concerto Competition, and American Fine Arts Festival. Margarita performs in several annual concert series such as Bach to the Future Concert Series, Young Masters Concert Series, Manchester Music Festival, as well as the annual Ukrainian Contemporary Music Festival held at the Ukrainian Museum in NYC. 
Born in Ukraine, Margarita Rovenskaya began studying the piano at the age of six in Chicago. She earned her Bachelor of Music in Piano Performance at Oberlin Conservatory in May 2012 and her Masters in Piano Studies at New York University in May 2014, where she also served as Adjunct Piano Faculty. She is currently earning her Doctorate of Musical Arts at Rutgers University. She is based in New York, where she performs and enjoys teaching.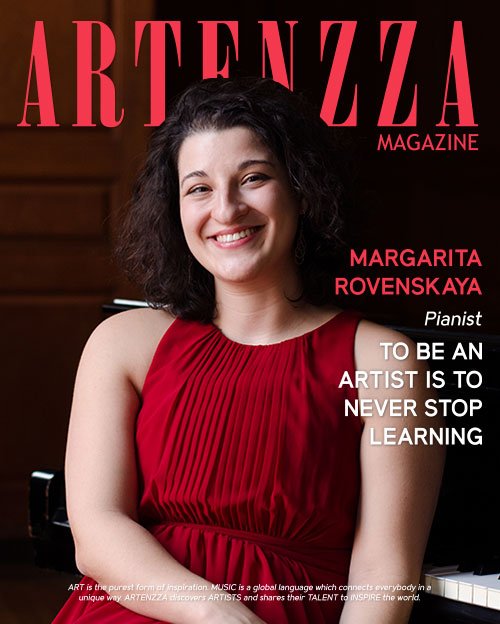 "To be an artist is to never stop learning"
Margarita Rovenskaya - Interview
When did you start to get interested in music?
My grandmother was a great lover of classical music. When I was young, she would always listen to great music while she cooked – music like Bizet's Carmen, or Tchaikovsky's Nutcracker, Mozart's symphonies and concertos. She had played violin as a child in Russia but had to stop because of war, and so she instilled in her grandchildren this love for music. You could say I grew up in music, surrounded by family of scientists and mathematicians who adored it! I started taking lessons when I was six, and it just became something I really loved, to the point where I would run to the piano after school without taking my coat off.
If you were an advertisement, which would your slogan be?
To be an artist is to never stop learning.
Which is the part you enjoy the most about music?
Music is a timeless source of solace or joy, always bringing happiness or relief to ourselves or our audiences. It brings people together and creates understanding and connection – so important in our special times! And of course it inspires me, encourages me to learn and listen carefully.
Most artists say that through their art they learn more about themselves, heal injuries… In which aspects has music helped you?
Every day I feel so lucky to have so much amazing repertoire, and so grateful for the piano. Music has connected me with incredible musicians around the world, who have similar goals and believe in music like I do, no matter our age or background. Connection makes us stronger, and it's amazing to see that in musicianship.
What does music mean to you?
Music is not only a tradition in my family, but a way for me to express myself, connect with others, and bring peace to audiences.
Who are your idols?
My teachers and my mentors inspire me every day! Their infinite wisdom and guidance is invaluable. I also admire Sokolov, Claudio Arrau, Clara Haskil, Clara Schumann.
If you didn't like music, what would you like to do?
I think I would work in a field of literature or history! I love to read!
Do you consider that nowadays there are more or less opportunities for new artists? Why?
I think these days our profession is really changing, and musicians today really need to create their own opportunities. We need to strive to be as well-rounded as possible, and wear many different hats, yet focus on what we love. So it is a delicate balance, but I believe that working hard leads to opportunities!
What would your idyllic life as an artist be like?
It would be multifaceted. I would be happy performing, teaching, collaborating, connecting, with room for books, movies, operas, daily walks and exercises as well as good food
Margarita Rovenskaya - Projects
Do you want to know more about Margarita Rovenskaya? You can find some projects below.