Guitarist, Singer & Songwriter
Mat Nao invites us into his musical universe shaped through travels and the stage. On texts between dreaminess and reality, the artist creates a roots sound both clean and groovy, mixing rock, blues and soul from the 70s to the present day …
After almost five years in Australia, setting up the Franco / Australian group Niméo from 2007 to 2014, a first opus was released in 2011 entitled "L'amnésie »(Amnesia). A prosperous period where he set fire to concerts and festivals in Australia and Europe. Back to France, he created Nao Trio with which he opened for singer Arno with their flagship title "Shake It".
It is now in solo that this multi-instrumentalist, with his looper and passionate about groove, delivers an organic performance made of loops and samples that instantly feasts the eyes and ears. With his compositions and a few covers adapted to his unique style, he will continue to scour festivals and concerts …
In June 2020 Mat Nao presents his last clip with the single "Higher in my Sky" created during the confinement period in March and April 2020. The clip can be seen on the site and his YouTube channel : Mat Nao
When did you start to get interested in music?
I started to get interested in music at the age of 6, when I saw my very first live concert with Eric Clapton and Elton John. Afterwards I listened with more attention to the vinyls of rock, blues and soul artists from the 60's to 70's that my parents used to play… But I really started to develop a more specific interest in music when I started to learn guitar at the age of 15…
If you were an advertisement, which would your slogan be?
« Live in the now! »
Which is the part you enjoy the most about music?
Being able to make people and yourself vibrate through your music. No matter the moment, if we can connect with each other in the present moment through a melody, a word, a phrase or a feeling; That's where the magic happens.

Most artists say that through their art they learn more about themselves, heal injuries… In which aspects has music helped you?
Music has allowed me to highlight the different parts of my personality, from the darkest to the brightest. It has allowed me to see that the "dark" and the "bright" form a whole together. It helps me in my everyday life to find balance and harmony.
I have found keys through the writing process, it is like a kind of personal development that guides me towards the positive side of life to be in tune with myself. I like to tell myself that some of my songs are mirrors of my unconscious. They say that music soothes the mind… I'm convinced that it does.
What does music mean to you?
Music is my addiction,
Music is my blessing,
Music is my ally,
Music is my way to communicate with the world,
Music is my way to breathe in and breathe out,
Music is silence,
Music is everywhere to me…
Who are your idols?
Are you sure? Well okay… here we go!
Van Morisson to John Buttler trio, The Doors, Fat Freddy Drop, Ernest Ranglin, Rickie Lee Jones, Stevie Wonder, Led Zeppelin, Donny Hathaway, Noir Désir, Marvin Gaye, The Rolling Stones Jammie Cullum, Fatboy Slim, Finley Quaye, John Mayer, Morphine, Paolo Nutin,i The Police, Hendrix, Eric Clapton, Joe Cocker, James Brown, Ray Charles, Donovan Frankenreiter, Gotye, Aretha Franklin, Nosfell, The Black Keys, Bernhoft…
If you didn't like music, what would you like to do?
Travel in time!
Do you consider that nowadays there are more or less opportunities for new artists? Why?
These days there are multiple possibilities via social networks to make themselves known and at the same time it is more complicated for an emerging artist to stand out from the crowd.
It is up to us to create a connection and give people a reason to pay attention to what we have to offer, beyond our creations.
There are so many great artists waiting to be recognized…There is no magic recipe. Take pleasure with your creations and keep sharing your art.
What would your idyllic life as an artist be like?
Having the opportunity to work with inspiring people. To grow as an artist. To tour internationally and continue to create and share my music with as many people as possible. And above all to share good vibes around me again and again…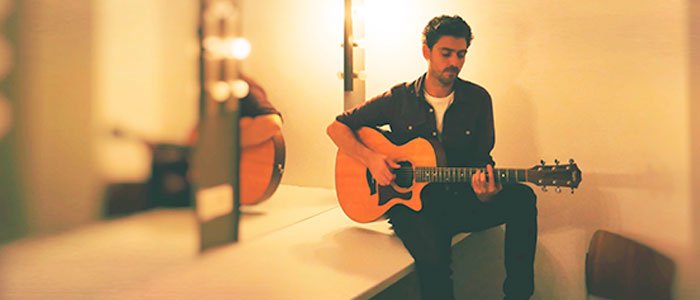 Do you want to know more about Mat Nao? You can find some projects below.