VISUAL ARTIST & IT ENGINEER
Muna Al-Bader Born in Doha, Qatar, Muna is also known as Artist of Blue, a Qatari contemporary artist, entrepreneur, IT engineer, and business analyst. Highly educated, Muna has several degrees including a Master of Business Administration as well as a Bachelor of Science and engineering in Information and Communication Technology, a diploma in Networking and system Administration. A highly sought-after IT engineer, it is her passion for the arts that gives her purpose.
Inspired by the sea and sky of her homeland, Muna's blue series is a sign of freedom as it ebbs and flows over the sea representing both the sadness and happiness of this color. She has exhibited her blue series artworks at a number of solo exhibitions including the 2019 Dan Danah Exhibition, 2019 Katara Dhow Festival, 2019 Dandanah, Qatar National Library, as well as the Arab Youth Forum and a solo exhibition at the Youth Creative Art Center in Qatar.
Recently, she painted a graffiti mural at the University of Houston. Her unique art has garnered her numerous awards including 2020 Qatar Art Ambassador, ACWB, Spain, 2020 Qatar Art Ambassador UNESCO, and one of 2020's top 20 change makers around the world. Muna is passionate about using her artistic talent to communicate and bring people together which is why she is an inspiration to young artists all over the world. When not working in the tech world or painting, Muna enjoys playing tennis, piano, and swimming.
"Follow your Passion and dreams to reach the sky"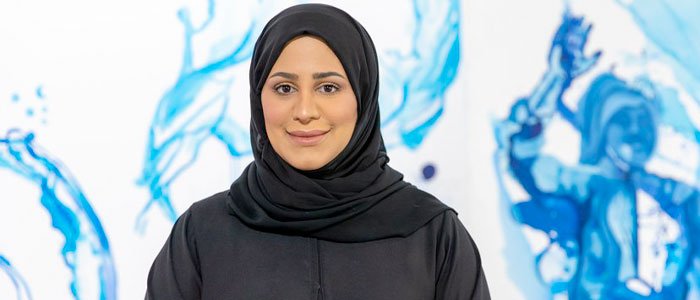 When did you realize you wanted to become an artist?
I feel that art runs through my veins. Since I was young, I loved art and I won many awards, but I did not realize the value of art until years later.
After graduating from high school, I had a lot of free time, so I joined the Art Center and started a training course in pencil drawing. The teacher was telling me that I was very slow and that my friends had finished many drawings and I was still in the first drawing, but when I completed it, he was fascinated by the drawing and encouraged me to go to the next stage, which is oil colors.
A few months later, I won the first prize painting among the Middle East Countries in the second youth saloon competition and another two prizes from Sotheby's Auction House, and from there I became passionate about the world of art.
You're also known as 'Artist of blue'. Why is blue your characteristic color? What is the meaning behind it?
The blue color is a story of feelings that do not end for me, as it is like the air we breathe and the water we drink. The blue color is always associated with human feelings of joy and sadness. Behind every sadness there must be great joy.
That is why the journey of searching for the secret of the blue color began. The blue color was difficult to manufacture and it's rarely available in nature. In addition, it is difficult to paint a complete painting in monochrome and I am a person who loves a challenge, so I created from my own world that I enjoyed and sailed in my imagination to achieve beauty. 
Which is the part you enjoy the most about creating an art piece?
What I like the most about creating an artistic painting is that I spread the ink on the larger canvas and let it flow until it is dry then I start to draw my figures based on the uncontrolled results I got from the ink flows on the canvas. That opens the way for my brain to start imagining the figures and the elements of the painting.
What is your main inspiration when you are creating a new art piece?
When I hold the brush, I sail in my own world, a world enchanted by the beauty of blue and the creativity of colors. The source of inspiration for me is the musical tones, visual vision and sound.
From it, I derive my ideas to start painting. My paintings are inspired by the beautiful melody I heard that takes me to the world of the sea and folk music.
My paintings also are inspired by water drops and stories I've heard from the older people when they retrieved their memories and talked about their childhood and life back in the 60's.
Tell us a little bit of the experience of painting a graffiti mural at the University of Houston.
Every painting carries many meanings because art is the universal language of discourse among people. My graffiti work at the University of Houston is a work of art that addresses students and their passion for knowledge. Science and knowledge are the basis for building nations.
I remember myself when I was young and painted myself on the mural and I was imagining the urban development in Qatar and in America. My father told me a lot about America after he had gone there, and he told me about what he learned. When he returned to Quatar he had great knowledge that he was able to share.
If you were an advertisement, which would your slogan be?
Follow your Passion and dreams to reach the sky.
Which is the message you want to communicate through your art?
Art builds civilizations, educates people, unites nations, and links them together. Through art, I speak to the whole world in one language that everyone understands, which is the language of visual beauty and inner feelings when it explodes on a surface.
What would your idyllic life as an artist be like?
My ideal life as an artist becomes when I share with other artists the knowledge and experience, I have to form an entire army of artists who follow my own school and get inspired through the color blue.
 Which are your upcoming projects?
My upcoming projects are an exhibition in Ankara, another participation will take place in the US and also I will start working on my own book that talks about my art.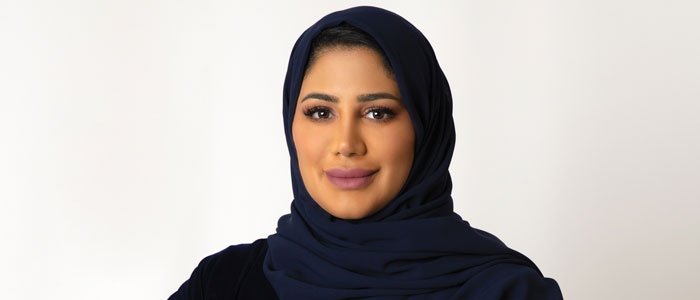 Do you want to know more about Muna Al-Bader? You can find some projects below.