Paris Bravo is a 16 years old actress, dancer, singer and model from Los Angeles. A Junior in High School pursing her dreams. She also holds a 2nd Degree Black Belt in Tae Kwon Do. Train in Stunts, Martial Arts, Weapons (Sword, Kamas, Bo, Nun-Chucks and Board Breaking) MMA/BJJ, Kick Boxing, Parkour.
Her dream is to become an award winning actress that can do the majority of her stunts to make the project look as seamless as possible.
"Dream big! You have the power to make it happen!"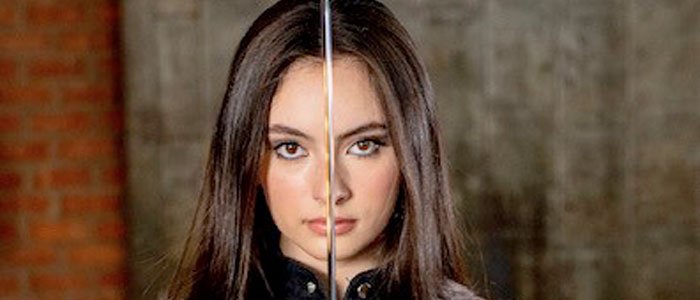 When did you start to get interested in acting?
My start in Acting came after I earned my 2nd Degree Black Belt here in LA. I watched several of my friends working on shows and movies. I knew that I had a special creative flair to bring characters to life and jump off the page! At age 2; I was always singing and performing for my parents on top of our coffee table. Envisioning my name in lights, whether it be on Broadway or a Movie Marquee.
I began my admiration of martial arts at age 5 and competing at age 6. Thriving in competing in martial arts like; sparring, forms, weapons, and extreme forms over 4 years across the country. I have earned several national grand championship titles. I have learned that hard work, determination, dedication, perseverance to my craft does pay off. I watched my idol Caitlin DeChelle (Gal Gadot's Stunt Double in Wonder Woman) on the Grand Stage at age 6; "I want to train hard to be as good as her".
Our family researched and found that Ms. DeCehelle trained under Mike Chat at XMA World Headquarters in North Hollywood. As a family we decided to leave Orlando so that I could train under the most innovative instructor in the martial arts world. With the knowledge, training, and power that I learned within martial arts, stunts, acrobatics, weapons, and discipline training with Mr. Chat; it has catapulted me into acting, modeling, and stunts.
I currently train at JAM, that offers several disciplines and types of training. This training assures me to be a well-rounded talent in the industry. I also train with industry stunt greats like LaFaye Baker, Tony Snegoff, Philipe VonLathen (mentor), Austin Durden and Hayden Lam.
If you were an advertisement, which would your slogan be?
Dream Big! YOU have the POWER to make it HAPPEN!
Which is the part you enjoy the most about acting?
The part that I enjoy most about being an actress is being able to touch people. I can help make the character come to life. Help share a story – make someone feel several emotions in two hours or less. I truly enjoy sharing and helping. One scene could inspire a viewer and change their life. I can transform from a homeless person to a superhero!
I enjoy the challenge of storytelling. I crave the adrenaline when I perform and incorporate stunts as well. I really like traveling to other parts of the country to work on set. The best part of all the meeting new actors that you form incredible relationships with for years to come. The seasoned actors are so encouraging and want to mentor me/others as a youth, share their experiences – passing on their knowledge and talent for the future!
Most artists say that through their art they learn more about themselves, heal injuries… In which aspects has music helped you?
With my art of acting and martial arts; I would say that martial arts have helped my confidence and strength as a performer. Acting has helped bring out sides of me that I did not know were even there. Both combined -gave me a voice.
What does acting mean to you?
Being an actress and young performer, means the world to me! I would love to do this the rest of my life. Being an actress is never boring. Each day is new and different. I adore becoming a new character and being given a different direction by the Director. The Director can totally change up the scene by an emotion, a facial expression and how loud or soft you speak out the lines.
Being an actress, I can transform into a deep character, improv as well as comedy.  As an actress I am also allowed to put parts of me in the scene. I hope to be able to perform for the greats before me. Dreams do come true, but you must work for them! This is NOT an easy business; and has made me stronger for it. I am forever grateful to everyone that has supported me and gave me a chance in this industry!
Who are your idols?
My idols are Caitlin DeChelle, Mike Chat, Dove Cameron, Johnny Depp, Margot Robbie, Tom Hanks, Joaquin Phoenix, Jared Leto, Angelina Joile.
There are so many actors that I admire, for different reasons. Some  for their acting styles and what genres they like to play.
If you didn't like acting, what would you like to do?
Great question! If I would not have become an actress; I would probably still be competing in martial arts. Playing sports in school, volunteering, and attending church. I would like to attend college when I graduate High School and earn my degree as a psychologist. I would like to help with the youth that face mental health challenges.
Do you consider that nowadays there are more or less opportunities for new artists? Why?
As a young performer, I believe there is much more opportunities to work. You can make your own content, submit self-tapes. Social Media is the new way of life, this is a huge tool being used not only by Casting, to find new talent, but other artists can find you to collaborate!
There are outlets that were not available before. You can now market and brand yourself and make a great living!
What would your idyllic life as an artist be like?
My idyllic life as an Actress and Stunt performer – would one day work on set where I could use all my talents/skill sets. I would love to travel, learn new styles of acting, martial arts and new cultures from various shoot locations.
Life would be crazy, stressful, challenging and rewarding. With success, I would also be able to give back to my family, my community, and my church.
 Which are your next projects?
I have a new move called "Christmas vs. the Walters" that premieres nationwide in theaters this November 5, 2021 and on Demand November 26, 2021.
I play the role of "Abby Walters"; alongside stars like: Dean Winters, Caroline Aaron, Betsy Beutler, Nate Torrence, Richard Thomas, Jack McGee,John Farley with Bruce Dern and Chris Elliott.
Do you want to know more about Paris Bravo? You can find some projects below.