Wolfyne is a singer and a lutenist that started to play music at the age of 3 years old. She played the violin for 7 years. When she was 6 years old, she went to a concert with her mom, who is a music teacher, and she discovered early music and loved it. Now, at the age of 16, she's at the CRR of Paris, trying to validate her diploma!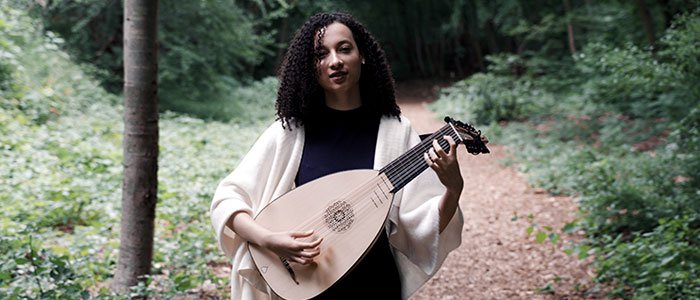 When did you start to get interested in music?
I am from a family of musicians, so I have been surrounded by music before I was even born! Music has always been a big part of my life, and it's steadily growing even bigger as I get older.
If you were an advertisement, which would your slogan be?
A girl with a lute
Which is the part you enjoy the most about music?
What I enjoy the most about music is that we can lose ourselves in it (this is why I love dancing too, because for me music is a very physical thing). You know the stories of ghosts who made people dance, and dance, until they died of exhaustion? Some music make me feel like this. It could look frightening, but the adrenaline and all the pleasure that comes from hearing, feeling the music is what keeps me going, what keeps me alive until the next note, and on, and on.
Apart from that, I love when I get to "freestyle" with other people, and at one point we manage to anticipate each other's movements, to understand each other without needing any words, as if what we were playing became our language. That's so fun!
Most artists say that through their art they learn more about themselves, heal injuries… In which aspects has music helped you?
As a very anxious person, I am deeply scared of "being too much", and when I am singing or playing, to be understood, I have to pour all of me in what I am doing, but instead of being seen as vulnerable, it is strengthening. That is liberating for me to do, and people are often surprised by the fact that I actually have a personality.
Music allows me to be me, really.
What does music mean to you?
I will not say everything, because that's cliché (but I am going to try and make you understand it like this nonetheless).
Music is a comfort to me, as I am never alone, always surrounded by sounds, melodies that could not leave me even if I tried to push them away. Music is a source of courage, as it makes me confident when I am not, strong when I feel weak.
Music is a source of frustration, when I can't play what I want or say what I want to say. Music tears me apart when the sadness of a melody traps me without the promise of an escape. Music is a paradoxe, like a drug.
You probably have had this experience with a book or a movie that you felt took you by the hand and said "hey, let's visit another dimension, let's be someone else for a minute!", and you followed, well, music makes me feel like this sometimes. It leaves me breathless, wanting for more.
Who are your idols?
I do not have proper idols (sadly), I just love everyone who has ever made a music that "filled me" (I haven't found words to describe the feeling of "becoming the music", so please excuse the poor choice of words), and has a kind heart.
(The music I actually listen to goes from Ariana Grande to Hidden Citizens, Ruelle, Tommee Profitt, some songs by Dowland, the famous renaissance composer, etc.)
I also have the luck to be surrounded by Extremely Talented People (my mother is an amazing classical guitar and theorbo player, I have a friend who is horribly humble but is a gymnastic genius, my cousin and another of my wonderful friends have taken all the pictures of me that you see, …) which helps a lot for inspiration and having the courage to work on my projects.
If you didn't like music, what would you like to do?
I love languages! I am French (born and currently being raised in Paris), but I learned English alone (in my room with YouTube videos), and I am trying to do the same with German! I love learning new ways to express myself, new words or idioms, and I love discovering new links between our thinking patterns/traditions and our languages! It also helps with open-mindedness because it gives me a new way to look at things. 50/10.
Do you consider that nowadays there are more or less opportunities for new artists? Why?
There are a lot of opportunities for new artists today, but they are not the same as they were, let's say, at our parents' generation, because most of them are linked to the Internet instead of being in person, which can be confusing to some people. When I created my Instagram account in April, I did not think that in October I would already be given the opportunity to do weekly live shows on Live Sessions or that I'd be able to be promoted on this beautiful music magazine! (Thank you Artenzza!)
What would your idyllic life as an artist be like?
Although I am already living somewhat of a dream, my idyllic life as an artist would be to create all day, and perform at night. I said that I was an extremely anxious person earlier, and I will struggle to start a conversation or to express my opinions without instantly berating myself for existing but for some reason, being on stage makes me feel powerful, invincible. Who doesn't like to feel this way?
Do you want to know more about Wolfyne? You can find some projects below.