Singer, Songwriter & Guitarist
Aneesa is a singer, songwriter, guitarist and student at University of Michigan. Her experience as Miss Michigan Teen USA navigated her to find her purpose and passion in life: reaching others through her music and entertaining.
"Written Through The Eyes of my Life"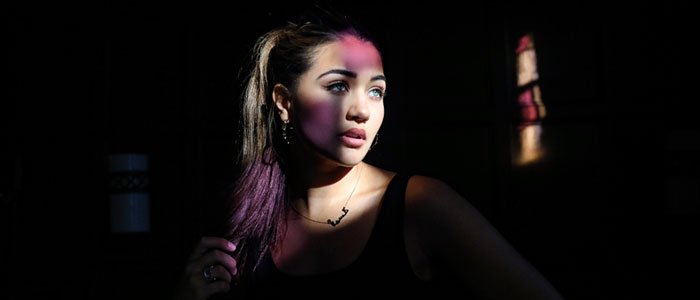 When did you start to get interested in music?
I picked up my first guitar when I was eight years old after begging my parents for a year to get me one. Unlike other eight year old female guitar players, I would ask my teacher to help me learn songs by Led Zeppelin, Metallica, and Santana.
My grandpa let me learn how to change guitar strings on his twelve strings and I fell in love with it. After he gave me the guitar I quickly began writing my own songs on it. The pivotal moment when I knew music was a forever for me and not a phase was when I was fourteen and sang at "The Woodsongs Old Time Radio Hour" show in Kentucky three original songs and was interviewed on stage.
I remember no one told me what to sing or how to answer the interview questions. The environment on the stage didn't scare me, in fact, In that moment I felt the most "me" then I had ever. Sharing my raw original songs with the audience gave me an overwhelming feeling of peace and rush of adrenaline. This was the moment when I really became interested in my craft.
If you were an advertisement, which would your slogan be?
Written Through The Eyes of my Life
Which is the part you enjoy the most about music?
I honestly love almost every part of my art. I enjoy each step in the process, but if I had to choose one I would say live shows or songwriting with other musicians.
Most artists say that through their art they learn more about themselves, heal injuries… In which aspects has music helped you?
Music has always been my safe place. A friend once told me that she noticed every time I felt a little out of place in an environment or nervous, I would hold my guitar a little closer or start strumming it. Music helped me specifically during my father's health issues.
My dad and I are and have always been extremely close and when he underwent a paralyzing stroke and cancer, music was the light at the end of the tunnel for both of us. Everything I learned from this emotional traumatic experience I wrote a song about. Music became such a crutch to me that I always had my guitar in my car's trunk incase I needed it when I was out.
What does music mean to you?
Art means expressing something in an indirect way that is not direct communication. For example, I believe that when words fails, music and the lyrics and tone of a song can speak volume.
Who are your idols?
I love Santana, Jewel, and Britney Spears so much. Each of these artists are so unique and differentiate from one another, but they all have been through tough times and turned those times into triumph and it is shown through their art.
If you didn't like music, what would you like to do?
If I didn't like a song I wrote then I would be okay with that. I would try and work on the current song and if I still am not feeling it then I would start a new one. I don't believe in failure, every mistake is a learning lesson and a moment to grow.
Do you consider that nowadays there are more or less opportunities for new artists? Why?
I believe there are so many more opportunities for artists with modern technology; however, this can also be a challenge because the industry is so saturated due to the increase in opportunities more and more people have access to them, which results in an increase in competition.
What would your idyllic life as an artist be like?
I would love to songwriter and record music everyday with artists and producers. Being in the studio is my absolute favorite thing especially when you have a music team where you all spend so much time together with a common interest they become close friends. Connecting with others through music is my favorite thing. If I could play shows every week that would be idyllic too.
Which are your upcoming projects?
I have an upcoming single releasing February 24th. It is called "What You Don't See," as is the unseen reality of my life that is not on social media.
Do you want to know more about Aneesa? You can find some projects below.