Stars in '9-1-1 LONE STAR'
Cooper Friedman (Shameless, Girl Meets World) will star as Abe in the season premiere of 9-1-1 Lone Star which aired January 3rd on Fox. Cooper's episode will kick off the third season of this popular television show.
9-1-1 Lone Star is the spin-off of Fox's hit drama 9-1-1. Both shows are created by Ryan Murphy, Brad Falchuk and Tim Minear.
The show takes place in Austin, Texas and revolves around the fictional company 126. 9-1-1 Lone Star has an impressive cast with Rob Lowe at the helm as well as other talented actors Gina Torres, Ronen Rubinstein, Jim Parrack, Sierra McClain, Natacha Karam, Brian Michael Smith, Julian Works, Brianna Baker, Rafael Silva.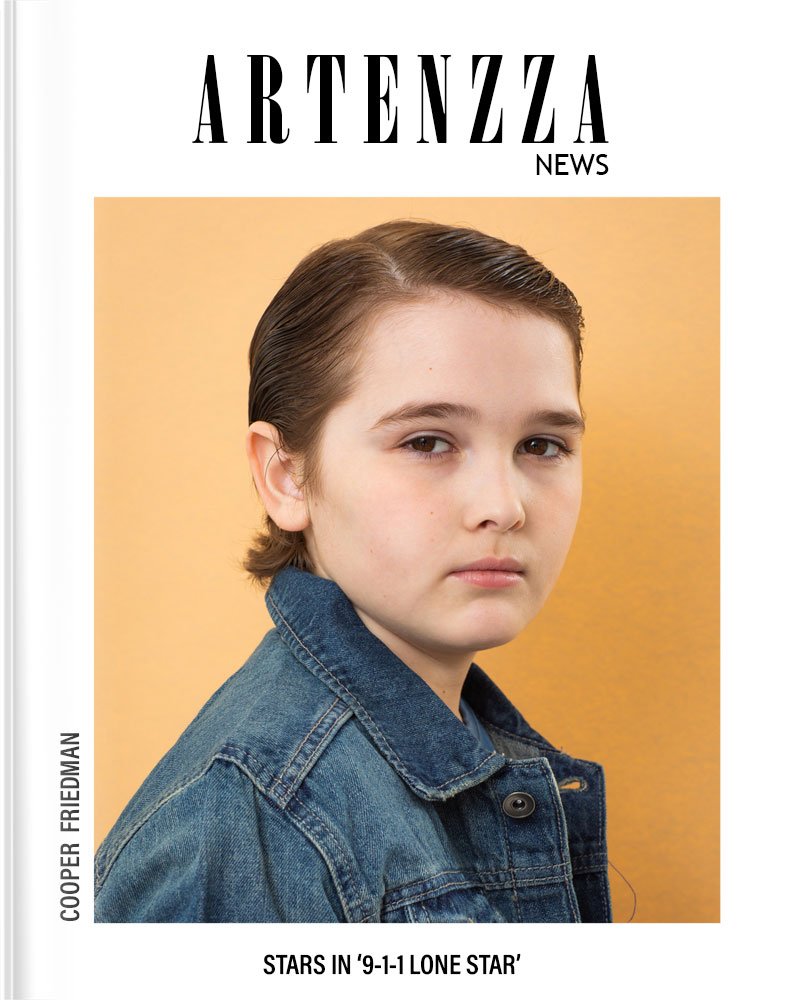 When did you start to get interested in acting?
I started getting interested in acting when I was 4 years old. My older brother, Quinn was already acting and I wanted to do it too. My first job was a tv show called Togetherness that I worked on with my brother.
How it was the casting process for 9-1-1 Lone Star?
I auditioned via self tape and then I had a callback and met with producers via zoom. After the callback, I was put on hold and then I booked the job. I was super excited because I have never played a role like this.
What do you like the most about you character Abe?
I like that Abe is confident and doesn't let his asthma hold him back.
How it has been working with Ryan Murphy, Brad Falchuk and Tim Minear?
Ryan Murphy, Brad Falchuk and Tim Minear have created an incredible show. The viewers get to experience real life and death situations unfold on their screens. The actors play the characters so vividly and you get invested in their lives and the show. I am super grateful to be able to work on this series.
You had to film underwater and also various stunts. How it was that experience?
The underwater scenes were super awesome and challenging at the same time. In order to film the underwater scenes there were a lot of extra crew and stunt coordinators to make sure everything was safe. I had to learn breathing treatments in between the takes in order to hold my breath underwater and safely do the underwater scenes.
What have you learned during the filming of the series?
911-Lone Star is an amazing series. The cast and crew work so great together. I was amazed by the snow scenes and how detailed and elaborate the sets were. They were able to create a blizzard in 85 degree weather and make it look and feel like the biggest snow storm of the decade.
Any secret you can tell us about what we're going to see?
The first two episodes of the new season are incredible. You do not want to miss these episodes. There is so much happening so quickly. The storm scenes are super intense and you can feel the desperation and survival the characters are going through.
Do you have any new projects coming?
I have a movie called Small Town Wisconsin that is coming out in the summer, as well as some voice over work. I have also auditioned for several projects that I am awaiting the outcomes.