Daniel is an upcoming R&B, pop and hip hop artist from Czech Republic. He moved to Ireland when he was 15 years old, an experience that would change his life forever and set him on a path of discovering his music prowess. He is known for producing deep and stirring music as he is drawing inspiration from his emotions and life experiences.
"Be yourself and the world will love you for that"
When did you start to get interested in music?
The interest for music already started when I was a kid, I really enjoyed our music classes in school as much as I enjoyed listening to music in general. I feel like music has helped me to get through lot of tough moments in my life.
However I believe it all started when I got into rap with couple of friends and started doing freestyles for fun same as recording songs on my mother's laptop. This was back then when I was about 13, 14 years old I'd say.
If you were an advertisement, which would your slogan be?
Be yourself and the world will love you for that!
Which is the part you enjoy the most about music?
It's definitely the fact you're creating something special out of nothing! Music is the language we all speak and it can connect to anyone around the world. The most fascinating thing is the emotional connection where you can make someone happy, sad or motivate/inspire them to get through some tough situations. I genuinely think music is a magic and that's why I appreciate any good musical piece done by all different artists, no matter what genre it is as long as it pleasures my ears the talent, creativity and effort is always appreciated.
Most artists say that through their art they learn more about themselves, heal injuries… In which aspects has music helped you?
There was a really hard moment in my life…it's the time when I moved to Ireland with having no friends around me. I was taking this very bad because I felt lonely, I missed all my friends and family especially the fact I was 15… It was the best time to have fun and make unforgettable memories. One day I took my father's old acoustic guitar and decided to learn how to play on it by watching online tutorials. I fell in love it because I could express my emotions while playing few songs over and over and it made me feel better. It's like the pain and anger in me got relieved each time I played. So yeah music eventually became my best friend and I knew its part of me and it's something I want to do for life.
What does music mean to you?
Music means all to me, it's a part of my life and I can't stop that creativity and drive flowing inside me. It always makes me feel better and even when I'm feeling good I feel like I want to share that happiness with people just by playing few songs of performing.
Who are your idols?
I've lot of idols I was looking up to as a kid but one of my biggest idols is Post Malone. I love the way he expresses himself in his songs and the fact he could place the deep & strong vocals into hip hop genre.
I also listen to lot of G-Eazy, 6lack and recently got into Bad Bunny.
When I was a kid I was mad into Nirvana, Linkin Park, Metallica etc.
As I've mentioned before I appreciate any type of music as long as it pleasures my ears and refreshes my mind!
If you didn't like music, what would you like to do?
I also enjoy working out and lot of different sport activities so I'd probably be considering of becoming a personal trainer or something like that. I like the healthy lifestyle and it makes me feel good!
Do you consider that nowadays there are more or less opportunities for new artists? Why?
I genuinely think there's more opportunities nowadays as we have Spotify, iTunes and more streaming platforms that gives us the chance to make easy money for what we create and for what we love doing. I also believe there's more record labels and management services but in my opinion it's all about who you know and being on the right place in the right moment.
What would your idyllic life as an artist be like?
I'd like to be able to buy and get anything I've ever dreamed of. Live a nice peaceful life somewhere at the beach where the sun doesn't hide.
As for a music I'd love to have my own professional studio where I could keep creating new musical art that would emotionally help and inspire many people around the world. Let's not forget about performing I'd love hit big stages and show the people everything I've been working on.
Which are your next projects? 
I've recently released my new single "Less Ordinary" and my goal is to get it added onto a good Spotify playlist. It's a really powerful song with an inspirational story and I'll be honest I really did put my soul into this one.
I'm also working on my first EP which will be released soon as I'll get everything mixed & organised.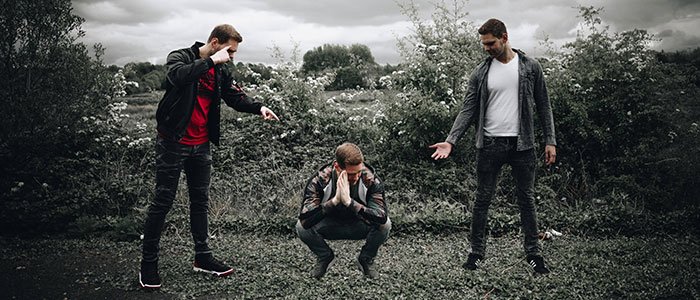 Do you want to know more about Daniel Scany? You can find some projects below.