Born Deven Lavale Purifoy On February 27th 1983 In San Bernardino California; the 10th of 14 children. His father was a Pastor and his mother is a great gospel singer. Mr.Hollywood started playing the drums at 9 yrs of age, at 13 he was given his very 1st drum set by a member of the Legendary Gap Band. At 13 Deven became California's State drummer in his church congregation. During his freshman year at Rancho Verde High School in Moreno Valley CA Deven joined the marching band. Which went on to win several Championships?
Deven "Mr.Hollywood" Powers is currently the Host of The LA Live Film Festival 2018, 2019 & 2020. He's also The Founder & CEO of Black Film Festival Los Angeles. When it comes to the high life Deven is living up to it, you can catch Mr.Hollywood on the cover of Film Central, Global Millionaire, Starcentral & Stardom 101 magazine. When Deven's not gracing the cover of magazines, or hosting red carpets he's hosting "The Mr.Hollywood Tv Show" airing on At&t U-Verse & Charter Spectrum. Mr Hollywood is scheduled to release his upcoming TV show on Amazon Prime without a doubt Deven Powers is becoming The voice & Face of Hollywood.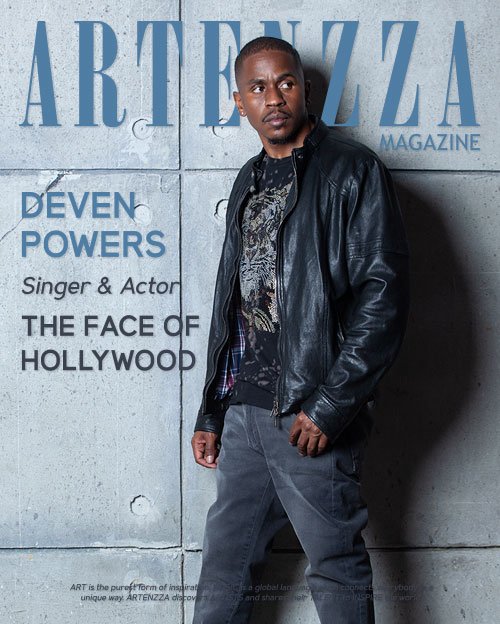 When did you start to get interested in music?
I started at 9 years of age when i began playing the drums at my father's church; my mother was a drummer and a Legendary gospel singer so music is in my blood.
If you were an advertisement, which would your slogan be?
THE FACE OF HOLLYWOOD
Which is the part you enjoy the most about music?
I love the creation aspect of music it's the process of turning nothing into something  and then watching the world enjoy something I spent hours even days perfecting.
Most artists say that through their art they learn more about themselves, heal injuries… In which aspects has music helped you?
Music helped me to discover myself. For a while I was confused, lost and uncertain in the direction of where i wanted my life to go. Music helped me also discover my relationship with God. He speaks through me through my music.
What does music mean to you?
Music is my heart beat. Music is the beat of the drum that controls the rhythm of my life. Music literally is life and love is life.
Who are your idols?
Denzel Washington, Tyler Perry, Ice Cube & Dj Quik
If you didn't like music, what would you like to do?
I would like to definitely do something in the arts because I'm extremely creative. I would probably be a poet, painter, designer of a teacher of the arts.
Do you consider that nowadays there are more or less opportunities for new artists? Why?
It's a combination of both because you create your own opportunities. Social media and the internet can be your best friend or your enemy, because nowadays the music industry and internet is saturated with so much music and so many new artists. Back in the days it was only a select group of people that could have been heard. With the emerging of the internet now it's an open playing field. Nowadays your success in the music industry is determined by your work ethic, quality of music and your independent marketing abilities. At the end of the day it comes down to this a hit is a hit and when people hear a hit record they gravitate to it.
What would your idyllic life as an artist be like?
To have the number one song album in the country win Grammys and make Timeless Classic Music that the whole world sings even when I'm dead and gone that's the vision to be one of the greatest artist of all-time
Do you want to know more about Deven Powers? You can find some projects below.