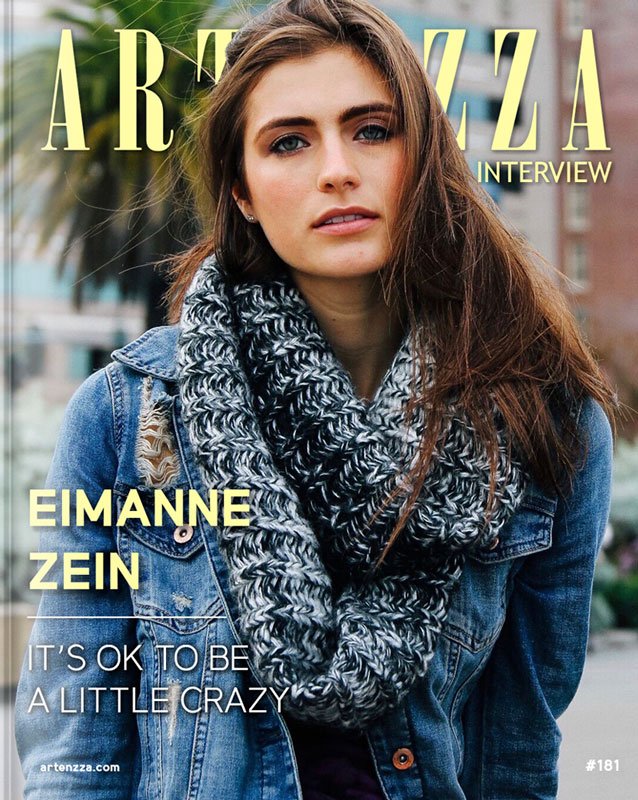 Eimanne Zein was born in Seattle, but raised all around the world in such places as Lebanon, Dubai, Germany and Canada. She spent her childhood directing short films with her friends.
While studying film production in University Eimanne fell into modeling when she was cast as "Miss March" in the Whistler Exposed Bikini Calendar.  From there she booked her first NATIONAL MAGAZINE COVER and has since modeled for such brands as LULULEMON, FITBIT, WRANGLER JEANS and JEEP. While she found success in modeling, Eimanne still had the passion for acting and has trained in SAN FRANCISCO, NEW YORK and LA. Acting brought her recurring roles in BACK TO EARTH: INTERACTIVE EXPERIENCE and PROJECT CHILD: ORIGINS as well as a lead role in the award winning short BROTHER'S KEEPER.
In pre-production is her newest project for Instagram TV entitled ON YOUR KNEES explores faith and freedom through the eyes of a young Muslim woman. A lifelong Vegan, Eimanne uses her platform to highlight conservation and sustainability.
She is an ultra- marathon runner competing in 100-mile marathons as well participating in other extreme sports such as rock climbing and dog sledding. When she is not working, Eimanne enjoys cooking, gardening, reading and dancing. 
"It's ok to be a little crazy"
When did you start to get interested in acting and producing?

I first became interested in acting when I was a little girl growing up with a very active imagination. My family traveled a lot and it was a little difficult making friends every time we relocated, so the way I used my time was by writing and creating stories, using my imagination to find something that could make sense of the world I was living in. I witnessed a lot of different kinds of ways of life and quickly realized film was a very powerful connector. That made acting and producing irresistible to me.
If you were an advertisement, which would your slogan be?
It's ok to be a little crazy. I truly believe in unbelievable dreams. Whatever it is that drives you, fuels your passion, keeps you up at night in the best ways possible… That's what I believe we should spend our time doing, and sometimes to people on the outside looking in that looks a little "crazy", but to the the success stories that I know, that's just the only way to be!
Which is the part you enjoy the most about acting?
I love the feeling of absolute presence. It can be hard to access that in our day to day lives, but when you're acting it's demanded of you. I find that challenge incredibly rewarding when it's achieved. It's so powerful to access your own vulnerability and truths.
Most artists say that through their art they learn more about themselves, heal injuries… In which aspects has acting helped you?

Acting definitely helped me learn about myself. Anytime I felt stuck in my career or was tackling a character that intimidated me, it forced me to deep dive into a self exploration. Through that I've overcome (or continue to overcome) feelings of low self worth, being enough, and figuring out who I actually am. It's so important as an actor to have a strong sense of self, otherwise it's too easy to get lost in a character or create work with no perspective.

What does acting mean to you? 
Acting is about the journey. It's about self discovery, growth, and connecting with people. It's one of the the greatest adventures that can teach you so much about yourself!
Who are your idols?

I loved David Bowie. He was the epitome of an artist to me. I love how he fully expressed and embraced his uniqueness. That is so inspiring because it gives permission to everyone to do the same for themselves.

If you didn't like acting, what would you like to do?
I would decorate cupcakes if I wasn't acting! Still an artistic endeavor, and one that's pretty sweet.
Do you consider that nowadays there are more or less opportunities for new artists? Why?
I absolutely think there are more opportunities for new artists these days! It's never been easier to make your own work, to follow your own vision and get things done. There is never just one path for an artist, and with new avenues and platforms to share work, comes new opportunities.
What would your idyllic life as an artist be like?
Just creating all the time! I would have the chance to rest and focus on the self care necessary for recharging and then be able to pour myself into projects that I'm crazy about. It would include writing, acting, directing, and whatever else I could do to bring visions to life from my collaborators.
Do you want to know more about Eimanne Zein? You can find some projects below.