Singer, Songwriter & Musician
Emma Saville is an evocative British singer/songwriter based between London & Sheffield, UK. Her "soulful, Latin-infused pop" has received highly positive international acclaim. Emma's best known for her down tempo /chill out single "Be as One" produced by MinusBlue, which is on over 200 compilations worldwide. Emma's music has been streamed millions of times worldwide, & her distinctive voice is still finding new fans. Emma is currently writing her first, much-anticipated, solo album to be released throughout 2021.
"Drift away with Emma's soulful, Latin-infused jazzy pop"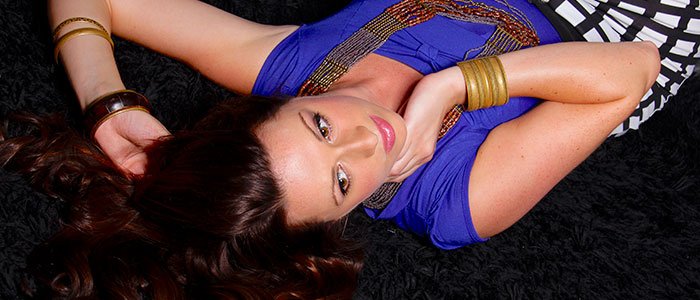 When did you start to get interested in music?
I've loved music for as long as I can remember. When I was growing up, we often danced around our kitchen listening to everyone from Tina Turner, Ladysmith Black Mambazo, The Beatles and Roy Bailey. This meant I was encouraged to listen to a wide range of genres from a young age, which I think has helped me as an artist. In terms of training, I had vocal lessons for several years from age 11, I trained classically at first, and then had a year's jazz vocal coaching from the amazing Sheffield based singer/songwriter, Sally Doherty. Additionally, I started learning clarinet at age seven, had a year of piano lessons aged nine, and then a year of guitar lessons aged 13. Because that wasn't enough instruments to be getting on with (?!), I self taught myself to play a bit of ukulele two years ago. I'd only call myself a baby musician, as my main instrument (by far) is my voice. But being able to read music/having some understanding of music theory definitely helps with song writing.
If you were an advertisement, which would your slogan be?
Drift away with Emma's soulful, Latin-infused jazzy pop
Which is the part you enjoy the most about music?
Getting lost in the creative process, and the indescribably joy I get when I'm able to create a great lyric, melody, harmony or the right accompaniment. I love when I get goose bumps from a certain harmony, create a spontaneous ad lib that shifts a track to a different level, or part that really integrates with the overall track – it is so, so satisfying when that happens. Travel is also a definite advantage, I've been blessed to perform across the UK, & in Brazil, Costa Rica, Colombia, Cuba, Australia & New Zealand, which has been amazing.
Most artists say that through their art they learn more about themselves, heal injuries… In which aspects has music helped you?
I completely agree with this. In general, I always try and anchor my songs in my lived experience, to a particular time, person or place (or often all three). I think this can help my songs portray more emotion, and connect more with listeners. In many ways, songwriting can be like free therapy. I've sometimes looked back at songs I've written and been like wow, that was exactly how I was feeling/what I wanted to say to X etc.
I also write songs in English, Spanish and Portuguese as I think other languages help me express things more fully, as you can't always find the right words or expressions in one language. There are always things in a certain language that cannot be accurately translated. For example, I released a single in Portuguese called 'Saudade' in January. Saudade means longing, loss, desire, missing etc – and is much stronger than just saying "I miss you" etc. in English.
With regards to personal healing, I was living in Brazil for 7 months during 2018 and 2019, and was unlucky enough to contract severe dengue fever (moral of the story – ALWAYS wear mosquito repellent, even if you don't get bitten much like me). As a result, I got Post Viral Fatigue Syndrome (PVFS is the same as Long Covid, which according to the ONS, over 1.1 MILLION people have in the UK alone), which has been really debilitating and a life changing experience. I went from being independent, being able to do multi-day hikes across tropical, rainforest covered mountains in 35C, dancing all over the world and being really fit and active….to having to move back into my mum's and barely being able to move from my bed/sofa for over a year. Music has greatly helped in my cognitive recovery. I think this is because music is widely acknowledged to be one activity that uses both sides, and many parts, of the brain. The right brain (usually considered to be the creative hemisphere), focuses on the melody in music, whereas the left hemisphere, (the analytical part), is responsible for the understanding of musical structure, lyrics and motor skills, such as playing as an instrument. Playing any instrument which requires your hands to move independently (such as the piano, guitar, ukulele etc.) also helps develop a strong bridge between the two halves of the brain. Studies have shown that musicians tend to have a higher IQ, better short term memory, better fine motor skills, and are able to complete complex mathematical problems, when compared with non-musicians. Which is definitely an incentive for me to keep on singing and playing!
What does music mean to you?
Music is such a hugely important part of my sense of self, it's hard to imagine my life without it. Music has really helped me through difficult periods in my life, and my ability to get lost in a piece of music is something that I really value.
Furthermore, music has been a particular blessing to me and countless others throughout lockdown. I cannot imagine my life without music; I've been privileged to meet some amazing creatives from all over the world. And the pandemic pushed me to re-launch myself as an independent artist for the first time, for which I'm grateful. As a result, I've connected with some amazing creatives, both across the UK and internationally. Plus I've made some new friends through social media connections/collabs, like my amazing talented singer and songwriter mate @sophsmithmusic – who turns out to live 10 mins away from me!
Another of the main advantages of music is being able to express my feelings and experiences in ways that words alone cannot express. Singing, playing and songwriting provide me with a creative outlet that I have hugely valued since being a teenager.
Who are your idols?
In terms of my idols, I would have to say the "greats" (Aretha Franklin, Joan Armatrading, Etta James, Nina Simone, Tina Turner, Ella Fitzgerald etc.) have been a big influence on me. I grew up listening to them, and a lot of world music with my mum. We still dance around our kitchen to Tina Turner etc. to this day! I also love, and am definitely inspired by, contemporary artists such as India.Arie, Jill Scott, Stevie Wonder, Kwabs, Emeli Sandé, Toni Braxton, Beyonce, Alicia Keys, Xênia França, Luedji Luna, Pink, LP, Maxwell, Lady Gaga, Neo, Taylor Swift, Lauryn Hill, Adele, Annie Lennox, Erykah Badu, Alanis Morissette, Gwen Stefani, Norah Jones, Philippa Hanna, to name a few.
Personally, I like listening to all sorts of genres of music, from everything from soul (old and new), hip-hop, dancehall, afrobeats, jazz, drum and bass, Balkan beat, Kizomba, World, acoustic singer/songwriters, some classical, and a variety of Latin music (e.g. salsa, reggaetón, boleros, bachata, bossa nova, pagode). I think that helps me as an artist to listen to a wide range of music, as I can find inspiration from so many different areas.
If you didn't like music, what would you like to do?
Cry? Haha, I've worked as a freelance communications project manager (specializing in projects where the arts intersect human rights and social issues) and web designer for several years – so that, as I also enjoy it. I'll never stop singing though, as I cannot imagine ever not liking music. I'm sure there'll come a point when again I'll (as I have for the majority of the last 7 years) be doing music purely for my own enjoyment, but for now I'm really enjoying recording, releasing and connecting with new talented creatives from all over the world.
Do you consider that nowadays there are more or less opportunities for new artists? Why?
Hmmm, this is an interesting question. Overall, I'd say more, thanks to the internet. However, thanks to the internet, music is far more competitive, and it is definitely harder to earn a (decent) living from music. Unless you're really lucky, rare are the £10-100k+ advances from record deals. And due to streaming platforms, most people don't buy music anymore which means most musicians put up often hundreds of £/$ per track, which often won't be recouped. 1000 spotify streams only makes an artist a mere $3.4! And that's if you own 100% of the royalties.
Plus, as well as the direct costs of recording/producing each song, if you add up the cost of years of lessons, cost of instruments, your hourly rate of all the time you've spent rehearsing and writing, transport costs getting to gigs, insurance etc etc….well, you get the picture!
So you definitely have to do music for the love of it. As the vast majority of musicians will never earn back what they invest into their music (unless you're lucky enough to get a song picked up for a film etc), so you have to see it as investing in yourself and your creativity.
There are more opportunities nowadays too thanks to social media, as aside from touring/media coverage, how else can you build a following outside of your personal networks? During lockdown social media has been a huge asset to musicians, given that live performing was severely limited. I've found fans from all over the world, and met amazing fellow musicians to do collabs together. However, I think it can also harm musicians, as I have seen many incredibly talented musicians with hardly any following, or poorly run and/or branded social media accounts which can put fans off. Plus there are SO many musicians out there, so it can be hard to genuinely grab people's attention. So, it's an important balance, I think I can speak for most musicians when I say they'd rather be focusing on being creative, but the internet and social media is a great platform to get your music out into the world.
What would your idyllic life as an artist be like?
I don't have a desire to be famous, but I'd love it if my music connected with a lot (millions?) of people in a positive way, and moved them. In my ideal, idyllic artist life, I'd have unlimited access to (and funds for) a state-of-the-art music studio and producer. Plus, personal ownership of high end vocal / guitar mics, interface….and electro-acoustic guitar, electric piano and tenor ukulele whilst we're at it. And I'd love to be able to afford a full time videographer / social media manager / PR manager. Like so many independent artists, I do the vast majority of the latter myself, and it takes time away from being creative in the way I want to be. I try to find enjoyment in any form of creativity, but my favorite form of creativity is definitely singing and songwriting. I would obviously love it if I was paid to write songs and sing full time.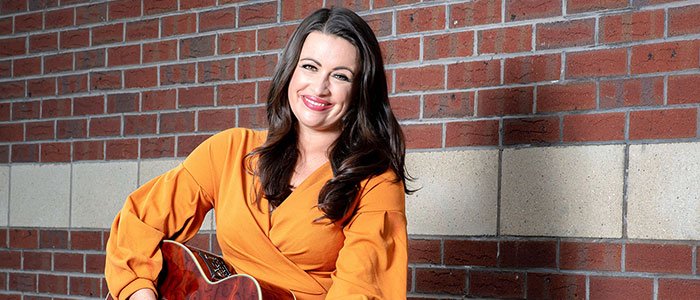 Do you want to know more about Emma Saville? You can find some projects below.