YouTube Star and CEO of clean beauty brand Frilliance, Fiona Frills, founded her brand at age thirteen. Fiona started making YouTube videos when she was ten years old and now has 922,000 YouTube subscribers.
She has built a following of 186,300 on TikTok to market her brand. Frilliance can be found at more than 400 Walmart stores across the US, the Frilliance website and Amazon.
"Bubbly curious over-thinker"
When did you start to get interested in the beauty industry?
My start was very organic and natural. I was thirteen and just had an idea. I talked about it with my mom, and she agreed we should try it out, this was the beginning of my beauty company, Frilliance. At that time didn't think about it as being an entrepreneur it was just being creative.
If you were an advertisement, which would your slogan be?
Bubbly curious over-thinker
Which is the part you enjoy the most about the beauty industry?
I enjoy the creativity and getting to work with other teams. Having a creative outlet is so fun for myself and the team. Since I am dyslexic, colorful things like makeup and blocks bring me so much joy and are really useful for my innovation process.
Most artists say that through their art they learn more about themselves, heal injuries… In which aspects has your journey helped you?
I would say that art helps me express the real me. When I started social media, it was harder for me to be myself, and was worried people would judge me. As I've grown and posted more, that fear has faded significantly. It made me care about others' opinions less. The art of my social media allows me to express myself comfortably in my personal and work-life.
What does Frilliance mean to you?
Absolutely everything. My business has given me the platform to help teenagers feel confident, I solve issues that teens struggle with. I started my YouTube channel to bring positivity and that's exactly what I do with my business. My hope is that my happiness and bubbly personality will influence other people.
Who are your idols?
Sara Blakely – the owner of Spanx, I listen to her podcast and read so much about her, how she built her company, and the obstacles she has overcome. Rihanna and Selena Gomez, both have beautiful voices and are great businesswomen.
If you weren't a business owner, what would you like to do?
If I was not a business owner, I would love to be a counselor for teen life. I feel like a lot of teens need guidance and it's easier to speak to someone around your age, as a friend. Also, own a bunch of cats and take care of them.
Do you consider that nowadays there are more or less opportunities for new artists? Why?
It can be hard to become popular on social media, though not impossible. It takes time and consistency. I remember when Youtube first came out, there were like 10 popular Youtubers, the same with Tiktok, but I think it's still possible. I think there are many more opportunities now, there are so many brands that want to work with content creators.
What would your idyllic life as an artist be like?
My ideal entrepreneur life would include working a lot, like 80% of the time with teens. Understanding teen struggles and finding solutions, having the freedom to create products, and the endless money required to do that. I want to be a problem solver and an asset to the teen community.
Which are your upcoming projects?
I am currently working on more products and expanding the brand. My hope is to get Frilliance into multiple stores. I would like to have more in-store appearances, like pop- ups, and make my products more accessible. I also am expanding on social media and collaborating with other influences.
I work with a hands-on affiliate program, we have phone conferences to discuss social media and how to create marketable content.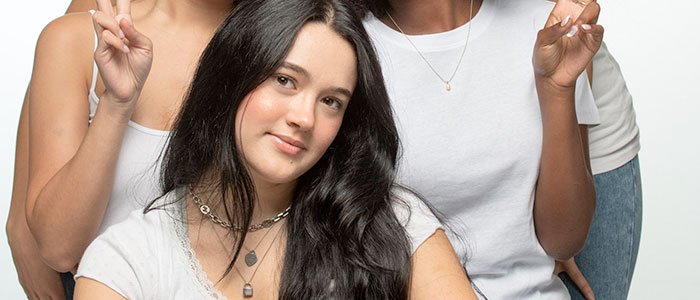 Do you want to know more about Fiona Frills? You can find some projects below.