Ana Staisy is an internationally awarded jazz and pop vocalist from Europe. Her mesmerizing beauty and incredible voice of 4.5 octaves impressed millions of people.

The artist successfully performed on the stages of UAE, Australia, Russia, Ukraine, UAE, Turkey, Germany, Poland, Malaysia, Maldives, China, India and Singapore. She performs in English, Russian, Ukrainian, Italian, French, Japanese, Arabic, Spanish languages.

Through her musical career Ana Staisy got variety of awards (International Lyatoshinsky Contest, Perlini Sezony, Slavanskiy Bazar, ZHARA, Bodrum Music Festival, Bollywood Diva and so on ), she performed at the most prestigious stages of the world and reputable venues like Music Hall Dubai in Zabeel Saray Hotel, Dubai.
"Believe in yourself and happily serve your talent"
It all started when I was 5 years old – my parents discovered my singing talent and put me into music school, and then I complete jazz collage then National University Culture and Art in Ukraine and later on Queensland Conservatorium at Griffith University in Australia. Since then I participated in lots of variety concerts, festivals, music shows etc…
If you were an advertisement, what would your slogan be?
Believe in yourself and happily serve your talent
What does your career mean to you?
My career is an expression of my talent given by the God to serve people, to enhance this universe with emotions, care, love, passion, gratitude and positivity with my songs!

I work, I create and express my personal view, give my personal feeling through sound of music to the people and I feel very satisfied when I see a positive and amazing reaction on my creativity! I Feel happy when I receive feedback from my audience that my songs have changed their lives, encourage for the better actions and bring happiness and meaning into their lives.
What is your main motivation?
I can't live without singing and what you were born with this talent there is no motivation – its lifestyle!
What is the part you enjoy the most? And the worst?
The most I enjoy when my songs become the way I wanted and the worst is its taking long time to release.
Many of them, like Whitney Huston. Sade, Diana Krall, Anita Baker, Incognito, Sting, Kenny G, Michael Bolton, Ella Fitzgerald…
In case you need a break in your career, what else would you like to do?
I have other two master degrees in Business Administration and Tourism and Hospitality Management. I would be a restaurator – have my own restaurant and lounge bar.
Do you consider that nowadays there are more or less opportunities for new artists? Why?
I believe it's all about artists; there were always opportunities and you keep knocking the door! Especially in Dubai where plenty hotels, restaurants, clubs…

Dubai night life craves for the new artists to vary its amazing entertainment all over the city and it's a cultural expression which become better and better every year – more professional and scenic.
What would your idyllic life be like?
Opportunity and ability in my life to create and record my songs in a very professional studio, release and perform live for my audience; And of course having a wonderful man next to me who will appreciate my talent, support me and love me as I am.
What are your next projects?
I am working now on a collaboration with the DJ to create a new mix of my song and then will be video clip on it!

Then I have an entertainment agency which I run daily and there is many other projects between musicians and Dubai hotels which we taking care of!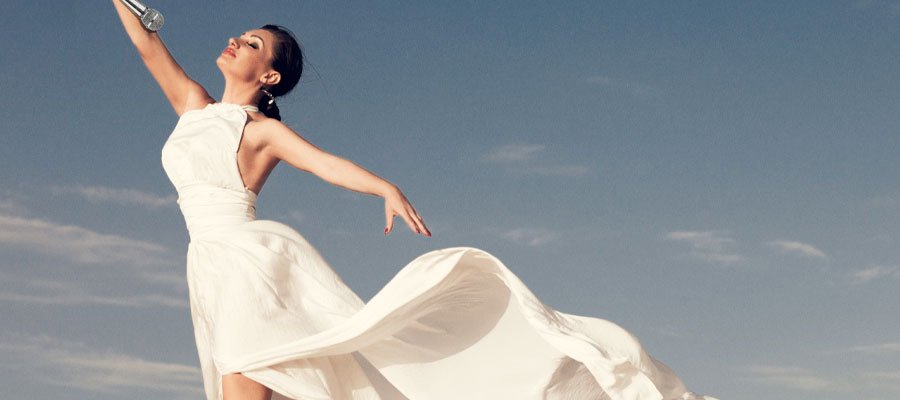 Do you want to know more? You can find some projects below.