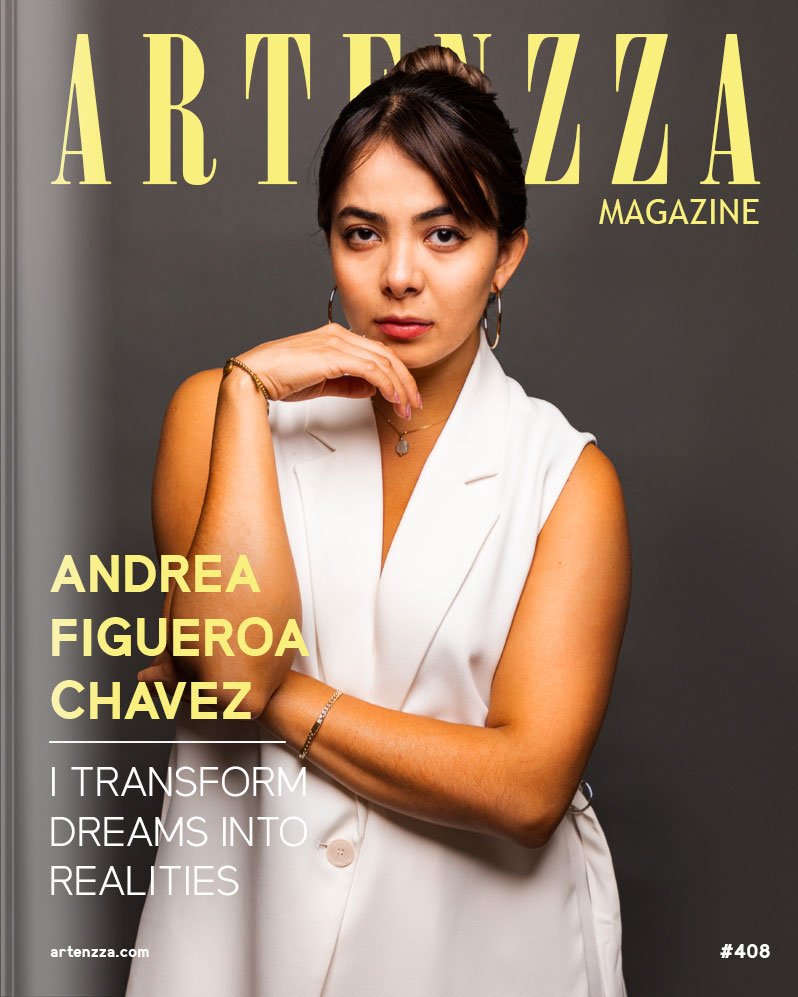 TV & Film production designer
Andrea Figueroa Chavez is an award-winning film and TV Production designer born in Mexico. She holds a unique and important responsibility within a film or television production as she brings the vision of every dream to life, making sure it looks beyond than it was intended. Impeccably organized, creative, and knowledgeable of every area of the art department, Andrea's cohesive production design is what gives the overall story its honest look and feel.

Now based in Los Angeles, Andrea has just wrapped up from the prestigious Gold Academy Program, where out of 7000 applicants and 100 accepted, only 5 of them are Production designers.

Artenzza Magazine caught up with this extraordinary visionary who on a daily basis is in charge of building the dreams of many directors by creating worlds previously only imagined on paper.
"I transform dreams into realities"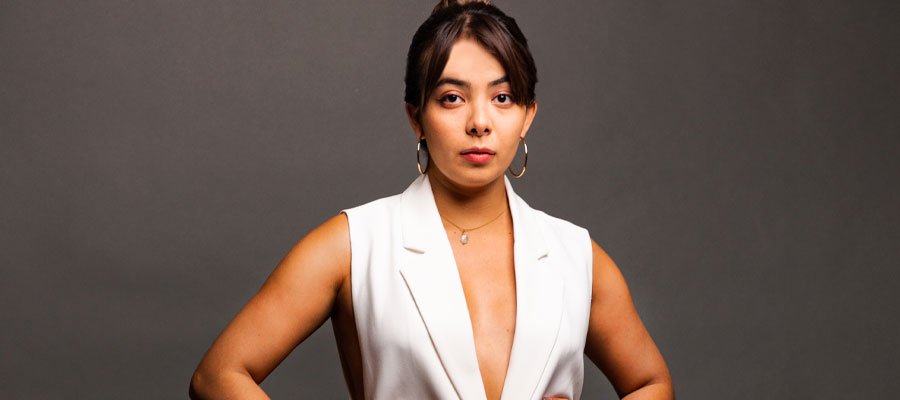 When did you start to get interested in production designing?
I think I realized that I wanted to pursue being a production designer when I fell madly in love with the idea that my responsibility and mission in life was making dreams a tangible reality. A camera captures what we build in front of it, and the actors interact with the space we create for them to grow in it. The first time I felt this was the path for me to follow was in the film "Güicho" by Hugo Arvizu, an extraordinary Mexican cinematographer who led his story to win the Global Shorts 2022, being in the official selection of LA shorts, Cyprus International Film Festival "Golden Aphrodite" and Piriápolis de Película 19.
I was a senior Art Assistant of Veronica Badell, known for her film "Love Letter" which won Best Indie Short Film in the Los Angeles International Film Festival. I learnt so much from her experience. Her knowledge of Venezuelan culture and my knowledge in Mexican culture was the perfect match to create the world of Güicho, a seventeen-year-old aspiring guitarist that has to decide in the middle of a drug war, between his family and his dreams. With all the vivid images of Mexican culture and the Mexican household I had, I put the ideas on the table. It was the first time I felt I could create any world no matter where I am. A Mexican house in Los Angeles.  It felt so real that the Latin crew mentioned they felt home. From there, that became one of my goals, making interactive sets for the actors' senses to enhance performance. The cast and crew need to feel it is real, like home.
If you were an advertisement, which would your slogan be?
My slogan would be "I transform dreams into realities"
Which is the part you enjoy the most about production designing?
This one is a hard one because I enjoy the whole process! If I had to pick I would say I have two, impossible to decide which one to go for. The first one will be the Imagining part. When I'm reading the script and locations are locked, I start to brainstorm where all the symbolisms and metaphors will be living in the space. I analyze the director's vision for me to add my knowledge on color palettes, textures, traveling, history, and psychology. Our work as Production designers is not only making a set look good, but to make it feel Real.
My second one is set dress day, because that is the day that with my own hands, the concept that me and director have been dreaming of will be made soon in front of our eyes.
Most artists say that through their art they learn more about themselves… How has your job helped you?
 Wow! I love this question. I would say production design has helped me to look within. I ask many questions to my directors from technical matters to psychology all the way to the spiritual about how they feel towards the space and their characters. Who are they? Why are they here? What color do they represent? What object? sound? song? smell? if they were an art piece what would they be? How can I translate their soul, their background, their story into tangible aspects of daily life? And how all of those pieces of a human being will be shown in a space. I ask these questions to myself as well and they help me to know me better in the different stages of my life and see how I have changed so much from time to time but to realize how my essence remains unique and pure. It has also helped me to expand my horizons.
To be a Production designer is to know about many arts as well. We have to know Art history, carpentry, painting, gardening, cultural affairs, sculpting, drawing, directing, costume, the more we know the better our artistic choices will be. My life has become easier, if I want something, I build it myself. It is one of the most complex positions in film and that's the beauty of it.  As a Production designer I have to experience and learn many things. The secret is how to apply all of this into my craft, into my work because significance and authenticity comes from experience.
What does being a production designer mean to you?
It means a lot personally because as I mentioned before, I can build my thoughts, and dreams. In winter I wanted to make one of my childhood dreams come true, a tree house. My grandfather and I built it from scratch. I designed it. We bought the wood in its pure state, we measured, cut everything and in less than two weeks, it was up, hanging lots of memories in one of my favorite trees.
This is one of the examples of how my work is my passion, my everything. In terms of being a Production designer in the industry, well, that awakens all of my senses, it means the world to me being one because I hold the power of creating the aesthetic of the film. We move emotions through the spaces a character develops its growth in, we light up those emotions through every (practical) decision.
Who are your idols?
I have many that have inspired me to become the artist I am but specifically for Production Design, so hard to pick! I have to mention at least four of them. The first one is Eugenio Caballero. He is a Mexican Production designer. He has worked with Guillermo del Toro in "Pan's Labyrinth" and with Alejandro Gonzales Iñaritu, he recently did World of "Bardo".  The Production Design in it feels so realistic but at the same time he manages to make the world look like a surreal dream, he knows exactly how to apply metaphors and how to make them look subtle. I mentioned before that sets are characters too but that doesn't mean they have to drag the whole time the attention of the audience, we are not supposed to distract, we have to accompany the story, make it a whole thing. Which brings me to my second set of inspirations. Adam Stockhousen is known for the Wes Anderson movies and Aline Bonetto known for "Amélie". They are brilliant in making the sets characters themselves, nothing is too much, it feels just right. It gives peace looking at the pieces of art they create. I have to say that I could even visualize the story just by looking at the spaces we see on screen. The development the world has feels exactly like the character's journey; the worlds have a journey too.
Last one, I promise, is Daniela Scheneider, she has worked with my mentor, Amat Escarlante, known for his Film "Heli" that won a Palme d'Or at the Cannes Film Festival in 2013. She worked with him in his other film named "The untamed". You could feel the story in every detail she made for the sets, a scratch on the wall means something, the decor speaks for the character's feelings, and the slight detail will reveal something in the movie that will foreshadow what happens at the end. I started to follow her because of Amat's work but also because she worked in this period piece, a Mexican Netflix film called "Dance of the 41" that I really loved. Masterpiece. The amount of tiny, little and hidden secrets is extraordinary. I like films that allow me to experience emotions but I'm so in love with films, that the more you watch, the more you find the meaning in the details.
If you weren't a production designer on film and television, what would you like to do?
I'll be a director because it is the person who can make decisions in the art department, but I would say I'd study psychology, literature, communication, or plastic arts which eventually will bring me back to film somehow. It is all connected; Cinema is the art that contains them all. But if I were to do something not related to film or art in general, I think I would travel across the world to be surrounded by animals, to learn how to live sustainably. To basically learn how to live from mother earth, I believe one of my missions is to protect the world as well. I would not be an engineer, that's for sure, but I want to make people understand that we are responsible for healing the earth that has done nothing but give us a home.
Right now, that I have a voice in the industry and that the budgets I work with are high enough to support this initiative, I try to make my work as sustainable as possible. Avoiding online shopping and returns, I try to buy everything from second hand stores, which will bring even more personality to the sets, we don't want to feel characters are living in a brand new Airbnb. I adapt the needs of the production to the green sets standards.
Do you consider that nowadays there are more or less opportunities for new artists? Why?
I have to say we do, there are more tools for exposition which we highly need when we start our careers. It has pros and cons for the world to be globalized. Even though that could be overwhelming sometimes, I have tried to look at the bright side of it, if not it will consume me.  My early big jobs were given to me because my bosses liked the way I learn so fast and because of how dedicated and passionate I am. I didn't have the experience I have right now, nor my IMDB history. From working one time with them, I was invited into their next project. Also, social media makes it easier and harder at the same time.
In my experience it is shattering sometimes too but I have been helped by it, many people see what I'm working on through it, and also, it helps me to share my daily life, for them to see I am a human being doing what I love the most. That's something that I love about Los Angeles in general, there are different types of people, people that I don't resonate with and people that like to help and to create something that matters. I once read on social media that "LA is a waiting room" because there are too many dreamers waiting for that "miracle".
I got so uncomfortable and irritated by that thought because I believe, yes, we have all "waited" for the "job" or the "opportunity" but the trick is how we "wait". What does "waiting" mean for me? Well, by being in the now. I don't like excuses, I don't live by them. We have to enjoy that process, doing what we do and becoming better at it.  There are days that I don't feel like it. I am a human being, but I have stood tall, and I have focused on "waiting" as they said by focusing on my growth. Nothing has made me the happiest. And I have to admit it, it's part of the process to be looking out for those opportunities out there but I have been focusing on my growth so much that opportunities have come to me. I ask for what I need because I also give what others need from me.
What would your idyllic life be like?
Thank you for asking this question, it's been a while since I have answered it and I'm so happy that the perspective I have towards life right now has helped me to evolve what I'm going to say. This is a tricky question because if I talk about my dream future why am I not talking like this about my present? I have to say I like the life that I'm having right now because I'm growing so much and that is needed. But my idyllic life would be building the impossible.
Something that I want to do in the future, a personal project, is making people understand that we need art to heal and grow. It is a vague concept of what I want to do, not sure if it is a campaign, a film, a website, and app. But let me tell you how I am accomplishing a part of it by being a production designer. I want people that have nothing to do with film to be part of them, to be part of something that will immortalize their existence.
I was in Mexico, set dressing for one of my films from film school, and every single prop or decor was made by real artisans. Seeing their faces by knowing the things they have worked on are on a big screen, in the eyes of millions, gave me pure joy.  I am the vessel for that connection and I'm looking forward to keeping doing this. I will get to hire an artist that will make not only the set look real, but the experience itself.
Which are your upcoming projects?
I'm so excited for what's coming next. I'll be doing a set for a conceptual video for Hugo Arvizu, who recently worked with Merlin Castell, a well-known fashion designer in the last New York Fashion week and LA fashion week. I will be creating a lagoon inside a studio made out of pool tarps, reflective paper and glass. It is my first time working in the creation of a set that involves water, but I am ready to go for it. I recently got hired by Alyssa Toledo to work on her next film "Toledo" at the end of April. She is an American Mexican writer and director, known for "Friends call us unlucky". Her film was in the official selection of New Filmmakers Los Angeles and San Luis Obispo International Film Festival.
She is also known for working on the popular Netflix's 'Outer Banks' Series. "Toledo" is being produced by Chase Stokes and Jon Davis from Outer Banks series too. We will be working in Los Angeles Forest on a cilantro plantation. I'm excited because I've been saying that I find it interesting when a set looks like an Airbnb, the location that I'm dressing in is an Airbnb with white walls! I am always up for the challenge, always excited to work with what the productions are giving me to work with. As I said, we build the impossible. The set has to be a household of seven immigrant families living in it. I'm thinking of doing blanket divisions for their personal spaces, bringing in old wooden boards to cover the windows, lots of potato sacks and plantation tools to make the space feel cramped.
The first thing for me to do before going crazy with this, is covering the floor with large carpets for taking care of the space, something that I'm good at, is leaving the properties as clean and neat as I first found them. Right after this set I'll be working with Gabriel Chavarria, known for Selena, the series, East Los High and Freedom Writers to bring to life the story of a young Mariachi boy, who is about to start singing but he hasn't sung since his brother, Miguel, also a Mariachi singer, died recently written by James Valdez.