Dorly Jean-Louis is a rising star to watch. Hailing from Toronto Canada, she is an actor who has worked alongside many Hollywood elites on award-winning films and television series including: The Umbrella Academy (Netflix), 12 Monkeys (Syfy), Heroes Reborn (NBC), Salvation (CBS) and Single Ladies (VH1).

A multidisciplinary artist, Dorly has come a long way since interning as an editorial assistant at CTV News. Over the years she has received several notable recognitions which include: an Award of Distinction for her devotion to community programming during her tenure as a news reporter and anchor at Rogers Television, an induction on the National Wall of Role Models by the House of Commons held at the Black Canadian Women Awards as well as being recognized as one of the Top 100 Black Women To Watch at Canada's International Black Women of Excellence ceremony in 2017 for which she is nominated again in 2023.
"Fearless, Defiant and Destined for Greatness"
My fascination with acting started when I was about seven years old. I used to be in awe of the artistry of filmmaking. To me the creative process was so magical. I was enchanted by the glamorous costumes, set decor, dance routines and of course the talented cast of characters. I was especially enthralled by those happily-ever-after stories of old Hollywood movies. I used to pretend I was the heroine and imagined myself on stage or in front of the camera reciting my lines. I kept quiet about my dream until I graduated from high school. That's when I decided my academic and post-graduate studies would be centered on media arts; fashion design, broadcast journalism and acting.
If you were an advertisement, what would your slogan be?
Fearless, Defiant and Destined for Greatness
What does your career mean to you?
My career as an actor means everything to me. It's my passion. I'm in it for life. I'm committed to my craft. I love to work. I love to create. I'm open to contracts not just here in Canada but internationally as well. It's not just a business, it's my lifestyle. This journey has been filled with twists, turns, rejections, roadblocks and exclusions and despite that I know the end result. I'm manifesting what I set my mind to accomplish.
What is your main motivation?
This might sound cliché but I've had no choice at times but to be my own cheerleader. I'm the first person I see in the mirror every morning. So, I must have faith in my talent, abilities and gifts before I expect anyone else to acknowledge them. I'm confident and I believe in myself and my aptitudes. I'm committed to accomplishing my goals as I check them off my list one by one.
What is the part you enjoy the most? And the worst?
I enjoy working on set with a production team and experiencing how a project comes into fruition from script to the premiere or release date. It's an incredible sense of accomplishment to be a part of something magical and everlasting. The part I least enjoy is the silent rejection without ever receiving an explanation as to why I wasn't cast for a role. I do appreciate it when a casting director takes the time to personally give me feedback but that's not usually the case. Rejection of any kind is my least favorite part of the process.
I don't idolize anyone. It's a lesson my parents taught me that at a young age. I do admire these iconic trailblazers: Angela Bassett, Viola Davis, Halle Berry, Issa Rae, Ava DuVernay, Denzel Washington and Morgan Freeman, to name a few. As a Black woman I'm inspired by what they've accomplished in an industry that hasn't always been inclusive or diverse. Times have changed, of course, yet there's still progress to be made. It's a tough business to pursue. Yet these celebrities continue to thrive with grace, success and well deserving recognition for their craft and their commitment to philanthropy.
In case you need a break in your career, what else would you like to do?
I have two loves in my life: film and fashion and I generate a stream of income in both fields. I already took a break from acting. Ten years ago I took a three-year hiatus from the industry to open a designer boutique. I made my money and enjoyed the perks of being an entrepreneur. I closed the storefront for good and returned to acting with a business mindset I didn't previously have, thick skin and the confidence I needed to take my acting career to the next level.
Do you consider that nowadays there are more or less opportunities for new artists? Why?
In this digital age there are countless opportunities for artists locally and worldwide. However fair access to them can be blocked by nepotism, colorism, racism, sexism and any other isms that exist. That's why it's wise to create or launch your own projects to offset some of those drawbacks. Our world is diverse. Our screens should reflect that, period. Telling stories from one point of view only promotes the same stereotypical imagery of marginalized groups. Film and television are impactful creative mediums. Therefore the decision-makers sitting at the table; writers, producers, directors and talent should accurately reflect and resemble the characters portrayed in those stories.
What would your idyllic life be like?
My idyllic life is simple. I do as I please. I answer to no one. I am an accomplished actress. I'm financially secure. I travel the world for business or pleasure. I live my life to the fullest with like-minded friends and business associates. I collaborate with community leaders to fund projects and initiatives to help the next generation of Black youths with mentorship programs I didn't have when I was growing up. Giving back is important to me.
What are your next projects?
I'm co-starring in an upcoming romantic film called May The Best Wedding Win slated for release this year. In this film I play Julia, the owner of a beautiful wedding venue who gets entangled between two frenemies scheming for the same wedding reservations while desperately trying to save her business from bankruptcy. I also recently wrapped filming a recurring role in season 2 of the French program Zik, a show that explores the world of music, its history and culture, with humorous and entertaining skits. Other exciting film and television projects are in early development stages.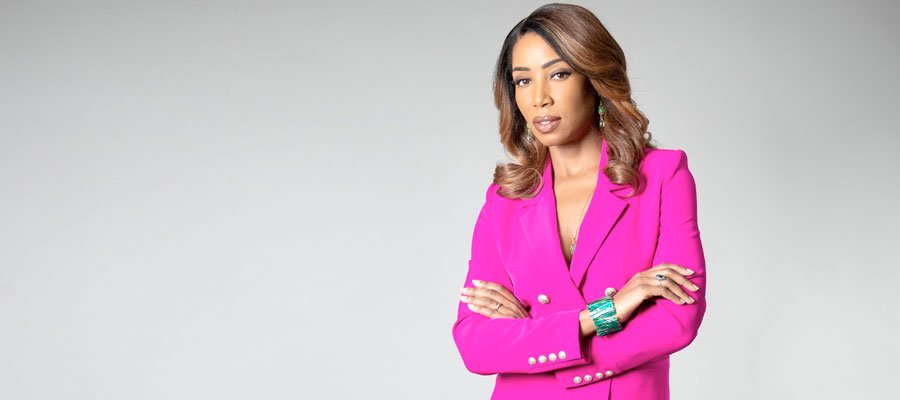 Do you want to know more? You can find some projects below.