Lisset Verde is an entrepreneur born and raised in Venezuela. She came to the US for college. Then, Lisset went back to Venezuela and worked there until coming back to USA for a Master's degree. Once finished, she lived in Turkey, and then came back to the USA for a third time.

The entrepreneur had always worked as an educator, but after being laid off, she decided to open Wuitusu: a company that sells items handmade by the Wayuu people, both in Colombia and Venezuela.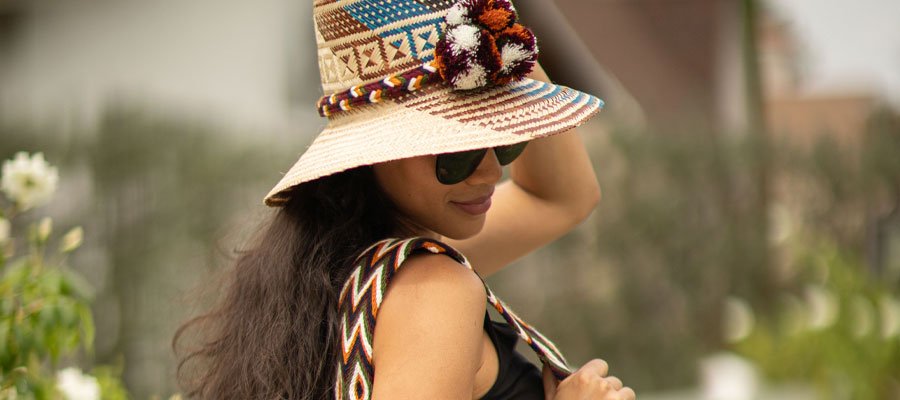 Wuitusu started in 2018 when I fell in love with a Wayuu hat and bag. As a young girl, I read a novel about the Wayuu people, and how impressed I was by the role of women in their matrilineal societies.

Knowing they handmade beautiful items raised my interest more. Very organically I got in touch with my now Wayuu partners, and as a business we have grown from going to Sunday markets, then having a kiosk in a mall, to owning two stores in Los Angeles.
If you were an advertisement, what would your slogan be?
Honor your Ancestors: I believe we must do our best in all we do, as a way to respect the work the ones before us did.
What does your career mean to you?
My career has a dual meaning: it means a chance to make a living while helping others. Wuitusu helps keep Wayuu traditions alive by giving Wayuu artisans a chance to make a living while practicing their ancestral arts. Wuitusu also offers its customers the chance to purchase unique and meaningful products while knowing that each purchase will help feed Wayuu children through The Wayuu Taya Foundation.
What is your main motivation?
My main motivation is to create a successful business that sustains several families, and that gives back to the artisan community. I want to show others that any business can "do good" by aligning itself to a cause they believe in.
What is the part you enjoy the most? And the worst?
The part I enjoy the most is the creative aspect: designing new bags and developing new products with the artisans. The worst part for me are the "housekeeping" aspects. The word "inventory" gives me rashes.
My idol is Jose Andres, the Spanish chef and philanthropist. He has created a solid business with his restaurants, books, and TV programs, while helping whoever needs food in the world through his foundation World Central Kitchen.
In case you need a break in your career, what else would you like to do?
I would redecorate my house. It would be another way to use my creativity. I want to create an oasis of peace where my family and I can go to when we are overwhelmed by our surroundings.
Do you consider that nowadays there are more or less opportunities for new artists? Why?
I believe that nowadays there are more opportunities for new artists because there are more ways to get your name out there. You can self-publish a book, launch a store online, etc. Of course, you still need hard-work, contacts, and a bit of luck to be successful.
What would your idyllic life be like?
My idyllic life would be living in a small community in the mountains or by the sea, and working online. I would like to have a garden with local plants, and with vegetables for my family.
What are your next projects?
My next project is to work on Wuitusu's website: www.wuitusu.com to make it the place to go when looking for the perfect gift. I would like to add more one-of-a-kind products, and expand the blog with entries about the Wayuu people and their culture.