Shivan Giri, a filmmaker raised in Mumbai, a city known for its vibrant film industry and culture, ignited his passion for filmmaking and fueled his desire to produce and tell his own stories.

Shivan's motivation as a filmmaker is to create authentic stories and establish a brand through unique storytelling. He has experience in various forms of media, including feature films, web series, commercials, and music videos. One of the highlights of Shivan's career was working with the director of "Cobra Kai" and "Arrow" on a proof-of-concept titled "Fracture". He has also won multiple awards for his short film "Abs of Steel", which has had a successful festival run.

Shivan's focus as a filmmaker is to bring to life thought-provoking and inspiring stories that resonate with audiences and evoke emotions. He strives to create meaningful and memorable cinematic experiences that leave a lasting impact.
When did you start to get interested in producing?
I watched a documentary titled "Madness in the Desert" which was about the making of the Academy Award-nominated Film Lagaan. The documentary sheds light on the challenges faced during production, but through diligent production management and the crew's unwavering determination, they were able to overcome these difficulties and deliver a truly remarkable outcome.
This experience truly inspired me and kindled my interest in the producing aspect of filmmaking.
If you were an advertisement, which would your slogan be?
Take a break, not a shortcut.
Which is the part you enjoy the most about producing projects?
The pre-production phases are the most exciting, as they involve meeting potential candidates for the crew and hearing their take on the story, bringing new ideas to the table and making the process more multi-dimensional.
By incorporating the best visions from everyone, the process becomes even better and more productive.
Most artists say that through their art they learn more about themselves, heal injuries… In which aspects has producing helped you?
Yes, it's true. From pre-production to completion, I learn a lot about myself. Each project tests my emotions in different ways. For instance, projects that require more money test my ability to handle frustration, projects that require more time test my patience, and projects that require hard work test my determination.
All of these experiences have taught me one important lesson – that my passion for film is not just in my mind or just words, it is a real and tangible thing. Through these experiences, I have validated my decision to pursue a career in film and it brings me happiness and a sense of liberation that such an important decision in my life not only works but also brings me joy.
What does producing and working on a project mean to you?
To me, producing and working on a project involves a significant level of responsibility not just for the people investing their time, money, and effort, but also for the audience who will be watching the project.
As a producer or team member, it means ensuring that every aspect of the project is executed to the highest possible standard, with attention paid to every detail. This includes utilizing the resources available to deliver a product that meets or exceeds expectations and ensuring that the audience's time and hard-earned money are well spent.
Moreover, it's also about creating something that will leave a lasting impression and contribute to the advancement of the field. When producing a project, it is crucial to consider the audience's experience, from the storytelling to the visual elements, and to strive to create something that is both engaging and thought-provoking. The end goal should always be to provide a high-quality product that will leave a positive impact on the audience and make their time and investment worthwhile.
Who are your idols?
When a movie is successful and generates profits, many opportunities become available from that point on. However, filmmakers whose movies fail commercially but still display a strong determination and persistence to bounce back, secure funding, and keep telling their stories are the ones I truly consider as my idols.
Do you consider that nowadays there are more or less opportunities for new producers coming through? Why?
Nowadays, there are more production opportunities than ever before as a result of various factors. The gap between mainstream and independent cinema is closing, allowing new producers to prioritize content instead of just relying on established talent. Many A-list actors are now open to trying new projects that interest them.
Improved networking opportunities and online exposure, as well as readily accessible information on diverse talent through public sources or social media, are contributing factors. Previously, securing a public premiere for a film was a difficult task, but with the growth of festival circuits, film markets, digital platforms, and YouTube, it has become much easier for production companies to reach their audience.
What would your idyllic life as a film producer be like?
My idyllic life as a film producer would involve consistently delivering high-quality projects. This requires working with a reliable team of individuals who bring a positive atmosphere to the set, leading to a productive and enjoyable working environment. Keeping a balanced work-life and having a strong passion for the film-making process are crucial in promoting satisfaction and fulfillment in one's career as a producer.
By focusing on these important factors, a film producer can attain their ideal career trajectory and potentially receive recognition through awards, including many Oscars [laugh]
Which are your upcoming projects?
In 2023, I have two major projects in the works: a feature Film titled "Road to Bandstand" and an untitled TV pilot, which I will be producing and directing.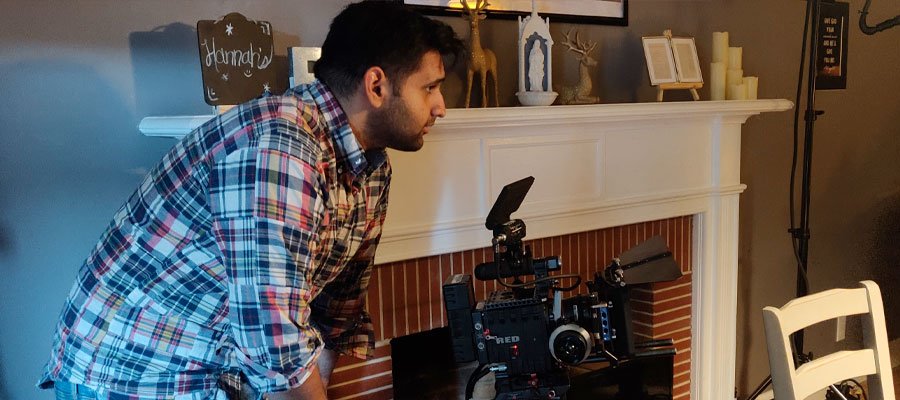 Do you want to know more? You can find some projects below.