PIANIST & STEINWAY ARTIST
Ivajla Kirova is an award-winning pianist and composer with over 25 years of concert activity on four continents. 2019 she received DELTA KAPA GAMA HONOR INTERNATIONAL SOCIETY AWARD for key women with extraordinary achievements all over the world (in Atlanta, USA).
She is Steinway Artist und her Official Website is www.ivajla.com.
"THE FUTURE BELONGS TO THOSE WHO BELIEVE IN THE BEAUTY OF THEIR DREAMS. SEE IT. BELIEVE IT. RECEIVE IT!"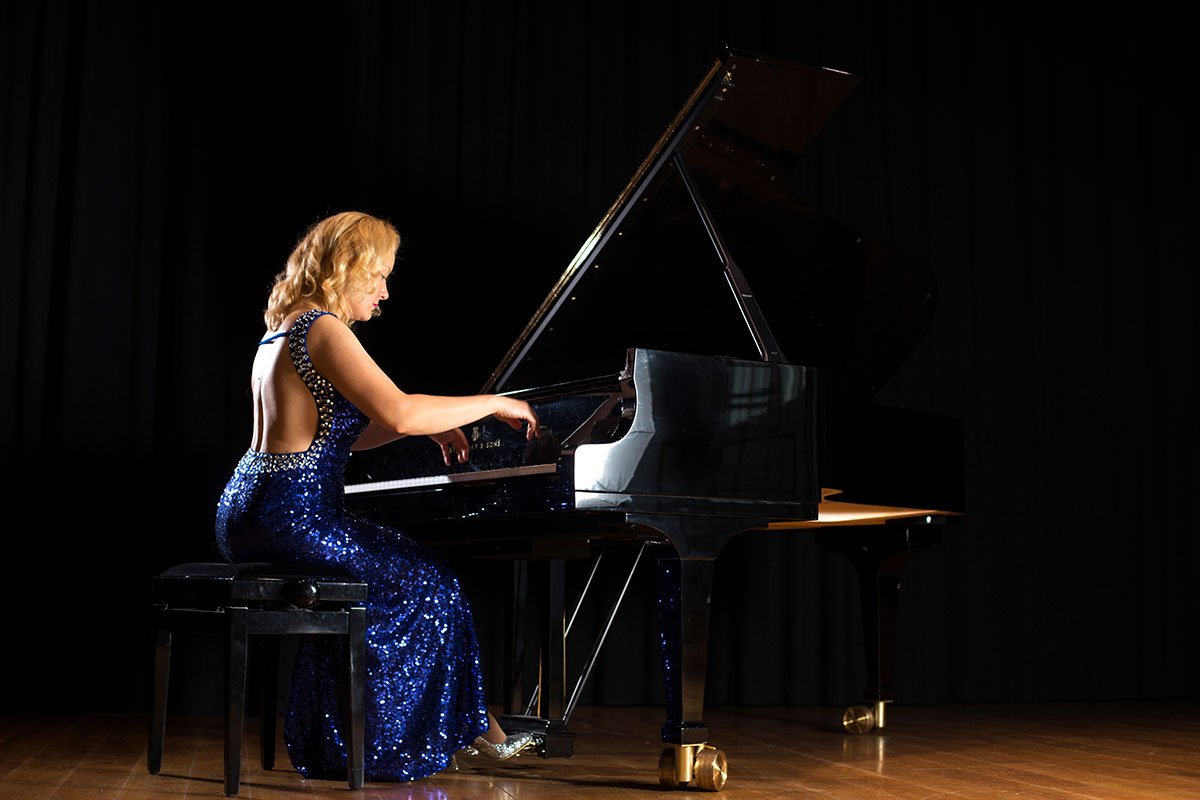 When did you start to get interested in music?
I started playing a piano at the age of 7 and at 16 she was the youngest student at the Sofia Music Academy in Bulgaria. I graduated from the Sofia Music Academy with a distinguished diploma and have Master of Music degrees in piano and chamber music from the Munich University of Music and Theater. In 1997 I relocated in Germany after I was invited to become an Associate Professor at the Munich University of Music and Theater.
If you were an advertisement, which would your slogan be?
The future belongs to those who believe in the beauty of their dreams. See it. Believe it. Receive it!
Which is the part you enjoy the most about playing piano?
All live concerts and the live connection with the audience.
Most artists say that through their art they learn more about themselves, heal injuries… In which aspects has your journey helped you?
I am very emotional and the music has always helped me to express my feelings and live them out to the fullest.
What does playing piano mean to you?
My love, my passion, my wings and my freedom… in other words my happy island in this world!
Who are your idols?
Great concert pianists like Gerhard Oppitz, Martha Argerich, Alexis Weissenberg, with whom I could also study piano in Switzerland.
If you didn't like music, what would you like to do?
Flying! My two great passions have always been music and flying.
Do you consider that nowadays there are more or less opportunities for new artists? Why?
It's different in the different genres of music. Maybe in the pop or rock music there are more possibilities nowadays, but for classical musicians there aren't much more opportunuties than before. There is a lot of competition worldwide and the level is very high.
What would your idyllic life as an artist be like?
Flying yourself for my concerts over the world. Flying and performing!
Which are your upcoming projects?
Looking forward to my upcoming concerts in Germany, in many cities in Bulgaria, in Dubai and in Asia, Bangkok until the end of 2022.
Do you want to know more about Ivajla Kirova? You can find some projects below.