Jenna-Mae White is an actor, musician originally from Northampton, England and moved to Los Angeles when she was 18 years old after receiving a merit-based scholarship to the American Academy of Dramatic Arts to study Acting. Since then she has worked with NBC, Fox and Tubi within television and film.
Jenna is a British actress who has reached placement at the top of her field by performing in fundamental roles in award-winning and internationally renowned films.
"Work extremely hard to catch a tiny bit of luck"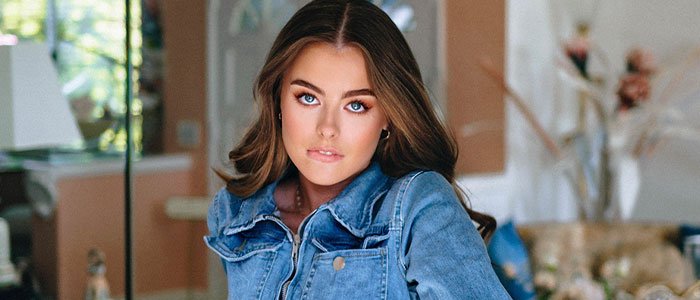 When did you start to get interested in acting?
I was probably 5 years old when I realized that I can play pretend for the rest of my life. When I was at school, I was part of every single play and musical that I could possibly be part of. I realized quickly that nothing made me feel like I do when I'm performing.
If you were an advertisement, which would your slogan be?
Work extremely hard to catch a tiny bit of luck.
Which is the part you enjoy the most about acting?
Acting is the most powerful tool, it can bridge divides between people and can change opinions as well as allowing us to understand and explore alternative ideals. It's like a magic power; we can feel everything someone else feels without experiencing the situation.
It's the biggest step in the process of kindness, caring and compassion. It's that moment when you realize you've broken a barrier for someone or allowed them to experience a part of their emotion that they didn't know existed.
Most artists say that through their art they learn more about themselves, heal injuries… In which aspects has acting helped you?
I often use my art as a form of escapism for both myself and others. It's a time when I can be truly free and explore emotions that I may not usually be able to explore. I think society conforms us to not feel some emotions to the full extent. It's too aggressive to scream when you're angry, it's too dramatic to cry when you're sad and it's too overwhelming to hysterically laugh when you're happy but within acting it's exciting and each extremity is something that is anticipated. I think humans need that. When I worked on my first TV Show with NBC, I was given the space to create and explore the extremes of emotion before picking the perfect balance to award to the camera. It was a great lesson about my craft and myself.
What does acting mean to you?
As cliché as it sounds it does mean everything. It's who I am and who I always will be. Within every project that I do, I only feel more fulfilled and lucky that I get to call myself an actor. I'm so excited to be able to continuously explore my art on so many platforms. Having worked within the commercial world, as the face for Uscape Apparel as well as film and Tv, it's exciting that there are so many spaces to explore my craft and skills.
Who are your idols?
I've always idolized Audrey Hepburn, mainly because of her work as a UNICEF ambassador. She used her platform to raise awareness for something that changes so many lives. I also idolize the concept that all she wanted was peace, within her own life specially. She moved to Europe to live out her days in quiet and calm. I couldn't agree more that the most expensive things in life are silence and time. I think she emulates grace and kindness, which we need more of!
If you didn't like acting, what would you like to do?
It's hard to imagine that I'd be doing anything else because I feel like I was just born to be an actor. I absolutely love music too. I've been singing my whole life and I play the Saxophone, Clarinet and Piano. I was in a Jazz Band for a while and I've always wanted to be a Jazz singer. Sometimes I imagine how magical it must have been to be a jazz singer in a Jazz Club or Blues Cafe in the 20s. However not sure I can go back to the 20s!
Do you consider that nowadays there are more or less opportunities for new artists? Why?
I think since the pandemic, productions have really picked up which makes me so excited about the direction of this industry. I also think that in todays society it's more accepted that young actors are able to create high end projects, alongside the classic creatives that have been thriving for years. I love seeing long term actors welcome young people into this industry, offering nuggets of wisdom as they go!
What would your idyllic life as an artist be like?
It would mean balance and passion to me. I would love to be able to incorporate the other avenues of art that I love. For example, I have co-written a rom-com feature that is extremely close to my heart. I miss the classic 90s Rom-Coms that taught me everything I know about love and film.
I would love to grow that genre again with a modern perspective. I want to be able to continue my acting career and all the exciting projects I have coming up but I also want to be able to explore my singing career and love of writing and production work!
Which are your upcoming projects?
I have some really exciting feature films in pre-production that I'm set to star in. I'm set to play one of the leads in a horror film alongside Michael Cimino from Hulu's 'Love, Victor'. As well as an international Rom-Com, playing opposite Nic Hamilton from the movie adaptation of Stephen Kings 'IT'.
I'm extremely excited about all the work I have in the pipeline this year. It feels like the perfect time to explore my art within all of these new projects I have coming up!
Do you want to know more about Jenna-Mae White? You can find some projects below.