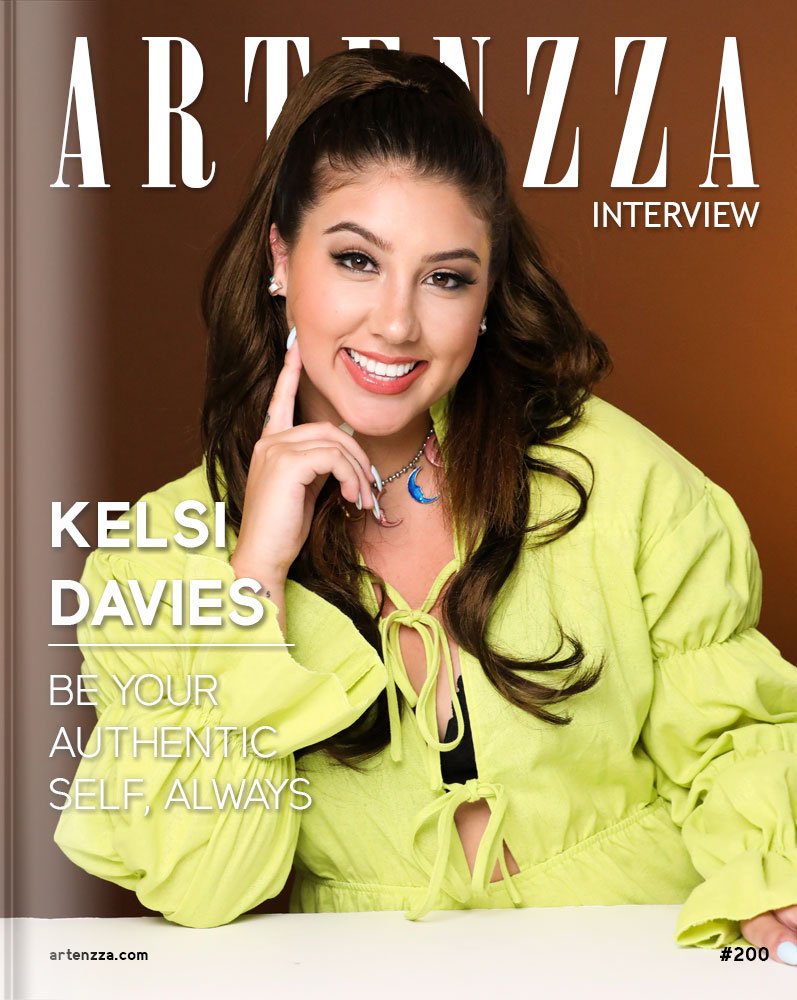 Kelsi Davies is establishing herself as a multi-talented quadruple threat in the entertainment industry. The singer, social media influencer, dancer, and actress first gained notoriety with her YouTube Channel which showcased her love for the paranormal. The highly successful channel, which has amassed over 442,000 followers, led her to expand her creative endeavors to TikTok. Her entertaining and insightful videos, which often feature her haunted doll Lola, have earned her a devoted fan base of over 3.6 million followers and over 94 million likes on the platform.
When she's not busy creating social media content, Davies loves to sing. She has showcased her talent with the singles "Santa Honey" and "Heartbeats." which tells the story of how she emerged from a toxic relationship. Both songs were written and produced by London-based Comanavago and are available to stream now.
Davies is also a psychic medium who recently discovered that an ability to connect with spirits on the other side runs deep within in her family. She is committed to using her gifts for good by helping people connect with their deceased loved ones.
"Be your authentic self, always"
When did you start to get interested in music?
I have always been interested in singing, but I was never great with instruments. Last December, I finally decided to release my first song "Santa Honey" with Oly Sounds and Comanavago. I dropped my song "Heartbeats," which was also produced and written by Comanavago, recently as well.
Singing is a passion of mine, I was always a bit shy with it, and people didn't know I could sing! When I released the first song, my family was like "I didn't know you could sing!" They are very supportive and I believe this is just the beginning.
If you were an advertisement, which would your slogan be?
"Be your authentic self, always."
Which is the part you enjoy the most about music?
What I enjoy the most about music is the energy that is put into it. There are so many songs that just guide you, and help you through things. I am also a dancer, so I love matching my movements with the songs I listen to because I can really feel the music through my entire body. I hope to bring that element to the music industry.
Most artists say that through their art they learn more about themselves, heal injuries… In which aspects has music helped you?
I have had songs and artists help me with my spiritual journey, and help me through times of anxiety, depression, etc. Music is so important to me. The feeling I get when I dance and/or sing is unlike anything else. It is a part of me.
What does music mean to you?
Music brings out emotions. It sets the tone in any situation. Music means the world to me, without it I don't think our world would be the same. I feel like it would be very dull.
Who are your idols?
I really look up to Willow Smith, her music has helped me in so many personal and spiritial ways. I also really respect Miley Cyrus. She is so passionate about her music, and her work ethic and drive just amazes me!
If you didn't like music, what would you like to do?
I honestly can't imagine not liking music. I would not be the same person that I am today without it.
To answer the question hypothetically, maybe I would focus more on other hobbies like art or play a sport.
Do you consider that nowadays there are more or less opportunities for new artists? Why?
I think there are many more opportunities for new artists. Social media has changed the game for talented individuals all over the world. It definitely provides more chances to be noticed and to get your music out there.
What would your idyllic life as an artist be like?
I would love to focus on acting, music, dance, and creating social media content. It would be ideal to have my music help people and make them smile or get them excited when they hear it.
To have a sold out show would be a dream!
Do you want to know more about Kelsi Davies? You can find her music videos below.