Singer, Songwriter, Model, Actor & Entrepreneur
Ludovica is an Italian singer and songwriter paving her Rnb sound in the USA. After 3 months of doing music professionally she locked in her first one record/ record deal with Empire, home label of Kendrick Lamar and many more, and got my YouTube Ludovica VEVO channel.
She broke charts in Africa and surpassed the hundreds of thousands plays in the first week of release. She had the pleasure of working with the best sound engineers/recording studios in the United States while locking arms with Kehlani, Ja rule, King Kanja, Dsmoke, Cardib, Sagethegemini and more.
Ludovica Graduated in music business from the NYU Tisch Clive Davis Institute of Recorded Music Billboard & Music Leaders She is also a student of world renowned vocal coach Stevie Mackey (coach of Jennifer Lopez, Selena Gomez, Jhene Aiko and more) and Mindy Pack (coach of Miley Cyrus, Justin Bieber, Sam Smith, and more). She is the former Miss United Nations USA, She has modeled in NY, Rome and Los Angeles.
She has been professionally represented by agencies for acting and modeling and recognized state wide for runway, stage presence, and public speaking. She has opened nonprofits and helped college international students create a community of interns that would be involved in different humanitarian activities while earning college credits. She has advocated for global peace and been nominated Italy global peace ambassador in front of 35 nations. She has also shown years of committed passion and work towards bettering our community's homeleness situation, and continuing to look for ways to do so in my everyday life as a musical thought leader and artist.
Ludovica currently owsn a brand label called Chromatica, an aesthetic brand full of industry based services in partnership with top producers and major key players in the music business providing unmatched value to rising artists. She is also working on a number of cornerstone projects that will be laid out in the near future. The change doesn't stop here.
"Go get yourself a Ludovica"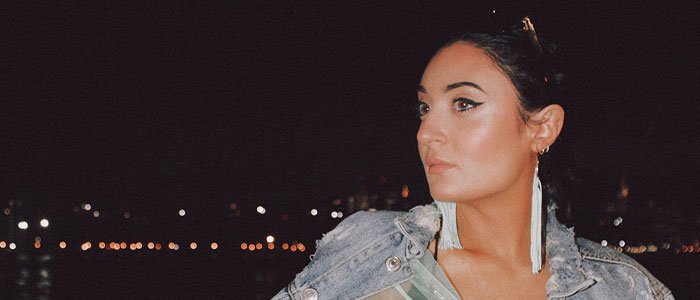 When did you start to get interested in music?
The earliest memory of me singing is at 2 years old.
If you were an advertisement, which would your slogan be?
"Go get yourself a Ludovica"
Which is the part you enjoy the most about music?
The whole process is mesmerizing. I'd say recording.
Most artists say that through their art they learn more about themselves, heal injuries… In which aspects has music helped you?
Of course, any attention you put into something is going to teach you more about you. Even though I don't really approach my craft as a self curing/self mending remedy I just observe my patterns, I reflect them into songs/ideas and once they're out, they're there for the world not so much for me.
What does music mean to you?
It means my legacy is building and that's never erasable. So I gotta be impeccable.
Who are your idols?
Just people I heavily admire, respect and look up to, I don't idolize and I hope my fans don't do that with me either. But I can't answer that without it being more specific. There's a list of people I admire for bravery, there's a list for which I respect the resilience of their character, there is hands full for which I look up to for their all around talent and persona, so it really depends.
If you didn't like music, what would you like to do?
Wow, I'd be a car racer or a street artist.
Do you consider that nowadays there are more or less opportunities for new artists? Why?
About the same as ever because you are actually the opportunity. No excuses, if you need it to happen you find a way.
What would your idyllic life as an artist be like?
Stability. The process towards a big career leads you to make some changes and some of those sometimes ask for your stability to be put somewhat at risk. Just remember that you can't achieve this unless you sacrifice everything you need to sacrifice, but never compromise on what makes you, you, your pillars, what you know to be true for yourself, your personal mental, emotional, physical and moral stability. Build that stronger every single day and you'll be undefeatable.
Which are your upcoming projects?
I've got some stuff in the works, you'd have to stay tuned for that.
Do you want to know more about Ludovica? You can find some projects below.