Maram ( also known as Mar Rodriguez) is a spanish classical violinist of the National Orchestra of Spain. She began her musical studies at the age of four, receiving her first violin lessons at that time. She finished her higher studies in violin and chamber music at the R.C.S.M in Madrid and completed her studies in Paris.
She changed her acoustic violin for her electric homonym and put at the service of her own project, all her professional experience in the field of classical music, playing in the most important venues in the world, under the most outstanding batons to accomplish her most personal dream.
In 2020 she presented her debut album "MaraM"(which was created and produced by herself) with a tremendously original show in Madrid, where her voice and her violin intertwined with DJs, dancers and choristers resulting in an incredible Electronic songs Dance Music (EDM) performance. An audiovisual show that will undoubtedly be remembered by the audience.
"Let your passion lead your dreams"
When did you start to get interested in music?
I come from a family of musicians and music has always been a part of us all. My parents were my first music teachers and I was a fast learner , that got me very interested in playing and exploring more from a young age. All my childhood memories turned around music so I guess I can say that it was my fate.
If you were an advertisement, which would your slogan be?
Let your passion lead your dreams.
Which is the part you enjoy the most about music?
When you interpret something, be it your piece or someone else's. The feeling and the emotions that invade my whole body and mind when I get to interpret a piece wether it is a personal one or from another artist is a really unique and wonderful experience. For me thats the greatest part and the one I enjoy the most.
Most artists say that through their art they learn more about themselves, heal injuries… In which aspects has music helped you?
-Discipline, that's for sure (laughs) . Music touches our hearts and our souls and it made me realize that I can give back. I think that, especially as an artist, our creation is a reflection of who we are and what have inside, at least a part of us. You can see what a person is like or how they feel through their music or their art. More than learning, you realize what you have to give to others, what you carry inside. It makes you feel different, more sensitive … value everything much more.
What does music mean to you?
In my life, music is everything. It is always present, at any time of the day at any time. I can't live without it. It is my passion and fortunately what I live for. What I've been doing all my life.
Who are your idols?
I like many different styles of music. Of course starting with classical music, which is what made me a musician, going through rock, pop, electronic … Some of my favorite composers are Bach, Beethoven, Mahler, and Shostakovich. If we change the style, I could say that my "idol" is Madonna.
If you didn't like music, what would you like to do?
The truth is that I haven't even considered it because I've always been clear that I was going to be a musician. I imagine that I would have done fine arts, it is another of my passions. I love painting.
Do you consider that nowadays there are more or less opportunities for new artists? Why?
I suppose that there are never too many opportunities and aid for artists starting their projects. It is very hard to create something that is yours, in my case it has been to record an album, without any help. If there were more opportunities for us, it would be much better.
What would your idyllic life as an artist be like?
For me, my ideal life is the one I have. Surrounded by my family, friends and music. I consider myself very lucky to dedicate myself to what I am passionate about. When work becomes pleasure, what else can you ask for, right? .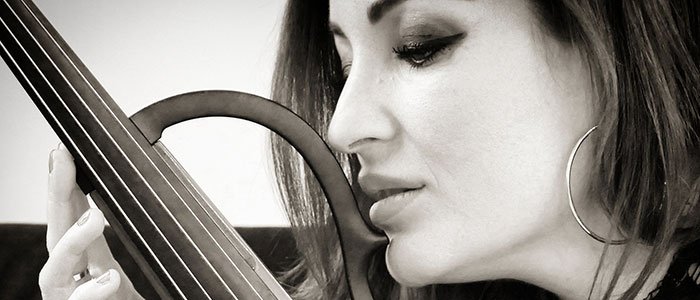 Do you want to know more about Maram? You can find some projects below.