TONG combines pop and electronic music while keeping the violin in focus. Using his loop station and vocals, TONG creates a new and unusual blend of a classical instrument, electronic sounds, and alternative beats.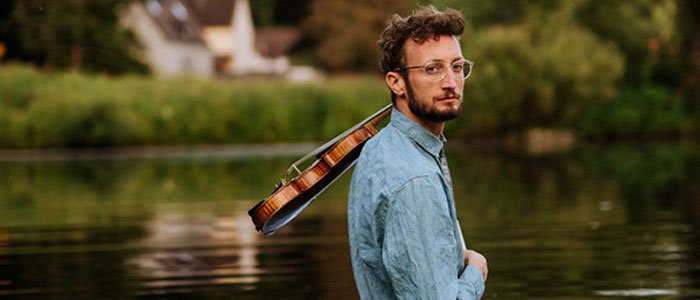 When did you start to get interested in music?
When I was three years old, I went to the music store and I pointed to the violin. I made it clear that I wanted to learn to play the violin. That's when I started to take music lessons. Being born into a family of musicians also encouraged me. Music constantly surrounded me.
If you were an advertisement, which would your slogan be?
"Joy with TONG", or "Vibing with TONG – now every song!" or "Kindness is key"!
Which is the part you enjoy the most about music?
Creating and writing! Especially finding the very first idea for a new song is a great moment. Also the moment after warming-up your voice directly before recording feels amazing. That's when I feel very flowy. Also performing at concerts and feeling the reactions of the audience, especially when you synchronize perfectly with another musician or dancer when jamming together.
Most artists say that through their art they learn more about themselves, heal injuries… In which aspects has music helped you?
I feel like I wouldn't exist anymore if I didn't make music! For me it's like food — not that it would replace it (I love good food) — but it has the same necessity. Playing the violin really helped me to calm down and concentrate. Training regularly from an early age helped my ability to learn and remember things. I learn through songwriting because every theme in my songs comes from an inner search. So it also helps me to work on myself, which I am very thankful for. It's an opportunity to talk about my feelings.
What does music mean to you?
As you ask me I'm going back and forth in my head — it's a rhythm, something like, "ta da daa , , da da taa da daa." For me music can be everything. I grew up in the world of classical and jazz music. Most of the many teachers in my life showed me this and trained me in it. I also played new music and free improvisations, where you have a totally different feeling for groove and timing of the music. Then I discovered a whole new stunning world of pop music and I started singing, which opened up this amazingly true feeling of expressing my emotions in a very direct and beautiful way. I also have a few students and now I'm teaching a girl that is deaf. So I cannot even say that music starts where you hear something since you can also feel the music by its vibrations. So I would say that music always starts with a feeling inside you, and it gets to the next level when you express it with sound. Any sound can be music. The combination of sounds gives it context, so that you feel it.
Who are your idols?
I admire Bach for the flowing pulse in his music and the transforming powers that it possesses. I loved Paganini for making the impossible possible. Stephane Grapelli stays an idol for me since he plays fantastic swing. This was also the beginning for me to look to something else other than classical music. FINNEAS' productions are amazing! Salvador Dalí always knew how to impress. He seemed to be a freaky cool dude. I admire people who manage to be calm and friendly and crazy at times.
If you didn't like music, what would you like to do?
I would travel to all countries in the world (I'd do it anyways!), and get to know people from very different kinds of places — to see their traditions, learn their languages, and hear their wisdom. Then I would probably become a cook, open a restaurant at the sea, and live happily ever after.
Do you consider that nowadays there are more or less opportunities for new artists? Why?
With the internet we have the opportunity to show our work to everyone out there whenever we want. This is crazy and amazing. Through this, new artists have the opportunity to show their work. But this also means that there are a lot of content flooding people's screens within seconds. Another huge difference for artists — and for technical progress in general — is that everyone can easily produce and record music, especially electronic music. In the end, hard work is still paying off and staying on the ball lets you see the opportunities that's out there.
What would your idyllic life as an artist be like?2
I would live at the sea in a huge, dreamy and wonderful house that I designed myself. There I would live with my family, where I'd have a huge garden with another really cool-looking building at the side. That would be my recording studio! You would feel like entering a whole new, inspiring world having a huge grand piano in there, as well as many amazing synthesizers and instruments that I collected on my tours. Stunning musicians would come to produce new music with me and artists of all kinds of disciplines would come to visit me in my creative paradise. It would be the birthplace for new forms of making and combining art. I'd be alternating between being there for three weeks and playing live shows for one week. These shows would be a breathtaking experience having dancers, musicians and circus artists, lights, visuals and amazing sound. I would have a powerful team behind this constantly changing show trying out new ways of inviting the audience to perceive art.
Do you want to know more about Tong? You can find some projects below.