Merce Font is a Catalan classical guitarist and concert performer. She runs her own guitar academy (MFA Online Guitar Academy) coaching students all across the globe as well as contributing to the guitar repertoire by publishing new guitar works every month through MarchioneMusic Editions. You can also find touring vlogs, music videos and tutorials on her YouTube channel.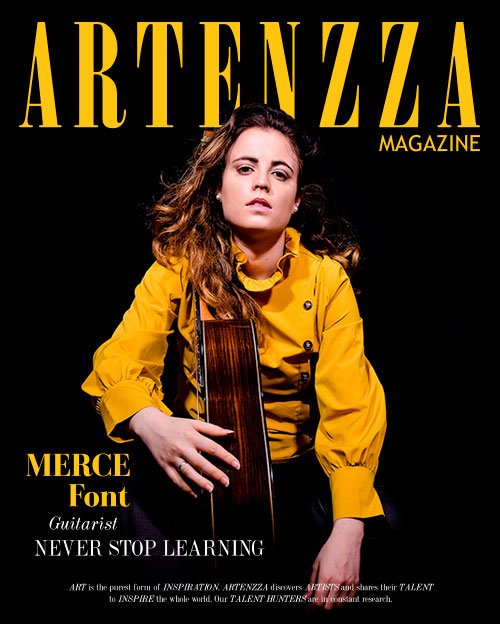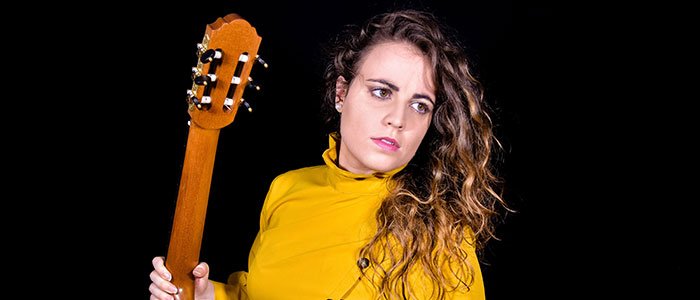 When did you start to get interested in music?
I started violin lessons at about 8 years old but I really got deeply interested in music and performance later in my early teenage years when I fell in love with the guitar.
If you were an advertisement, which would your slogan be?
Never stop learning.
Which is the part you enjoy the most about music?
On a day to day basis, I love the feeling of progress and learning. Achieving small goals that eventually result in the mastery of large, complex and beautiful compositions. As a musician, I get no better feeling than knowing that my music or performance remains in people's hearts and accompanies them through their life.
Most artists say that through their art they learn more about themselves, heal injuries… In which aspects has music helped you?
Through music we can experience all facets of life, good and bad. Just like an actor but through the acoustic experience. This gives lot of room for creativity and personal growth and it's a very powerful spiritual support when one is going through tough times.
What does music mean to you?
Most of people will agree that it's important to find that one thing that makes your life have sense. This is what music is for me. Music gives meaning and structure to my existence. It gives me a long list of short term goals that motivate me every day to work hard and improve my skills and knowledge as a musician, as well as the perspective for a much larger picture.
Who are your idols?
I admire lots of artists, architects, actors, painters, but if I have to name a few references I would mention Harnoncourt, Yuja Wang, Gardiner and Trifonov.
If you didn't like music, what would you like to do?
Because of nowadays possibilities, in fact I feel like I already have multiple jobs. Not only I'm a musician, performer and teacher but I also love to work in the studio, so I had to learn some good notions about audio engineering, video editing, website building and even some more business-related issues, like running my own company in order to be able to have a place where my musical projects can take shape and become sharable.
Do you consider that nowadays there are more or less opportunities for new artists? Why?
I like to see the glass half full, so for me, as a young artist, I see that we have in our reach many opportunities that previous generations of musicians didn't have (at least not so easily).
I'll give you an example, nowadays we are able to record music in a much more inexpensive way. I have a recording studio myself and I can't imagine what would be to have to wait for a record label deal to knock on my door just to make my first recording! We live in a time that, if you have a burning fire to do what you want to do, it's on your reach to take action and start doing it. We in our hands to make things happen, and that is something I feel very fortunate about!
Of course, this attitude entails that you have to be willing to use all your free time to learn other aspects of being a musician. Not only you can learn about producing your own CDs, but also become your own manager and book concerts, create high quality content (podcasts, videos, courses), build your website or online shop, freely manage and advertise your own tours and concerts, collaborate with other musicians all around the world among many more ideas.
What would your idyllic life as an artist be like?
For me, an idyllic life would be a life where there is a better and healthier balance between all this projects, illusions and work. From the audience point of view, it's quite hard to imagine how much work there is behind every finished project (eg. performing a concert, recording a CD, creating a music video, etc…). I just released Quarantine, it's a piece of thee movements and it lasts about 13minutes. From the day I received the piece until having the final recording and video, it's been 3 months of hard work, and that is just one single piece!
As I mentioned before, it's wonderful that we are able to do so much by ourselves, but that comes at a high price. Therefore, many times I'd love to have a free day more often, which I can just dedicate to other important aspects of life like, like going for a trip, relaxing, visiting friends or family, reading or simply unwind my mind.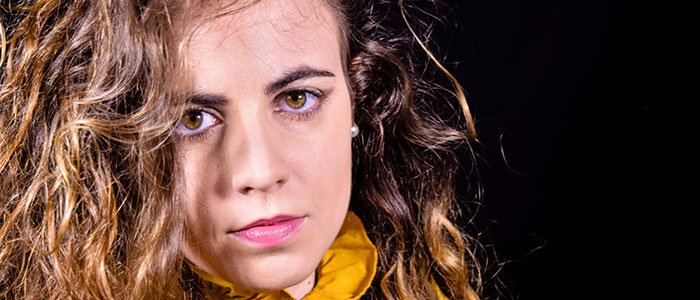 Do you want to know more about Merce Font? You can find some projects below.
Do you want to discover more artists? Follow us!