Salvatore Frega was born in Cosenza in 1989.
He approaches the piano at the age of 4 thanks to the intuition of his parents. Participate in various national and European competitions collecting 7 first places. Guest of honor, in 2004, at the age of 15, at the Palazzo Galeotta in Taranto with a concert entirely based on the romantic repertoire. He attended master's and specialization courses with M. Aldo Ciccolini and M. Cristiano Burato. He graduated in Piano at the "Stanislao Giacomantonio" Conservatory of Cosenza under the guidance of M. Grazia Amato.
He studied composition at the same Conservatory under the guidance of M. Pasquale De Rosa, following courses and master's degrees with M. Evgeni Zoudilkine (Director of the University of Aveiro), various Masters of Armenian Music with M. Julian Mirian (European University Cipro) on Xenakis, and a course in Composition for Film Music held by M. Enrico Fabio Cortese, who wanted him to be his collaborator for various Sky and Rai productions.
During his years of study in composition he was appointed assistant of the DMC – Contemporary Music Department of the Music School of Fiesole.
He graduated in Composition from the Fiesole Music School under the guidance of Maestro Andrea Portera.
He obtained the High Specialization Diploma at the Santa Cecilia National Academy in Rome under the guidance of Maestro Ivan Fedele.
He also studied and perfected in composition with Salvatore Sciarrino and Giacomo Manzoni.
He was winner of the Absolute First Prize of the "Antonio Vivaldi" European Composition Competition City of Taranto, winner of the Absolute First Prize of the European Composition Competition "Musical European Competition GB PERGOLESI City of Taranto", finalist of the National Composition Competition "Rosolino Toscano "Pescara and Winner of the" Veretti "Composition Competition of the Fiesole School of Music.
It was awarded by musicians and composers such as Vinko Globokar, Fabio Nieder and Larisa Vrhunc, Francesco Longo, Fabrizio Festa, Fabio Vacchi, Andrea Lucchesini, Mario Ancillotti and others.
His piece Small Hops received the commendation for best composition at the International Composition Competition "3rd INTERNATIONAL BIENNAL OF CONTEMPORARY MUSIC IN KOPER (Slovenia)". It was performed by the "SLOWIND" quintet and by the pianist Tatjana Jercog, conducted by M. Steven Loy, broadcast by TV Capodistria and Radio Capodistria.
He has received commissions from various festivals and various international bodies such as: Contemporary Music Festival of Koper – SLO, Festival Kreuzberg – Kiezkultur – Berlin, Polo Solidale – Cittanova, Teatro Sibaris – Castrovillari, School of Music of Fiesole – Fiesole, Music Festival Contemporary "Vasari" – Serra Events Ca 'De Frati – Arezzo, Apollo Theater – Crotone, Auditorium "Santa Apollonia" – Florence, Dominican Convent – Firmo, Pietro Aretino Municipal Theater – Arezzo, Season "The Great Appointments of Music – Arezzo, Norges Musikkhøgskole – Oslo, A. Rendano Theater – Cosenza, "Suoni Riflessi" Season – New Counterpoint Ensemble – Florence, Contempoartensemble Season – Marino Marini Museum – Florence, Sanremo Symphony Orchestra Foundation – Gran Casino Theater – Sanremo, Venice Biennale,Small Musical Afternoons Orchestra Foundation of Milan – Season of the San Carlino Theater, Brescia – Santo Stefano a Ponte Season, Florence.
He has collaborated with musicians and conductors such as: Steven Loy, Andrea Vitello, Simone Ori, Pasquale Menchise, Henry Cheng, Anastasios Symeonidis, Sigmund Thorp, Mauro Ceccanti, Il Pavel Kachnov, Evgeny Bushkov, Caro Rizzari, Fabrizio da Ros, with the pianist and composer Francesco Libetta, the double bass player Emiliano Macrini, the pianist M. Gerd Rosinsky, the flutist and conductor M. Mario Ancillotti, the actor Paolo Hendel and others.
He has had performances with ensembles such as: DmC Ensemble, Tangram Chamber Project, Ensemble BIOS, SLOWIND Quintet, Ensemble Nuovo Contrappunto, NMH Sinfonietta, Contempoartensemble, New Made Ensemble, Dedalo Ensemble, Ensemble 900 and others.
Various performances with orchestras such as: Sanremo Symphony Orchestra, Galilei Orchestra of the Music School of Fiesole, I Piccoli Musical Afternoons of Milan, Orchestra of the S. Giacomantonio Conservatory of Cosenza, Florentine Chamber Orchestra, Budapest Symphony Orchestra MÁV, Pazardzhik Symphony Orchestra, The Kazakh Soloists, Eskisehir Philharmonic Orchestra and others.
He participated in the Opera "TELESIO" with M. Franco Battiato.
Awarded by the Municipality of Firmo on the occasion of the "Firmo in Scena" Festival as "FIRMENSE EXCELLENCE" for being the bearer of music and culture in the world.
Winner, in September 2018 , of the Silver Medal in the GLOBAL MUSIC AWARDS in California with the composition "unAnimes", performed in world premiere by the Contempoartensemble.
He was appointed composer in Residence by the New Made Ensemble in 2017 and by the Dedalo Ensemble in 2018.
Guest in the important International Conducting Competition "Antal Dorati Competition" as Contemporary Composer with the piece "Magic Horse" performed for the first time and directed by the winner Henry Cheng.
He received the SOLEMN ENCOMY with the Municipal Council Resolution n. 71 of 11/21/2018 by the Municipality of Firmo for his extraordinary artistic career in the field of music at such a young age that it gives prestige to the entire citizenship and to the Calabria region.
Winner, in March 2019, of the AKADEMIA MUSIC AWARDS in Los Angeles with the composition "Magic Horse" for Orchestra.
Guest at the "Astana Keshteri" Festival at the "Qazaq Concert" in Nur-Sultan (Kazakhstan) with the symphonic piece "Magic Horse" live on television seen by about 15 million spectators and conducted by M ° Evgeny Bushkov with the Orchestra "I Kazakh Soloists ".
Founder and Artistic Director of the Versilia Music Academy and of the International Composition Competition "A. Rendano ".
Professor of Piano and Composition at the Music Academy of Versilia, of the "Operation of the Music Production Sector" at the CaMu of Arezzo and "Music Self-entrepreneurship" at the Fiesole School of Music.
In April 2018 appointed Music Director of TGmusic.it by the company ITALIA MEDIA ONLINE SRL.
His compositions are published with the "Sconfinarte" publishing house in Milan with the Ries & Erler in Berlin and with Impronta Edition in Berlin.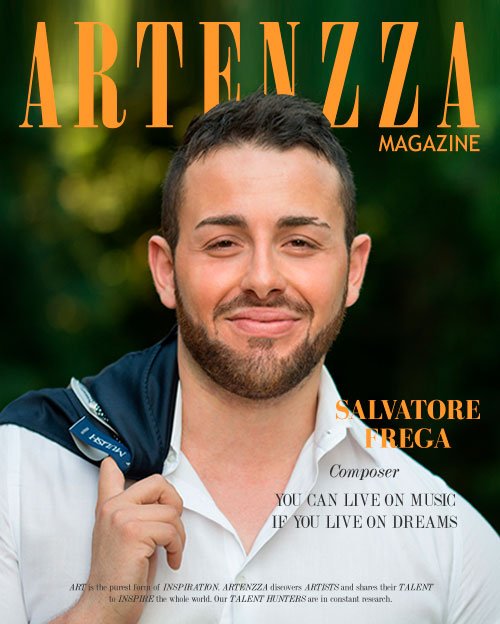 "You can live on music if you live on dreams"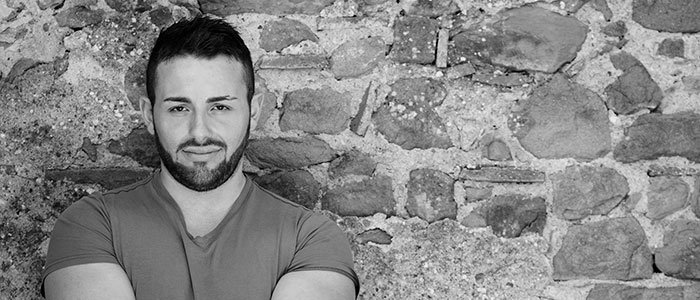 Salvatore Frega - Interview
When did you start to get interested in music?
I started to get interested in music from the age of 4, thanks to my parents. I started playing the Piano and at the same time I was writing music. From here, I also enrolled in Composition at the conservatory and continues to study until I reach the coveted qualification in both, in addition to the Diploma of Composition at the National Academy of Santa Cecilia in Rome.
If you were an advertisement, which would your slogan be?
You can live on music if you live on dreams.
Which is the part you enjoy the most about music?
Conceive, design the composition you want to write. The search for personal language leads to the creation of internal systems and therefore also research.
Most artists say that through their art they learn more about themselves, heal injuries… In which aspects has music helped you?
It helped me to get to know myself, to know my limits and my abilities, to understand which path I had to take in order to arrive. It helped me dream.
What does music mean to you?
Music is life, music is within me. I only live for the music. I wake up in the morning only with the mission to bring music, to my students, to my audience.
Who are your idols?
Beethoven, Stravinsky and Battistelli
If you didn't like music, what would you like to do?
Music is life, music is within me. I only live for the music. I wake up in the morning only with the mission to bring music, to my students, to my audience.
Do you consider that nowadays there are more or less opportunities for new artists? Why?
There are many opportunities for everyone, making good use of social networks. Unfortunately, technology has also done harm, as well as good. There are many amateurs who make low-level music, taking advantage of social popularity. Technology has also done good because it develops the idea of ​​professionals even better. Today music is for everyone, absolutely.
What would your idyllic life as an artist be like?
How I am living it now. I live a beautiful life.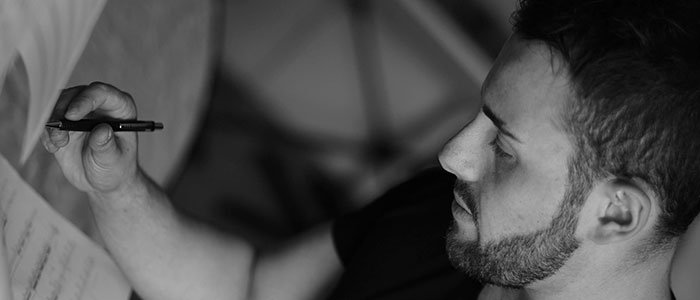 Salvatore Frega - Projects
Do you want to know more about Salvatore Frega? You can find some projects below.