ACTOR, SINGER & CONTENT CREATOR
Sasha Anne was born in New York and got her start in the industry at 13 when she began her YouTube channel Sasha Anne posting makeup tutorials. In 2017 she was a finalist in the Shorty Awards for her Cinderella makeup video and in 2018 she won the Audience Award for Best in Beauty for her Wonder Woman Gal Gadot makeup video as part of her Empowering Young Women campaign.
Sasha moved to Los Angeles and has parlayed into acting starring in the Indie Horror film Reeds Point: Bad Blood Never Dies produced by Suzanne DeLaurentiis streaming on Amazon Prime as well as a cameo in the upcoming series All Fours with Eric Roberts. She recently released her debut single Catch Me I'm Falling, a cover of the 80's hit by Pretty Poison which is streaming on all platforms.
Sasha has added talk show host to her extensive resume with the start of her new YouTube talk show The Vibe with Sasha Anne.
"A SMILE IS BETTER THAN ANY MAKEUP YOU COULD WEAR!"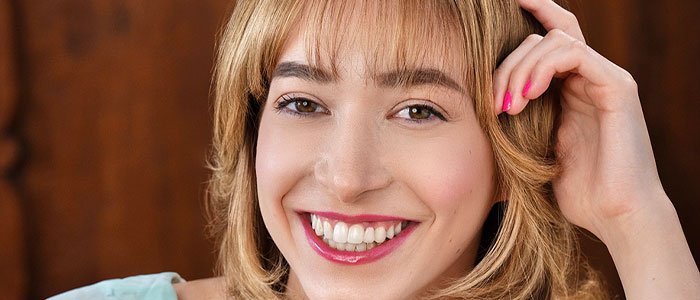 When did you start to get interested in music and acting?
I've always had a love for music, acting and makeup. It all started when I first watched Hannah Montana on Disney channel. Loved her stage outfits.
Very sparkly. I loved that it was singing and acting together. After watching the first episode I realized that's what I wanted to do. So, in 2013 I created a YouTube channel to get my name and face out there. I was just posting basic makeup tutorials and people started watching.
I slowly got into makeup transformations which allows me to become a different character and it was sort of like acting. I was also a finalist in the Miss New York pageant. Just love how I can show people that beauty comes from within.
If you were an advertisement, which would your slogan be?
A smile is better than any makeup you could wear!
Which is the part you enjoy the most about music and acting?
Seeing it come to life and getting people's reactions. I just love the enthusiasm of everyone seeing my work. I love to put a smile on people's faces. It means I've done my job. I also love when I'm working on a song, and I find something that I absolutely love. Like a lyric, a beat or just the vibe of it. It gives me the chills.
Most artists say that through their art they learn more about themselves, heal injuries… In which aspects has your journey helped you?
I have anxiety. My music is my therapy. I don't know what I would do without it. Just like makeup and acting. When I'm doing my thing, I'm 100% in it. It's like everything else in the world goes away and it's the best feeling. I like to say that my art is my drug.
What does music and acting mean to you?
My art is very personal. It tells a story. When I'm acting, I need to think about a situation. And situations are never just made up. It's probably from a past experience but tweaking it a little. When doing makeup, it's however I'm feeling that day. With singing, I always write from my heart or personal experiences. So, my art is 100% me.
Who are your idols?
With fashion, my idols are Hannah Montana (Miley Cyrus), Paris Hilton, Barbie and Avril Lavigne. For acting, it's Lady Gaga, Anne Hathaway, Julia Roberts and Lily James. For music, Hannah Montana/Miley Cyrus, Avril Lavigne, Olivia Rodrigo, Paramore, Emily Osment, Lady Gaga and Katy Perry.
If you didn't like music and acting, what would you like to do?
I'm doing everything I love. That's all I can say. I'm living the dream. If I wasn't doing what I loved, I would be depressed. I'm so thankful that I can do what I love, and I love what I do!
Do you consider that nowadays there are more or less opportunities for new artists? Why?
It's 2022. The options are endless for artists these days. With technology and with TikTok songs constantly going viral, anyone can make it if they work hard. So, there are always more opportunities for artists now.
What would your idyllic life as an artist be like?
Wake up, record a video for my YouTube channel, go to set for my acting role and then the recording studio for a session.
Which are your upcoming projects?
I can't give a lot of details but stay tuned for some songs coming soon. Just finished up in the studio today and it sounds amazing. Can't wait for my followers to hear. And make sure to check me out in my first starring role in indie horror movie "Reeds Point" on Vudu, YouTube, Amazon Prime and DVD.
My song "Catch Me I'm Falling" is out on all platforms and the music video is on my YouTube channel. And just stay tuned for some new talk show episodes on my YouTube channel each week.
Do you want to know more about Sasha Anne? You can find some projects below.