The Cello Doll uses her classical music roots to create multimedia works for modern-day audiences. After beginning cello at age 8, she held her first principal chair at age 11 and won her first concerto competition at age 15. After high school, she pursued conservatory training in Boston, earning both a Dual Bachelor's in Cello Performance & Composition, and a Master's in Cello Performance. Currently, she is studying for a Performance Diploma in New York City. As The Cello Doll, she arranges original mash-ups and covers, then presents them in self-produced music videos. Using social media as her stage, her Instagram reached 12K followers in just 1 year, and her YouTube Channel now has over 1.2K subscribers.
"Classical Music, with an Edge!"
The Cello Doll - Interview
When did you start to get interested in music?
It all began when my older sister began learning the violin while I was still a baby. My mother said the instant I knew how to crawl, I would make my way to whichever room she was practicing in and watch her, as if hypnotized! One day, when I was almost 2 years old, my mom found me holding my sister's violin vertically, as if trying to play a mini cello! We had no close relatives who played musical instruments, so my parents had no idea how I learned to do that. This put the idea of being a cellist in the back of my mind, but I didn't decide to pursue it seriously until I was 8 years old. From that point on, I was hooked and knew I had found my life's passion!
If you were an advertisement, which would your slogan be?
Classical Music, with an Edge!
Which is the part you enjoy the most about music?
Collaborations and getting to meet other musicians! Every musician has a beautifully unique story and the common passion of our art makes us bond right away. Most of my closest friends are musicians, and I got to meet them because my musical journey took me to them.
Most artists say that through their art they learn more about themselves, heal injuries… In which aspects has music helped you?
Studying music as a child absolutely saved my mental health. Throughout elementary and middle school, I was bullied and unaware of how deeply it had damaged my self-esteem. Having music throughout that time gave me an art form to be proud of, and with each performance I would gain some of my confidence back. If I was especially upset, it gave my imagination a healthy place to escape to, and I truly believe music saved me from depression.
What does music mean to you?
Music is such a deeply rooted part of my identity. It is a language that speaks directly to how I process my emotions, and allows me to communicate with my audience on a personal level. It also gave me a close-knit community of friends and colleagues who see and interpret the world around them in a way that I can relate to. I have met incredible people that I can make art and identify with. The result has yielded some truly powerful performances.
Who are your idols?
Since I was child, Yo-Yo Ma was my inspiration and I nearly wore out his CDs from listening to them so much! Then, as I got older and learned more about his philanthropy work and initiative with his Silk Road Ensemble, I was in awe of him even more. He is a musician who is not only brilliant, but has a compassionate soul. I also really admire the fiery recordings of Jacqueline Du Pré and Mstislav Rostropovich, whose passion can be heard in the very sound they make with their cello! For present-day idols, I admire musicians who are finding their own ways to modernize classical music and make it more accessible. Such musicians include Time for Three, David Garrett, Apocalyptica, and a mentor of mine, Dave Eggar!
If you didn't like music, what would you like to do?
I have always been fascinated by human psychology and true crime documentaries, so I probably would have studied criminal psychology to become a behavioral analyst. However, I always loved writing fictional stories as a child and throughout high school. So, on the side, I would probably have combined these interests to write true crime and mystery novels.
Do you consider that nowadays there are more or less opportunities for new artists? Why?
It really is a "mixed bag" of opportunities. With the internet and social media, there are so many more chances for artists to create multimedia, and promote themselves to a worldwide, "virtual" audience. However, since these platforms & streaming services are easily accessible, the competition among artists is very high. New artists really have to be creative and have their own flare that hasn't already been done by a ton of people. That is very challenging in 2020, especially when musicians who come from a classical background are playing one of the oldest, musical genres. We have to be innovative so that people who may have never been to a classical concert can still relate to, and identify with, our music.
What would your idyllic life as an artist be like?
I would love to have a career that consists of both virtual, and live performances! Becoming The Cello Doll has shown me how much I enjoy producing music videos, educational vlogs, and other types of content. Also, these projects allow me to use my skills as a composer to arrange classical music mash-ups and write music for myself. My future goals for Cello Doll are to write an original album of cello music, to create a live show experience, and to appear on stage with notable artists (both from the classical and popular worlds of music). Lastly, I want to have regular at-home studio work where I can record music for composers and producers.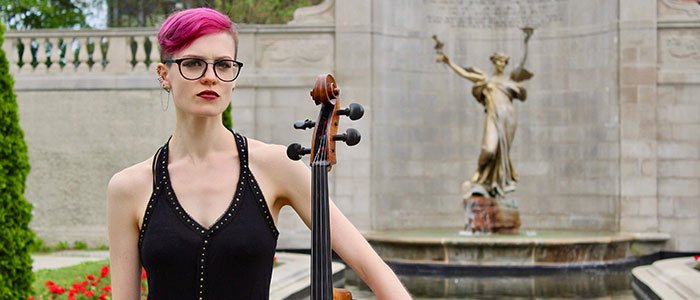 The Cello Doll - Projects
Do you want to know more about The Cello Doll? You can find some projects below.