Chinese-born pianist Xiao Chen is actively engaged as both a soloist and chamber musician throughout the U.S., China, and Europe, having performed at prestigious venues such as Carnegie Hall, Fischer Center for Performing Arts, and Shanghai Concert Hall. Her performances have been well received by many; Peninsula Reviews praised her playing as a "knock-out performance, and one we would love to hear again", while Shanghai Youth Daily said "her energetic and breathtaking performance impressed the audience".
Ms. Chen is currently on faculty at Mount Saint Mary's University, having previously served as Lecturer in Piano Performance at the University of California, Los Angeles (UCLA) in 2019. A dedicated pedagogue, Ms. Chen founded and directed the Los Angeles Young Virtuoso International Music Festival in 2018, with the objective of providing performance and educative opportunities for students from all over the world.
Ms. Chen is the recipient of several prizes; awards include The American Prize, Frances Walton Competition, Carmel Music Society Piano Competition, The Muse International Competition, 'London' Grand Prize Virtuoso International Music Competition, and Steinway & Sons International Youth Piano Competition. As the winner of the Frances Walton Competition in 2017, she played a concert tour across Washington State, during which she gave recitals and was aired live on Classical KING FM 98.1. Furthermore, Ms. Chen has served as a jury member in many piano competitions, including the New West Symphony Piano Competition in Los Angeles, "Pearl River Keyserburg" International Youth Piano Competition, and Hainan Airline Piano Competition. As a recording artist, Ms. Chen has recorded for Yamaha's Disklavier Educational Network and the Scott Joplin Piano Works Archive.
Ms. Chen attended Bard College as a double major, receiving her Bachelor of Music degree in Piano Performance under Melvin Chen from the Bard College Conservatory of Music, and her Bachelor of Arts degree in Language and Literature from Bard College. She furthered her studies at The Juilliard School in New York under Jerome Lowenthal, obtaining her Master of Music degree. Most recently, Ms. Chen received her Doctor of Musical Arts degree at UCLA under the
tutelage of Inna Faliks.
Ms. Chen recently released her new solo album "Kaleidoscope" with Sheva Collection.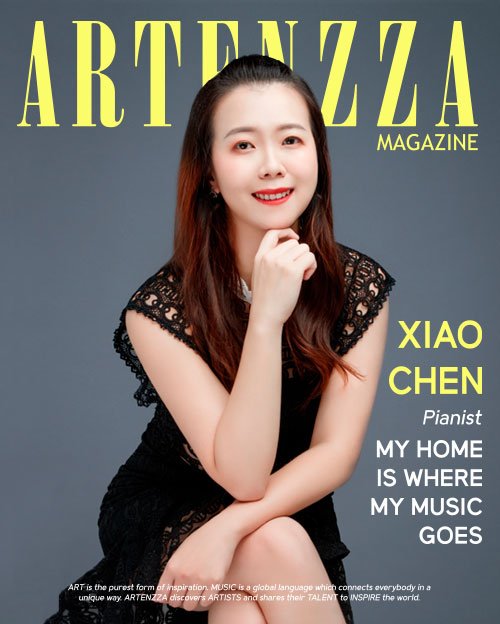 "My home is where my music goes"
When did you start to get interested in music?
At age three, my mom taught me to sing my first song, and from that time on, I always sang and clapped along with my mom, those were the happiest moments in my childhood. When I was four, I touched a piano in a mall for the first time and became obsessed with the sound. I asked my mom to buy the instrument for me. My mom gave me a small toy piano the next day, but I cried for the real piano. Later that year, I successfully had my first piano lesson and began my music journey.
If you were an advertisement, which would your slogan be?
My home is where my music goes.
Which is the part you enjoy the most about music?
I share ideas and stories through music, and communicate with every single member of my audience.
Most artists say that through their art they learn more about themselves, heal injuries… In which aspects has music helped you?
When I was in middle school, and there was a moment: I was studying Brahms' piano piece op.118 and was obsessed with it. The beauty, the pain, the bliss, and the melancholy in the piece captivated me at a profound level. As a result, I worked hard with this piece. Every note in the piece was meaningful to me. I felt the incredible power and strength in the music. From that moment, music became an indispensable companion to me.
What does music mean to you?
It is part of my daily life. It gives me power, strength and hope.
Who are your idols?
Mitsuko Uchida, Radu Lupu, Sviatoslav Richter.
If you didn't like music, what would you like to do?
I dreamed to become a TV show host when I was little.
Do you consider that nowadays there are more or less opportunities for new artists? Why?
I believe there are more opportunities for new artists and young professionals nowadays. With the rise of online social media, more artists and their performances will be heard. The diversity of musical forms also gives more possibilities to artists to be creative and to combine elements from other fields, for instance, using artificial intelligence technology in music. I believe there are even more possibilities waiting for artists to explore.
What would your idyllic life as an artist be like?
I hope to continue performing chamber music with my best friends, keep my daily practice productive, give music classes to underprivileged students, and inspire and heal more people through my music.
Do you want to know more about Xiao Chen? You can find some projects below.