SCORE COMPOSER, CLASSICAL PIANIST & BROADWAY SINGER
Ana Ortiz Wienken is a Film Score composer, classical pianist and Broadway singer. Ana has worked under award winning composers and renowned companies such as Warner Studios, Netflix, I+D Films, X-hibit One Productions and Latin Grammy Cultural Foundation.
She has performed on tour around Europe and USA, some of her most memorable concerts took place in Ateneo Theatre (Spain), Madrid Music Hall (Spain), Tribueñe Theater (Spain), Grand Maestre Theater (Spain), Revi Rock Stage (Spain), Four Seasons Auditorium (Budapest), Gersham Palace Budapest (Budapest), Studio One Bridge (USA), Lincoln Center Hall (USA),
Her music studio, AOW MUSIC PRODUCTIONS, will not only be working in Boston and Los Angeles but also in Europe with the new branch opening in Madrid, Spain.
Ana is currently composing, performing in Madrid's most memorable music halls as she shares her music she composed for films and musicals in an elegant set of Piano, Voice, Guitar, Percussion and Special Effects Beats she herself produced.
"YOU TELL THE STORY, WE SET THE TONE"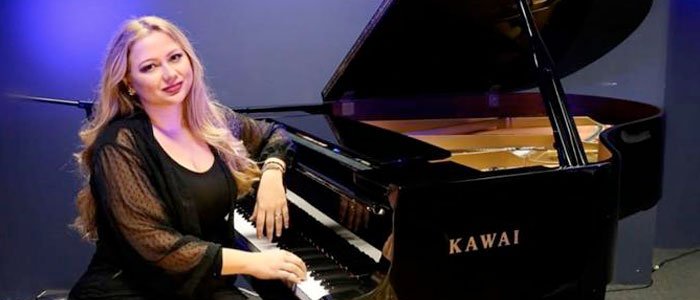 When did you realize you wanted to pursue music?
I started getting interested in music when I was 5 years old. I began playing violin and as I grew up, I fell in love with the piano. As a young child, I was not very keen to talk and express myself through speech; therefore playing the piano gave me my own voice.
What is your main inspiration when you create a new song?
My inspirations are feelings. Everytime I confront a difficult situation, I allow myself to give space to any kind of feeling I am sensing and then I compose over that. As if it was a movie, I compose soundtrack music to my emotions, and many others in which most people can relate to. This is a very special manner of creating connections with each other.
If you were an advertisement, which would your slogan be?
"YOU TELL THE STORY, WE SET THE TONE" As a music composer, I work with a team; therefore our slogan aims at the audience as in a group. I own a production company, AOW MUSIC PRODUCTIONS, in which all work is managed through a team as well. We composer music for film and TV, therefore they tell the story and we add the tone.
This Saturday, November 26, you have a performance at the Tribueñe Theater in Madrid. How do you prepare before a concert? Do you have any ritual that you follow?
I am very excited for the concert. It is held in a historic Theater in Spain, Trubueñe. I always warm up for 10-15 minutes, I prepare all my electronics, mics, MIDI instruments and finally  I make sure the professionals working around me are also ready. I love checking on every crew member as it is all team work. Technicians, lights, sound engineers, cleaners, managers.. Without them this industry wouldn't roll at all! I can say that my ritual is to check everybody is comfortable, they have what they need and they are happy working on the project.
How would you define yourself as an artist?
Collaborator and creator.I am working very hard each day to give sound and voice to all musical and cinematographic projects.
What would you say to yourself from 5 years ago? and your future self?
To myself 5 years ago I would say "Don't give up and raise your voice, allow yourself to be heard and seen". and to my future self "buckle up, we have a long and exciting ride ahead together!"
When you started your musical career, did you think you would get to where you are today?
When I started my musical career I thought that I was going to be touring, composing, and collaborating with tons of artists. Thankfully I can say that this has been fulfilled. I am part of so many exciting projects and I feel very thankful for all of the artists and companies that believed in me.
As music lovers we are a bit curious. Which are your upcoming projects?
I am working on three musicals which will be released in October 2023, I'm also working on two feature films and preparing my film music tour 2023.
Tell us about your company, AOW MUSIC PRODUCTIONS.
My company, AOW MUSIC PRODUCTIONS, composes music for film, TV and musicals. With our new branch in Madrid we are working on so many exciting projects and releasing double the music we planned. We count with great composers and arrangers on site such as Angel Irizarry Almonte, an amazing composer and arranger from the Dominican Republic.
Do you want to know more about Ana Ortiz Wienken ? You can find some projects below.