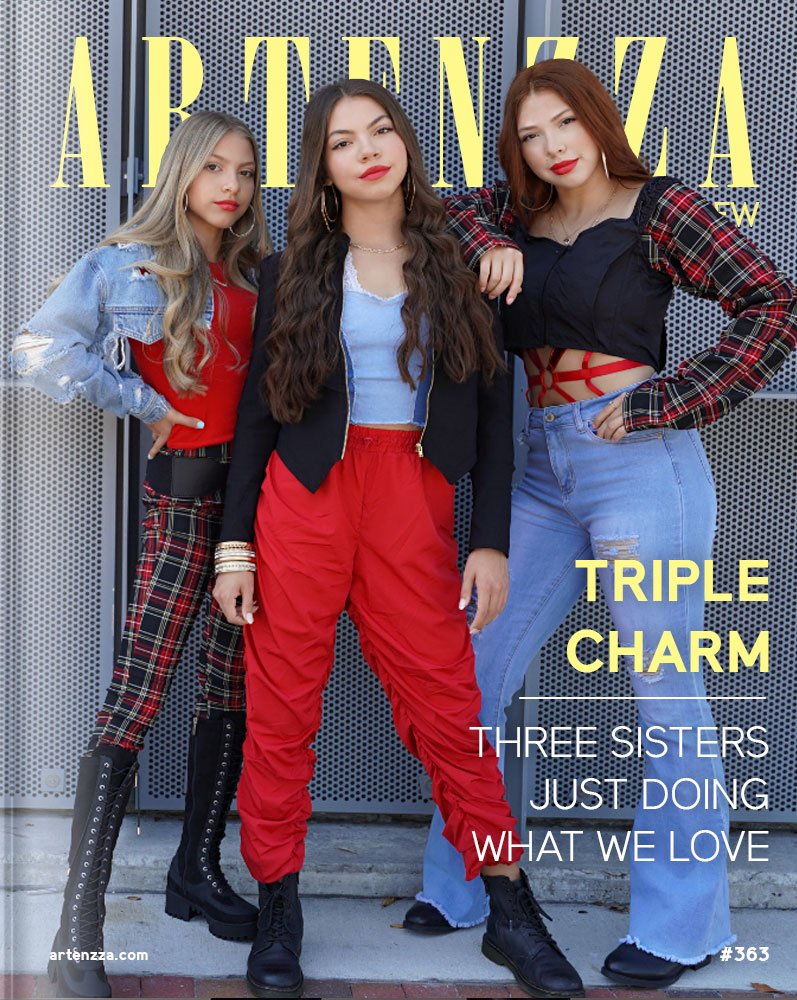 Dubbed as a female Hanson 20 years later with the performance skills of Blackpink, this Gen-Z singer and songwriter trio of Latin descent will leave their catchy hooks and smooth harmonies stuck in your head and wanting more. The girl group has collaborated with well-known songwriter Heather J. Miley, who has worked with renowned stars including Selena Gomez and Kelly Clarkson.
Channeling the iconic pop groups that once put Orlando, FL on the music map, the dynamic trio has exploded onto the social media scene by amassing over 2 million fans in the last 6 months with their impressive singing videos, dance moves and iconic fashion. Their viral Instagram Reels and Youtube shorts have gained massive attention with millions of views, showcasing their artistry, captivating their personalities and sisterly bond. 
As the girls would say, "We're 3 sisters just doing what we love." Their music is sure to leave you happy, inspired, and ready to get up on your feet! Their most recent pop singles "Summer Again" and "Don't Need A Reason" serve as the perfect "get up and DANCE" melody to blast on replay!
In Gabriella, Raena, and Amalia's free time, they enjoy horseback riding, cooking, and surfing. Their philanthropy interests include mental health awareness, ocean conservation, Girls Opportunity Alliance, and UNICEF.
"THREE SISTERS JUST DOING WHAT WE LOVE"
When did you start to get interested in music?
Our love for music started at a very young age, when we were each around 2 years old. We grew up doing competitive dance, so music has always been a major part of our lives. Dance was where our passion for music first started, but as we started singing and songwriting, it grew even more.
 If you were an advertisement, which would your slogan be?
Three sisters just doing what we love!
Which is the part you enjoy the most about music?
The best part about our art is the ability to connect and share it with people. Our goal with everything we do is to spread positivity and put a smile on people's faces. When we are able to do that, it is the most rewarding feeling in the world.
Most artists say that through their art they learn more about themselves, heal injuries… In which aspects has your journey helped you?
Music is like a form of therapy. You're able to express yourself in a way when sometimes words aren't enough. With music and dance you are able to celebrate the good or shake off the bad. You can capture a feeling that you want to hold on to, like we did with our single "Summer Again." We wanted to take the feeling of summer that is so nostalgic and bottle it up into a song. Music is an outlet and has helped us express ourselves in so many ways.
What does music mean to you?
Our music and videos are a piece of us. With everything we make, we give it our all and each one of our projects has become a core memory that we will hold onto forever. With each song we write, from going to the recording studio, filming a music video, and releasing it to the world, each moment is so special, and we really enjoy every second of the process.
Our music has become a great way to look back on what we've been able to do and where we were at the time.
Who are your idols?
There are so many people we look up to when it comes to music and art. We believe that there is something to be learned from every artist! The person we look up to the most though, is our mom. She is such a hardworking, strong, and kind person, and every day we strive to be like her. She has inspired us in so many ways.
If you didn't like music what would you like to do?
Music is what we truly love so we couldn't't imagine not doing it. But, if we had to pick something else, we would still want to do something in the entertainment industry like acting in television and film.
Do you consider that nowadays there are more or less opportunities for new artists? Why?
Right now is an amazing time to be an up and coming artist. You are able to build an audience and reach new listeners on a scale like never before. With the help of social media, there are so many more opportunities for new artists.
What would your idyllic life as an artist be like?
Performing is our favorite thing in the world. Therefore, the perfect day in our lives would be on a world tour, meeting fans, traveling, and getting to sing and dance for millions of people.
Which are your upcoming projects?
We are so excited for the release of our new single, "Thrive" which will be coming out December 27th! We can't wait for everyone to hear it.
Do you want to know more about Triple Charm? You can find some projects below.