Erik Valdemar Sköld - Bio
Erik Valdemar Sköld (b. 1991) is a swedish composer of contemporary classical music. He resides in Malmö where he's a student of professor Bent Sørensen at the Academy of Music. His previous teachers include composers like Rolf Martinsson, Luca Francesconi and Hans Gefors.
"Let's keep art and music alive"
Erik Valdemar Sköld - Interview
When did you start to get interested in music?
Both my parents are professional musicians, so I was introduced to music right from the start. My musical training began at the age of three, and I played both violin and piano. It was, however, not until I was around 10 that I became truly enamoured with music. I had been watching Disney's Fantasia a lot growing up, as well as seeing my father compose, and both influenced me to compose my own music.
If you were an advertisement, which would your slogan be?
Let's keep art and music alive
Which is the part you enjoy the most about music?
How it binds humanity together and creates an understandning of our surroundings. When working with composition you can more easily see structures and patterns in all creative fields, not just music, which is something I find extremely fascinating.
Most artists say that through their art they learn more about themselves, heal injuries… In which aspects has music helped you?
To create and perform music is to heal our emotional wounds. It helps us cope with the stress and anxiety that comes with modern society. Composing is therapy for me, as it makes me learn how to focus and relax at the same time.
What does music mean to you?
Music means everything to me. It is my career, my hobby, my refuge. Life would be a mistake without music, like Nietzsche once said.
Who are your idols?
That is a very difficult question, since I believe we all have different idols during different periods in our lives. When I was very young my idol was Ludwig van Beethoven, but I was also very fascinated with the music by J. S. Bach. During my teenage years I listened more to the works of Stravinsky, Tchaikovsky, Nielsen and Prokofiev. In the more recent years my greatest influences have been figures like Claude Debussy, Maurice Ravel, Alfred Schnittke, Toru Takemitsu, and most recently, Giacinto Scelsi.
If you didn't like music, what would you like to do?
I would probably work in some other creative field, like literature or design.
Do you consider that nowadays there are more or less opportunities for new artists? Why?
Even though we have more access to music and musical education now than ever before in history, our chances to actually become successful in this field are sadly very small. Lack of public funding to the fine arts, a societal shift towards commercial forms of entertainment and a competitive market dominated by big corporations are several factors to this situation. The internet has opened up some new ways for artists and musicians to reach out and get an audience, but they also have to battle against algorithms that focuses more on what's popular at the moment or show things that people are already familiar with and enjoy. The best way to fight this is to create a network the old fashioned way, and reach out to people directly.
What would your idyllic life as an artist be like?
My ideal vision of my career as a composer would be to receive commissions on a regular basis from established orchestras and ensembles, to be able to collaborate with my fellow musicians and artists on big and innovative projects, without the constant worry about money and resources, and to have a nice studio some place where I'm surrounded by friends and fellow artists.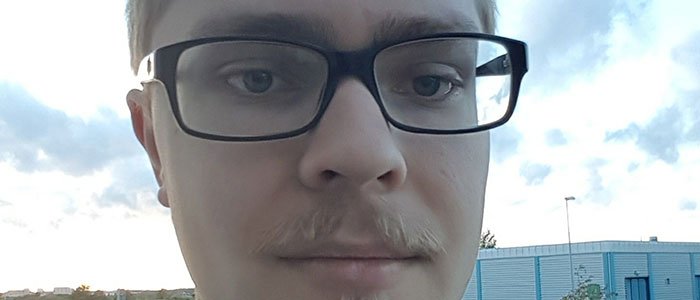 Erik Valdemar Sköld - Projects
Do you want to know more about Erik Valdemar Sköld You can find some projects below.