Erin Greider was born in Los Angeles, California on May 18, 1999. She attended Campbell High School in North Hollywood and just graduated magna cum laude with a BFA in screenwriting and a BA in economics from Chapman University/Dodge College of Film and Media Studies.
"Might not seem like it makes sense, but it does"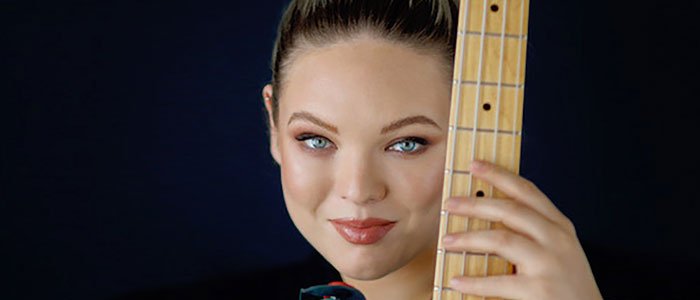 When did you start to get interested in music?
My mom will tell you that I've always been writing songs but the first time I really remember writing music was when I was 7 or 8 years old with my childhood best friend whose dad was in a garage band. Shortly after that I started playing guitar after watching Lindsay Lohan in Freaky Friday.
I thought she was the coolest person ever when she did that guitar solo. The other instruments came after that and I never stopped writing.
If you were an advertisement, which would your slogan be?
Might not seem like it makes sense, but it does.
Which is the part you enjoy the most about music?
The part I enjoy most about making music is connecting with people. Whether that's when someone comes to you and tells you they related to a song or meeting other musicians at different gigs. I've met some of the best and most influential people in my life through music and I'll always be grateful for that.
Most artists say that through their art they learn more about themselves, heal injuries… In which aspects has music helped you?
I've never been the type of writer who sits down and forces themselves to come up with something. Or when I'm feeling a certain emotion I don't try to write through it. That sounds super therapeutic but that's just not how I work. I have to let songs come to me (as zen as that sounds, it was definitely born out of impatience).
So when I finish a song is when I reflect on what I've just written and what's come out of my brain and I've learned a lot about myself and my emotions that way.
What does music mean to you?
Obviously my music is very personal to me. My songs are little snapshots of moments and feelings that I will always have to look back on.
Who are your idols?
Queen and Bowie will always be my top idols. They pushed music in a direction it needed to go at the time and were always true to themselves and their art.
If you didn't like music, what would you like to do?
I actually went to film school and film will always be my other passion. If I weren't doing music, I would be throwing myself into that industry, however music and film are very intertwined in my mind. Film inspires some of the songs I write and I use a lot of film references in my music. My dream would be to be able to do both.
Do you consider that nowadays there are more or less opportunities for new artists? Why?
I think it's definitely easier for new artists to get started. Anyone can release their music and use social media as a platform to gain a following. With that being said, I think that has made it harder for artists to stand out and have bigger, more traditional opportunities come their way.
What would your idyllic life as an artist be like?
My ideal life as an artist would be to have a reasonable work/life balance. I think this is harder to accomplish when your job is something that's your passion and doesn't have certain "hours". This job really never stops. I don't want to miss out on a social/personal life but I always would want to be busy and I don't see myself ever "retiring". Also like I said above, in a dream world I'd like to cycle between film and music.
Which are your upcoming projects?
I recently started performing my album Sim Controllers live for the first time so focusing on live shows has been super exciting. I'm also working on writing my sophomore album which is my safe place so I can't wait to see what's coming.
Do you want to know more about Erin Greider? You can find some projects below.