Bourke Floyd is best known for his recurring role as Brady on the hit WB Show Dawson's Creek as well as guest starring roles in Spin City opposite Michael J. Fox and One Tree Hill with Chad Michael Murray. Most recently he has guest starred on the Apple TV+ series Swagger with O'Shea Jackson Jr, The Cleaning Lady with Oliver Hudson, American Tragedy: Waco the Aftermath and the Shonda Rhimes series Station 19 as well as a series regular role in the VetTV comedy A Grunt's Life.

Bourke's talents extend to the big screen with supporting roles in Big Momma's House 2, Minority Report, Tears of the Sun, Gods and Generals, Hearts in Atlantis, and the upcoming film The Locksmith alongside Ryan Phillippe, Kate Bosworth, and Ving Rhames. Bourke started out his career in New York as a model in print campaigns for Abercrombie & Fitch, Valentino, and Calvin Klein then transitioned into commercials with national campaigns for The Gap and Quizno's. He even had a turn performing on Broadway in the role of Roger in the Tony award-winning musical Rent.

A world-class Stunt Man with expertise in high falls, precision, and high-performance driving as well as close quarter combat and weaponry, Bourke trained at the Bondurant Driving School and The Academy of Movement Arts and Sciences Los Angeles. He lends his star power to help charities near and dear to his heart such as the Leukemia Lymphoma Society and the Alzheimer's Association. When not working or giving back, he enjoys cooking, karaoke, and spending time with his family.
"Don't sweat the Petty, Pet the Sweaty"
I cannot think of a day in my life I didn't have a love for entertaining. I participated in the children's theater presentations at church, sang in the choir and jumped in the talent show at school or camp or, frankly anytime there was one for which I could enter.

I found an outlet for this love of entertaining in my passion for acting, crafting a character and telling a story. I was a part of our theater department in high school in Richmond, Va, The Shoestring Players as well as working with SPARC (School of the Performing Arts in the Richmond Community). I had my first agent in Richmond before I had graduated high school and was fortunate enough to work on about a dozen commercial spots before leaving for college, including 5 SAG National Spots.

After playing football in college, I came back to acting while living in New York and working in finance. I was stopped on the street by a booker with FORD Models NYC and was shooting my first cover of Abercrombie & Fitch with Bruce Weber less than 2 weeks later. It all continued from there spinning modeling into roles on the soap opera All My Children as well as the role of Roger in RENT on Broadway.
If you were an advertisement, what would your slogan be?
Don't Sweat the Petty, Pet the Sweaty. -In other words, "don't worry about the small stuff (and it's all small stuff). Instead focus on putting in the work and rewarding yourself and those around you that are doing the same."
What does your career mean to you?
My career as an actor, like so many careers, can be a rollercoaster of highs and lows and twists and turns. The only thing truly consistent about being a working actor is the inconsistency both in roles, auditions, pay rate and acknowledgment. I see being a working actor as an opportunity to entertain, to be a part of something bigger than myself with the work I do and to hopefully deliver a brief respite to those in need of one.

Being a working actor has allowed me to travel to so many different places around the country and even the world and work with so many different, immensely talented people. Those experiences have created a social media platform that I certainly would not have otherwise, and I also view my career as an opportunity to use the platform it has given me to share kindness and the accomplishments of others with those that do me the great honor of following my posts.

My career also means a manner by which to provide for my family both financially and experientially. My wife and son have been all over with me and seen so many incredible places and things because of traveling with me to the locales where I have booked work.
What is your main motivation?
My main motivation is kindness and I hope that I can do my best to model the kind of behaviors and be the kind of person I would want my children to be. I am not perfect, far from it in fact, but I do my very best to stay the right road and to lead with love and empathy in everything I do.

Basing my motivation in kindness and empathy allows me to focus on the process over the outcome. This allows me to be more present and work the opportunities and build the relationships that are directly in front of me at any given time. Goal setting is important, but I believe goals only work if I backtrack from the outcome goal, I think I'd want to the step towards said goal that's next in the journey. Smaller steps, one at a time is the only way to actually get anywhere and taking them in love of others is most important to me and what motivates and drives me to keep pushing.
What is the part you enjoy the most? And the worst?
For me, the greatest part of a career as an actor is being able to constantly step into someone else's shoes through each new character, even during the audition process. Exploring the intention of a character in any given situation and trying to find the honest intention and truth of the character and scene require some determined investigating on myself. How could possibly expect myself to honestly portray someone I am not if I don't know my own truth? Finding the flaw in myself through this inward exploration allows me to grow as a person and, hopefully an actor as well. I love those opportunities. Oh, and hearing someone laugh at a performance, that's a HUGE favorite of mine too.

The most challenging part about having a career as an actor is the lack of stability. Constantly and repeatedly seeking my next employment can be difficult, exhausting and stressful. Having said that, I can't imagine another career that is as rewarding and, as long as I stay grounded and humble during the high times, I can find more peace and serenity during the low.

I have a fantastic team that surrounds me including my agents at Sovereign Talent and Mitchell & Associates as well as my publicists at Key Elements PR but most importantly in my family who always strive to remind me that their love for me is completely unrelated to anything having to do with what show or movie I am in or the level of "fame" or number of followers I attain.
I have had the remarkable fortune of having an opportunity to work with so many people who I look up to and respect and whom I consider idols. One such example is Mark Joy, an actor who has been based in Richmond, VA but has had a magnificent career and delivered stunning performances in so many films and television shows.

I learned discipline and how to allow vulnerability into the performance of an outwardly string character. Another idol is Ryan Reynolds, with whom I have not had the pleasure to work but, like most others have loved watching. I first became aware of Ryan through his late ninety's sitcom, "Two Guys, a Girl and a Pizza Place". The fact that Ryan has been able to achieve such stardom but had star turns in so many genres while still growing a beautiful family and multiple business endeavors is such a testament to what one can accomplish with focus, hard work, humility and finding opportunities for one's talent.

Finally, an idol of mine is my friend Kennedy Garcia. This young lady has faced challenges since birth having been born with Downs syndrome as well as having fought and beaten Pediatric Cancer. Kennedy brings such joy and a firm commitment to love into EVERY ROOM she enters and is an immensely talented dancer and actress. Kennedy isn't just a cancer survivor, a huge feat in and of itself, Kennedy is also a Cancer HERO because she has thrived on her journey and is always lifting others and encouraging them to thrive right along with her. Kennedy is my idol because, for all of the opportunities to feel sorry for herself and credible reasons to feel bitter or jaded, Kennedy is, instead, a font of positivity and talent.
In case you need a break in your career, what else would you like to do?
I love to cook and have been cooking for my friends and family for over a decade. Were I ever to take a prolonged break in my career as an actor, I would work in the culinary field. Entertaining people with food.
Do you consider that nowadays there are more or less opportunities for new artists? Why?
There are more opportunities for artists than there were before for sure. The number of platforms through which an artist can share their work is so high now, not only through social media but also through new streaming channels and services.

With that increased opportunity however, there are many that are not as financially rewarding. The hardest part for so many is making the correct decision on when to say "no" to a job you would rather be a part of due to the need to take a conflicting job because of financial need. I make every attempt to do my best and have a balance, so I have more availability for the jobs I want.
What would your idyllic life be like?
I am extremely close to living my ideal life already, my family is healthy and we have food on the table and a roof over our heads and I have been working consistently. The one thing that might make it better would be to land a strong, fatherly role on a hit sitcom or tv series (ie. Phil Dunphy on Modern Family) that has an extended run and allows me to provide a more regular schedule for my family while playing a role I love.
What are your next projects?
A film in which I play a strong supporting role opposite Ryan Phillippe, Kate Bosworth and Ving Rhames, "The Locksmith" just released in select theaters and On Demand on February 3rd as well as a documentary in which I was involved as an actor called "Body Parts". A family comedy called "Prankster" will be released on AppleTV sometime in March as well as a series for Paramount+ in which I guest star, "American Tragedies: Waco – The Trials" which begins airing in April.

I am also attached to a wonderful feature film called "A Brother's Badge", directed by Bryan Ramirez and written by Samuel French & Jarett Lager based on a story by Bryan Ramirez and Paul Sinacore. Really looking forward to working on that film in part because it will bring me back to set with a blast from. My past, Will Rothhaar with whom I worked on the Anthony Hopkins starrer, "Hearts in Atlantis" over 20 years ago.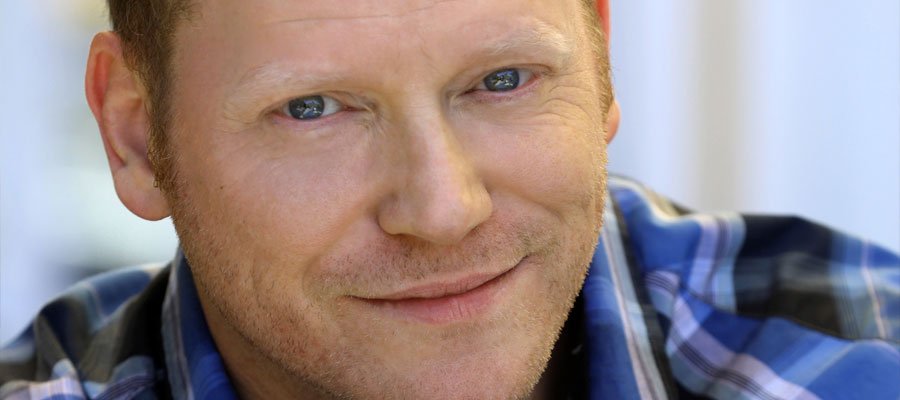 Do you want to know more? You can find some projects below.