Gustavo David is a latinx genderqueer panamanian actor, dedicated to transmitting love, passion, madness and union, through his art. Since he was 18 years old he has worked in theater, short films, modeling, movies and commercials. But as his career has evolved in a personal and emotional way, the idea of ​​being an artist is the opportunity to give voice to people who may need that art, that creation, to feel heard and understood.
"You are not your mind, You are not your body."
It all started when I was six years old, creating choreographies for people who came to family parties, where I took the opportunity to dance or make a presentation with endless dialog or meaning. For me the idea of watching people receive some kind of emotion, curiosity or laughter, was life for my soul. I always felt that the purpose of my life was to be more than just a person who would get up, go to school, come back and be ready. I couldn't help myself with the idea of being a slave to society or what people were telling me to do, all these questions and revelations started at the age of 11-12.

When I was 18 years old, I decided to study psychology, I decided to look into the emotions and behaviors of society, to understand a little beyond the reality in which we live, and maybe, just maybe by studying psychology, I would give myself enough knowledge to feel full. But no, it wasn't what I was looking for, it wasn't the way I was going to get my answers and satisfaction. At the same time that I was studying psychology, I was taking shakespeare classes and had a leading role in the theater of my university. The moment, the very moment that I touched the stage, my first presentation I felt FIRE in my heart, I had never felt something so powerful and mystical, and it was something that psychology was not making me feel therefore.

I left the psychology career, I talked to my parents, I told them how I felt, and clearly it was difficult, we are not people with money, and I'm not saying that money is what brings you to your dreams, clearly it's an important resource, but really at that time, I didn't have enough resources to look for my north, which was, Los Angeles, California. I applied for a loan with the government of my country (Panama), clearly a loan that comes with quite difficulties throughout, but I thank with every fiber of my bones, the courage and strength that I felt thanks to my parents and older sisters helped me to get out of the hole that I was in professional and emotional form, my sisters mainly helping me economically to apply to that loan.

My departure to Los Angeles to study acting and theater was a success, a success full of fears and questions, questions that over time I could answer, and if I have not answered them, is that it is not necessary to know everything and I am at peace with that.

Being in Los Angeles gave me the opportunity to know that my value as an artist comes from my love and passion for the things I want to convey, the things I feel are important to talk about and take into account as human beings. The word "Actor" sometimes I feel like it's a very small word, I think we're all artists, and that's what I consider myself, an artist where I can speak through photographs, short films, films, interviews, where I can say how important it is to remember to love, to love you, to take advantage of the beautiful body we have, but more than anything to know that the body is a shell, and what's inside it, your soul, and however you want to give the energy of that soul, is the important part. I've realized that doing the things I do go along with what my heart tells me it wants to do, if your art doesn't connect with your soul and heart, then I don't know what art you're doing.
If you were an advertisement, what would your slogan be?
You are not your mind, You are not your body.
What does your career mean to you?
My career means having my own voice, that I can finally speak freely in any way I want about gender, sexuality, togetherness, to tell stories that people can be inspired by, to know that we are more than people who eat and sleep, that we are souls looking to connect and give and receive love.

I am excited to create any type of content where I can give inspiration or a message to someone who may find it significant in a very subjective or personal way. I don't care if 3 people see it or just my family, the idea that I was able to do it and post it to the universe makes me feel complete.

my career means being able to give people a voice.
What is your main motivation?
My motivation is to be able to leave this world, leaving a significant footprint, a footprint that has a message for society. People are made to love, to accept each other, to give us space, since there is something for everyone, the sky is the limit. The idea of ​​being an actor and that each character is a world makes me feel infinite, telling stories with those characters while working with incredible people makes me feel ecstatic, makes me think that the union exists and that the creation that comes from that union is unique and exquisite.
What is the part you enjoy the most? And the worst?
The part that I love about my career is the passion that comes with it. That there are no barriers or limits in creation, and that everything I do has a deep meaning. Sometimes I don't explain why I do something because I like to leave the interpretation open to the public. And this is connected to modeling videos or photographs, when it comes to presenting a character in a play, short film or movie, things change, you give the public a background of that character, a story that maybe they can identify with it, and that makes it UNIQUE.

Worst part? I have a couple of things to tell. Rejection, and I don't mean rejection from auditions, no…I mean rejection from people who work in the industry for just existing and having your essence around them. I have felt judged and criticized by people who are also artists, for my sexual orientation, or my style. I have millions of stories that I can tell here and name situations, moments and people, but the important thing for me is that these people know who they are and that's enough.
My family are also artists, artists with their own professional careers, engineers, special education teacher, lawyer, my family has taught me to fight and to stand firm on my path and my north.
In case you need a break in your career, what else would you like to do?
I would like to have my own podcast, I have so many things to say about my professional and personal experiences, that I feel I can find an audience that can identify with my experiences.

I would also like to create my own restaurant, I love cooking, and I only cook for the people I love in my life, my family and friends are witnesses of that love.

And I wish I could create something that helps the environment, but I still need to know what it is.
Do you consider that nowadays there are more or less opportunities for new artists? Why?
I feel that there are opportunities FOR EVERYONE, we are all capable of breaking paradigms, status, ridiculous beliefs and rejection by society. All the people who have passion in their hearts, who have art in their lives and want to share it with the world, let them do it, speak, draw, sing, dance, shout…everything! Yes, we all come into the world with a culture, religion (if you want one), country, family, etc., but as I mentioned before, we are all unique and special in our own way.

That the world is waiting for you to shine with your own light. I come from Panama, I am Latinx, genderqueer and I am proud of my culture and where I come from, I have a pretty strong accent when I speak English, and I love it, it makes me unique. Opportunities are made by us, rejection, racism and homophobia exist, but people like you and me are here to make a difference and give space to everyone in the world of entertainment.
What would your idyllic life be like?
Being able to live from my art, which is what makes me happy the most. Knowing that I can pay my bills, buy a house for my parents, my sisters, have 10 dogs, 5 cats, and know that every day I can get up and make my delicious coffee with my favorite playlist, and have the people around me who I want to have, because they share love and compassion.
What are your next projects?
I am writing a short film with a director from my country (Panama), it is an LGBTQ+ short film. The message of that short film is clearly the most important thing for us, and that we can share it with the world.

I just finished a commercial for Latin America, very funny by the way, I hope you enjoy it.

Since I have just graduated from my acting degree in film and theater, I feel passionate and energized for the things that I am going to bring to this 2023 as an artist, which I don't want to share because I don't want to jinx it, those projects are more personal.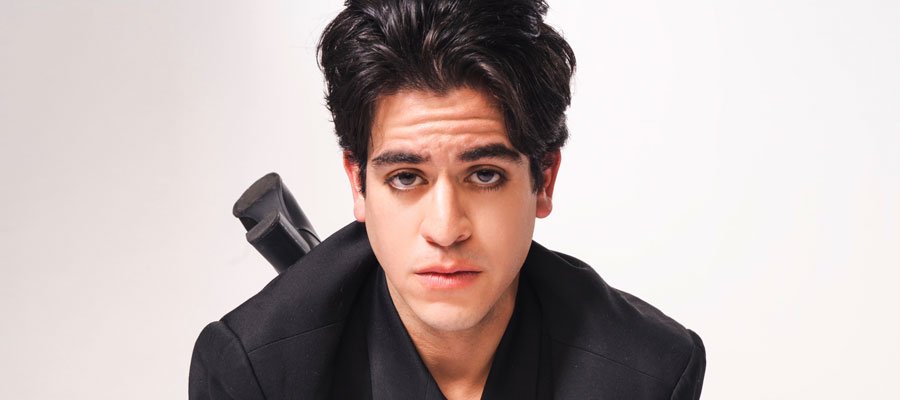 Do you want to know more? You can find some projects below.