Niko Ceci is a fast-rising teen actor, dancer, and singer to watch from Toronto, Canada. He has amassed a significant body of voice work including playing leads in productions such as Corn and Peg, Blue's Clues & You, Xavier Riddle and the Secret Museum, and Remy & Boo. Niko also continues to build his film and television portfolio with roles on Odd Squad, Resolve and Incorporated.

Coming up next, Niko will be celebrating his biggest role to date starring as Kev in the highly anticipated teen television series I Woke up a Vampire following the story of Carmie Henley who wakes up on her thirteenth birthday to discover she suddenly has supernatural powers. The show is set to make its premiere this spring on the Family Channel and later in 2023 on Netflix.

Niko can also be seen starring in part two of the first season of the hit sci-fi anthology series Circuit Breakers premiering on Apple TV+ this 2023.
"A DREAM TODAY BECOMES A REALITY TOMORROW"
When did you start to get interested in acting? 
I have been interested in acting since I was three years old when I used to watch and memorize scenes from classics like Annie, The Wizard of Oz and later on Harry Potter. 
If you were an advertisement, what would your slogan be? 
If I were an advertisement, my slogan would probably be "A dream today becomes a reality tomorrow". 
Which is the part you enjoy the most about acting? 
I love the fact that I get to dig deep into my emotions and life experiences in order to become different characters. I also like to work with fellow actors because we have the opportunity to learn and grow our skill together. 
Most artists say that through their art they learn more about themselves, heal. In which aspects has your art helped you? 
The art of acting as well as singing and dance have all helped me to be very in tune with my inner self. This has allowed me to express myself with confidence and also to overcome challenges and rejections by persevering with determination. 
What does your art mean to you? 
Art means self-expression. It allows people the chance to express themselves, their feelings or experiences through drama, dance, music, visual art and writing. It means stepping out of your comfort zone to create something unique that is important to you as an individual. 
Who are your idols? 
An actor that I really admire is Helena Bonham Carter, because she is a versatile actor and I personally enjoy every movie of hers that I have watched such as Harry Potter, Enola Homes, Alice Through the Looking Glass and many more. I also really admire Adam Sandler and Tyler Perry because not only do they play many different characters, but they are both actors/writers /producers/directors so they are able to do all the things that I also hope to do full-time. 
If you weren't acting or performing, what would you be doing?
If I was not acting or performing I would most likely be doing something in the culinary field as I love to cook for family and friends. 
Do you consider that nowadays there are more or less opportunities for new actors? Why? 
I feel very blessed in that I am young and still making my way in the acting industry and yet I have been lucky enough to work in television and film as well as animation. Of course my dream is to do more, but I also know that hard work, determination and positivity are all key to my successes now and hopefully in the future.
What would your idyllic life as an artist be like? 
My ideal life as an artist would be for me to have the opportunity to work as an actor full time in both television, film and voice animation. I also enjoy writing my own music and scripts so I would love to one day produce one of my own series or movies, in addition to continuing to record and release my music. 
Tell us about your upcoming projects 
My upcoming projects include my lead role as the quirky, caring and intelligent coming book genius Kev Gardener, in the TV series, I Woke Up A Vampire. It is set to air first on Family Channel this spring and soon after on Netflix. 
I can also be seen as Felix, in the episode entitled Again and Again of Season Two of the Apple TV teen sci-fi series, Circuit Breakers. Finally, I can be heard voicing the character of Rafael in the most recent season of Pinkalicious & Peterrific.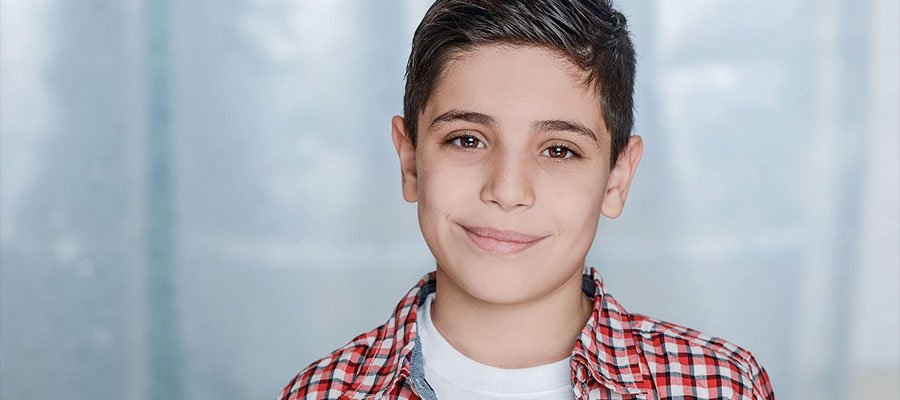 Do you want to know more? You can find some projects below.