ACTOR, WRITER & PRODUCER. LUKE HUTCHIE IS A TRAILBLAZER IN LGBTQ+ CANADIAN FILM AND TELEVISION
Canadian actor, writer and producer, Luke Hutchie is a trailblazer in LGBTQ+ Canadian film and television. From his first work in HBO's award winning Me @ The Zoo in 2012, to producing his own original scripted series for OUTtv entitled EZRA, set to make its premiere on October 1st, Luke has established a foundation for telling unique stories.
Luke aims to continue acting, developing characters, and creating stories that break the glass ceiling of queer characters in film and television.
"I'M A TAURUS, SAME AS MEGAN FOX"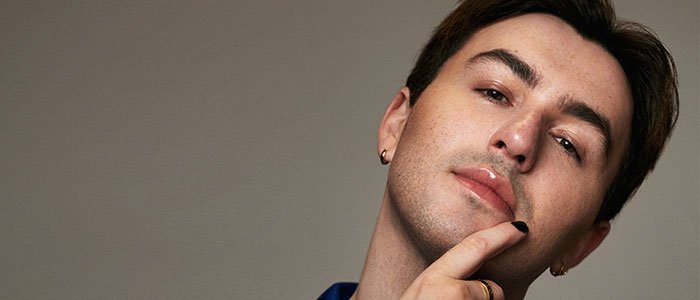 When did you start to get interested in acting? 
As early as I could remember I always loved entertainment. Music, movies, tv, photos, all of it. I was a consumer at birth. As I got older I was able to play with the concepts and began acting in little videos, and eventually, films. I love the ability of bringing a story to life, and one that I always hope inspires people, as films have inspired me. 
If you were an advertisement, what would your slogan be? 
i'm a taurus, same as megan fox. 
Which is the part you enjoy the most about acting? 
I love playing, I love that it's not the same thing everyday, I love that it's all about energy and vibes. You sit there everyday and create something that didn't exist, and it's such a great job. You also meet the most fascinating people, which is always a bonus. 
Most artists say that through their art they learn more about themselves, heal,… In which aspects has your art helped you? 
Oh, through EZRA I completely rediscovered myself. Between my own personal battles, mixed with the pandemic, I had really lost all direction of who I was for a while. When EZRA became a real thing, now my job, not only as an actor, but as a showrunner, I really relied on Ezra's confidence to carry me through – fake it till you make it, in a way. I truly feel this show needed to happen for me personally in order to find myself again. 
What does your art mean to you? 
Everything. JoJo has a song off her album Mad Love called "Music". The song reflects on her own personal struggles, and how music was the one thing that was always consistently there for her. That song is the only way I could describe what art, music, means to me. It's everything. 
Who are your idols?
JoJo, Nicki Minaj, Aaliyah. Forever and always. 
If you weren't acting or directing what would you be doing? 
Honestly, I think I would be a lawyer, or studying psychology. But I could also see me doing tarot card readings in a tent somewhere spooky. Something that involves understanding people. 
Do you consider that nowadays there are more or less opportunities for new actors? Why? 
There are so much more! Everyday there's a new streaming platform, a new network, and content is being created faster now more than ever. It used to take months to film one movie, now it's two weeks and maybe a few days! 
What would your idyllic life as an artist be like? 
I just want to create, and be a part of someone else feeling seen. I know what it's like to feel alone, and I just want to create things that inspire people to live their life. 
Tell us about your upcoming projects 
EZRA comes out this October, with new episodes every Saturday on OUTtv. I am so excited for people to see this show, and relate to all of our insane characters. It was such an amazing time, especially being able to work with some of my best friends, like Chelsea Clark, who is also just such a talent. I have a few other tricks up my sleeve that I can hopefully share soon!
Do you want to know more about Luke Hutchie? You can find some projects below.