Mark Lysander was born in Barcelona and raised in Mataró. He always knew which his dream was: Music and interpretation.
Since he was a kid he started composing his own song and beats which for him were just a game for having fun. On his adolescence he studied both interpretation and music. Since then he hasn't stop pursuing his dreams.
He has released several singles all composed and produced by him, has appeared in some TV shows and films and his aim is always the same: Music.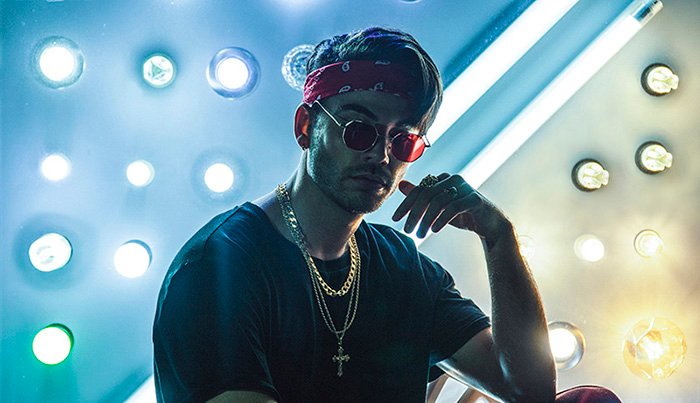 How many years have you been singing?
I've been singing vocationally since I can remember. For me singing and composing was always a fun game. While I was growing up music became my best therapy and then I realized art was everything to me so I decided that I want art to be my life.
Who are your idols?
I have never had a permanent idol because during my whole life I have experienced different types of music depending on the moment or my mood. But 2Pac, Camaron and Damian Marley were regularly a big inspiration to me.
Define your art in 3 words.
Personal, chaotic and Innovative.
If you were an advertisement, which would your slogan be?
Moved by Chaos
¿Which is your life philosophy?
For me the most important is to do what I feel and what I want each moment, no matter what people say. I live for me not for the others. But always keeping in mind "never do things that could harm others".
Which is the best moment / place for you to create?
I like to be alone in my studio at night. Darkness let me connect better with myself.
Which is the part you enjoy the most about creating?
What I love the most about creating is the initial moment when I listen to a beat in the computer or in my head and I just let my imagination and words go with the flow. Because you never know which is going to be the final result and I love to experience that state of the composition.
Most artists say that through their art they learn more about themselves, heal injuries.. Which aspects has your art helped you?
Music for me was my savior because my whole life has been such a chaos. Through my compositions I started to understand me better. I could say that music was and has been my best therapy. Interpretation let myself explore parts of me that I didn't know through characters and thanks to that I gained confidence.
Which is your best and your worst creation?
I have lots of bad creations mainly in the past because I didn't know my voice and I didn't have the skills of composing that I do have now. Nowadays, everything that I share is a good creation if not I wouldn't publish it.
Nowadays we live in the "LIKE" era. Do you think that people give more importance to the number of followers than the Art per se?
No doubt at all. Nowadays if you don't have certain number of likes or followers it seems like your art is less interesting than others.
Do you want to know more about Mark Lysander? You can find some projects below.
Do you want to discover more artists? Follow us!