Mindaugas Neverovas is a Helsinki-based professional pianist and piano teacher. He has completed four university degrees as a soloist, accompanist and teacher and has won prizes in numerous national and international piano competitions.
His broad repertoire as a concert pianist and pianist for hire covers everything from classical and romantic to pop, jazz, and film scores.
"Professional pianist and top educator in Finland"
When did you start to get interested in music?
I started playing piano at the age of 5, since my mother is a music teacher specialized in early child music education. It was natural in our family to play an instrument because everyone played one. My brother is also a professional violin player.
Since very beginning people and teachers noticed my talent which motivated me even more to continue doing this.
The real spark to become musician started at the age of 13 when I fully committed and dedicated myself to piano and music.
If you were an advertisement, which would your slogan be?
Professional pianist and top educator in Finland
Which is the part you enjoy the most about music?
Inspiration and education.
Music has extreme power to awake emotions deeply inside you. The same music talk to you differently depending on your state of mind and it has healing and uplifting powers.
By sharing my passion and love to music, I believe I can help people manage through difficult times. With music I can take people to their happy place. When I see the smiles and the tears in the audience, I know I am making a difference
Most artists say that through their art they learn more about themselves, heal injuries… In which aspects has music helped you?
Piano has always been my best friend. It's something I can talk to and count on, it's always there for me. Whenever I play, time stands still and I find myself in my happy place. Music has given me the confidence to be who I want to be and it has changed my life.
What does music mean to you?
It's my life, my self-expression and my ikigai.
Who are your idols?
Here are just few: Grigoryi Sokolov, Daniil Trifonov, Lang Lang, Andras Schiff, Boris Berezovsky, and Frederic Chopin, and much more…
If you didn't like music, what would you like to do?
I love playing tennis, snowboarding, bodybuilding, scuba diving and these are just few. I believe that broadening your knowledge and interest in different areas can bring more versatility and experience as a musician and pianist.
Do you consider that nowadays there are more or less opportunities for new artists? Why?
The opportunities are always there. You can choose to be proactive or reactive. The chances that success will come to you by doing nothing is very small. Networking is one of the key success in this profession. Of course good set of socials skills, creativity, intelligence and humbleness always helps. The talent is only 10% and the rest is hard work.
What would your idyllic life as an artist be like?
Performing, collaborating, travelling and teaching. I have a passion for music, piano, travel and people. If I could combine all of them, it would be my idyllic life. I believe that performing and teaching complement each other and makes you better musician.
Which are your upcoming projects?
Online piano course compiled of all my 25 year knowledge and 10 years of experience as a teacher.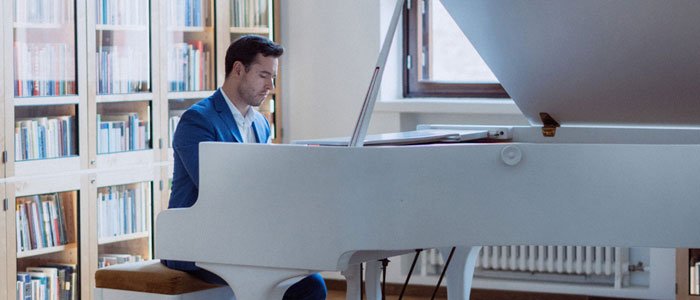 Do you want to know more about Mindaugas Neverovas? You can find some projects below.