Actor, Writer & Improviser
Muretta Moss is an actress, writer and improviser known for "The Glorias" (2020), "A Loud House Christmas" (2021) and "The Game" (2006).
She found an old journal and in there was a section where she wrote  "I'm a decidedly mixed-up girl with a strong lead into the heart of God." She's now a spiritual, self-assured woman who still gets mixed up every now and then. For the sake of simplicity, She loves cats and watermelon. 
"Your choices. Your contribution. You're enough"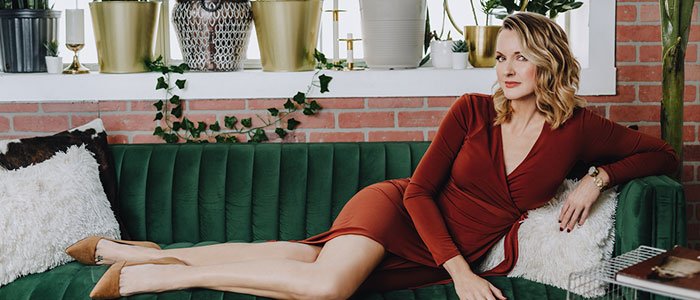 When did you start to get interested in acting?
You know, I don't really understand why we are pulled to certain things in life—it feels like a cosmic force that pulls me to acting. I'm also pretty "woo-woo" so I like to think of it that way, as being divinely guided.
The creative process of film and tv is so interesting to me—so many people, different departments all working together from the spark of an idea, a story. The first time I stepped onto a film set when they were filming at my college was a game changer. That was when I realized creative life as a career was tangible and I started taking acting seriously.
Sometimes you have to see it in action to know that it is possible. I think anyone who has the urge to be an actor or creative should follow that urge!
If you were an advertisement, what would your slogan be?
The advertisement would say "You" in big, bold font. If this was in a magazine, I would be part of the Y and it would be very whimsical, floral, and Elizabethan-esque. Underneath the "You" it would say in small font "Your choices. Your contribution. You're enough." It's a total vibe.
Which is the part you enjoy the most about your art?
I think the connection with everything. I love connecting to the character and the script. I love connecting with fellow cast mates, the crew, and the creative team driving a project. Everyone is working together to make something bigger than themselves. I truly enjoy connecting and creating. In the end, I find it very fulfilling to connect and be truly seen.  
Most artists say that through their art they learn more about themselves, heal injuries… In which aspects has your acting helped you? 
An actor needs to be vulnerable and in-touch with their emotions in order to access them for a character. Sometimes I think the journey of an artist creates more emotional wounds, and you then have to go outside of the craft (i.e. therapy) to heal. Artists are expressive and want to be unbounded in this very chaotic world. With that said, the practice of vulnerability in the craft has led me to a more authentic life. 
What does your work mean to you?
The work is all the things, it is everything and nothing and fulfilling and stagnant. Acting and writing are facets of my life. Creating and experiencing life in the present are the foundations of "the work" and without those constant sprinkles, I get these pangs of feeling like I'm not living my destiny. 
Who are your idols?
Oprah. Gosh, I love Oprah. I love her journey. She is a great example of being "self-full" and not selfish. Oprah and her guests and her own spiritual journey guided me on my own spiritual journey. Also love me some Kristen Wiig because she is gorgeous and funny and weird. 
If you didn't like your craft, what would you like to do?
There are so many things I'd like to learn more about. I'd like to be a horticulturist and have a garden so robust I could survive on it. I want to contribute to sustainable buildings and learn more about foam concrete structures and 3D-printed houses. Solar energy is another field I'm interested in—though, I don't know what I would do besides saying "Yes, more solar!" Why are the electric car charging stations sitting in the middle of a parking lot in direct sunlight not powered by solar energy?
Do you consider that nowadays there are more or less opportunities for new actors? Why? 
I'm sure someone could run numbers on this to give a factual answer, but from my perspective, I think it's the same—more actors and more opportunities. There are so many different platforms with original content being shot across the country. The opportunity is there. There is also the opportunity for actors to learn about the business and take classes outside of New York and LA. I believe you book the roles that are meant for you if you are prepared and willing.
What would your idyllic life as an artist be like?
Oh, I have thought about this. I would like to wake up with the sunrise, have a cup of coffee, let the cat out, and then get picked up by a driver and head to work while going over the script. At work, I am an executive producer on a single-camera comedy that I created. I'm also a part of the ensemble cast. The work week is manageable and I get to spend time with family in the evenings on most nights. I'd still perform live comedy once a month. When I go on vacation, I unplug completely for two whole weeks. Also in my idyllic life, I fly eco-private. 
What are your upcoming projects?
This year is going to be pretty great though the specifics are TBD right now. I'm excited to release projects like Intersection that I've been working on the last year. I also want to put out into the universe that my TV Show, Counter Parenting, gets picked up and I get to work on that in front of the camera and behind as part of my idyllic life. I am going to take up space, go on more walks, and sit in silence more—I'm really looking forward to that.
Do you want to know more about Muretta Moss? You can find some projects below.